This Loyal Nine Wedding in Cambridge Featured New England-Inspired Fare
The couple's chihuahuas, Taco and Tuesday, also joined their intimate celebration.
---
THE STORY
Although Alycia Rovner originally planned to propose to Caity O'Hagan during a trip to Greece, she scrapped the idea and popped the question at the couple's Davis Square apartment instead. "It was maybe six weeks before our trip, and I couldn't hold back the secret anymore," Alycia says. Turns out, the change in plans worked in her favor. "I was really caught off-guard," Caity recalls. "[But] it was perfect—really homey and just felt right."
Seeking that same cozy ambiance for their wedding a year later, the couple chose to celebrate at Loyal Nine, in Cambridge. The restaurant—a casual eatery known for its New England– inspired fare—holds special meaning for the brides, who spent time together there early in their relationship. "That aesthetic is so great and totally our vibe," Alycia says of the minimalist space. "You get a welcoming feeling when you walk in."
GETTING READY
Accompanied by their bridal party, Alycia and Caity prepped for the wedding at a nearby hotel. "It was so cool to be with just our closest people before such an amazing event," Alycia says.
DOGS
The couple's chihuahuas, Taco and Tuesday, briefly joined the festivities to pose for photos with the newlyweds. "They're our best friends and our children," Alycia says. "We knew we wanted to have them there."
DRINKS
A bartender at Short Path Distillery in Everett, Alycia dreamed up the signature cocktails—including a gin-arugula mojito—served throughout the reception.
CEREMONY
When rain threatened to derail their plans for an outdoor ceremony, Alycia and Caity opted to move the celebration to a semi-covered space on the restaurant's patio. "It was magical with the rain coming down as we were saying our vows to each other," Caity says. "It felt very intimate and special."
RECEPTION
The couple toasted the occasion in the company of just 66 guests. "There wasn't this pressure to get around to 150 people within a three-hour reception," Caity explains. "Our number one priority was for us to enjoy ourselves, [so we kept] the guest list small and tight."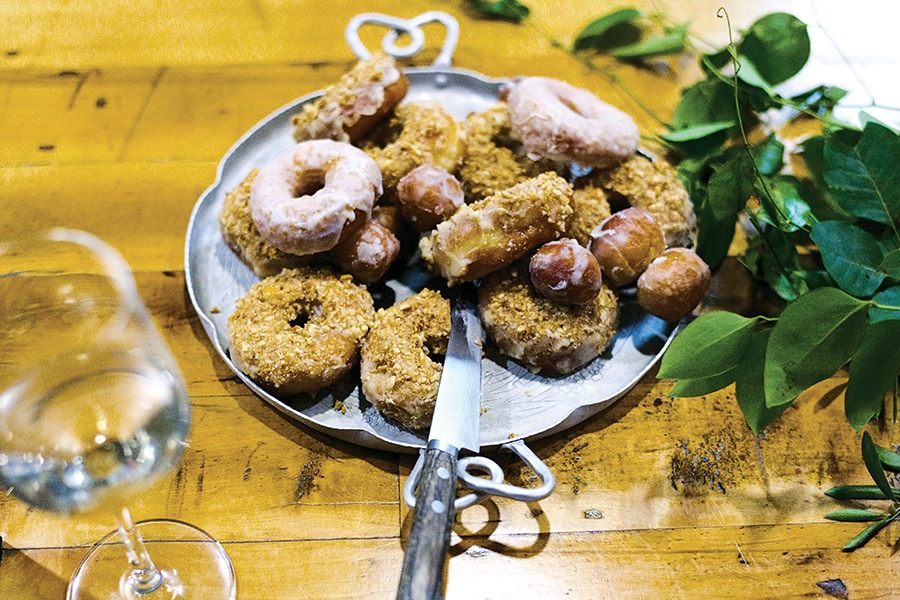 FOOD
Guests noshed on oysters, mini grilled-cheese sandwiches, and fried chicken during cocktail hour—a festive precursor to the family-style dinner and, later, the confections from Union Square Donuts.
TABLESCAPES
To play off "the natural look" of the venue, Caity says, florist Luna Moss dressed up the tables with simple greenery and white flowers.
THE FILE
Caity's Dress Willowby by Watters, Flair Boston
Catering Loyal Nine
Custom Tiara Emma Katzka
DJ Zachary Joseph
Doughnuts Union Square Donuts
Flowers Luna Moss
Hair Taylor Surette Hair
Makeup Sonja Gjokaj
Rings E. Scott Originals
Getting married? Start and end your wedding planning journey with Boston Weddings' guide to the best wedding vendors in the city.
---