16 Years After They First Met, These Lovebirds Threw a Charming Beauport Hotel Celebration
Complete with a Friends-themed cake topper.
---
September 14, 2019
Beauport Hotel
Gloucester, Massachusetts
THE STORY
West Roxbury natives Erica Martin and Rob Florentino first became friends in 2003, when a mutual friend at Rob's all-boys catholic high school bought Erica and her friends tickets to the school's dance. Then freshman, the two remained strictly pals until Rob asked Erica out on a date during their junior year. "From age 14 to 17, I'm not sure if I thought about whether or not we would date," Rob recalls. "I honestly think I just woke up one day and said, 'I'm going to marry her.'" As for Erica? "I was a little caught off guard," she confesses. "My sister was actually the one who convinced me to go." So Rob, who had to wash his dad's car for a month in order to borrow it for their date, took Erica to dinner at TGI Fridays and then to see The Break-Up. Now the two laugh about how they never did break up from that day onward. "The date was seamless," Erica says. "We just went from being friends to dating, and it never stopped from there."
More than a decade later, in February 2018, the couple was on a trip to Newport, one of their favorite places to visit together. While they were out having lunch, Erica noticed that Rob seemed to be rushing things along. They planned to visit the Breakers—where Erica's great grandparents had met and worked—after their meal, but Erica didn't understand Rob's urgency. "I said, 'I think we're okay, the Breakers is open for four more hours,'" she recalls. Little did she realize that Rob planned to propose there, and his brother was already waiting outside the mansion with a camera. "As we got closer to paying the tab, the nerves started to set in and I was all but freaking out when we were driving [over]," Rob says. When they finally arrived at the mansion, they strolled around and stopped on the back patio to look out at the Atlantic. Rob asked Erica for a hug while secretly pulling the ring box out of his pocket at the same time. When he stepped back holding the box, he froze for a moment, not speaking. "I don't know how long I was standing there, but I finally snapped out of it to go down to a knee and ask," Rob says. Erica began crying immediately, fogging up her glasses, but of course she said, "Yes."
When Erica and Rob started planning their celebration, the Boston-based pair sought a local venue that featured an outdoor space. When they toured the Beauport Hotel in Gloucester, they immediately knew it was the place they'd exchange vows. They decorated their venue with a simple white-and-navy color palette and abundant greenery and blooms, both on their reception tables as well as hanging from the chandeliers above the dance floor. Underneath those dreamy floral creations, the couple and their guests danced late into the night. "Our friends are crazy dancers. The DJ kept trying to say 'Okay, dinner's out, guys,' but they were out there on the dance floor all night," Erica says. "I was shocked when it was over. It felt like we'd only been there for an hour." As for Rob's take? "I want to do it all again—buying the ring, proposing, finding a venue," he says. "The whole weekend was an absolute blast."
THE DETAILS
Both Rob and Erica say the first look was one of their favorite moments. "I was standing there for a couple minutes, and then the photographer told me, 'Your bride is coming!' And I heard Erica say 'I'm coming for you,'" the groom recalls.
Erica had always imagined herself in a form-fitting frock, but while trying on gowns at Flair, her stylist noticed she'd "liked" a more voluminous Hayley Paige dress on Instagram. "I told her, 'No, I like that dress for someone else, but not for me,'" the bride says. "But then the second I put it on I knew, 'Well this is it.'"
After the couple's ceremony, their officiant Robin Perry laughed and told them she had never seen a couple talk to each other throughout their ceremony like Erica and Rob did. "We were quietly talking throughout all of it," Erica says. "In our wedding video you can hear some of it. At one point you can hear me go, 'Wow, this is really happening.'"
Erica and Rob didn't plan to have a ceremony arch, but about a month before their wedding, Erica's mom, who had recently joined Instagram, called and said she saw one on the app that would be perfect. "She was just like, 'You have to have one,' Erica recalls. Chelsea Gillette at Beach Plum Floral made it happen.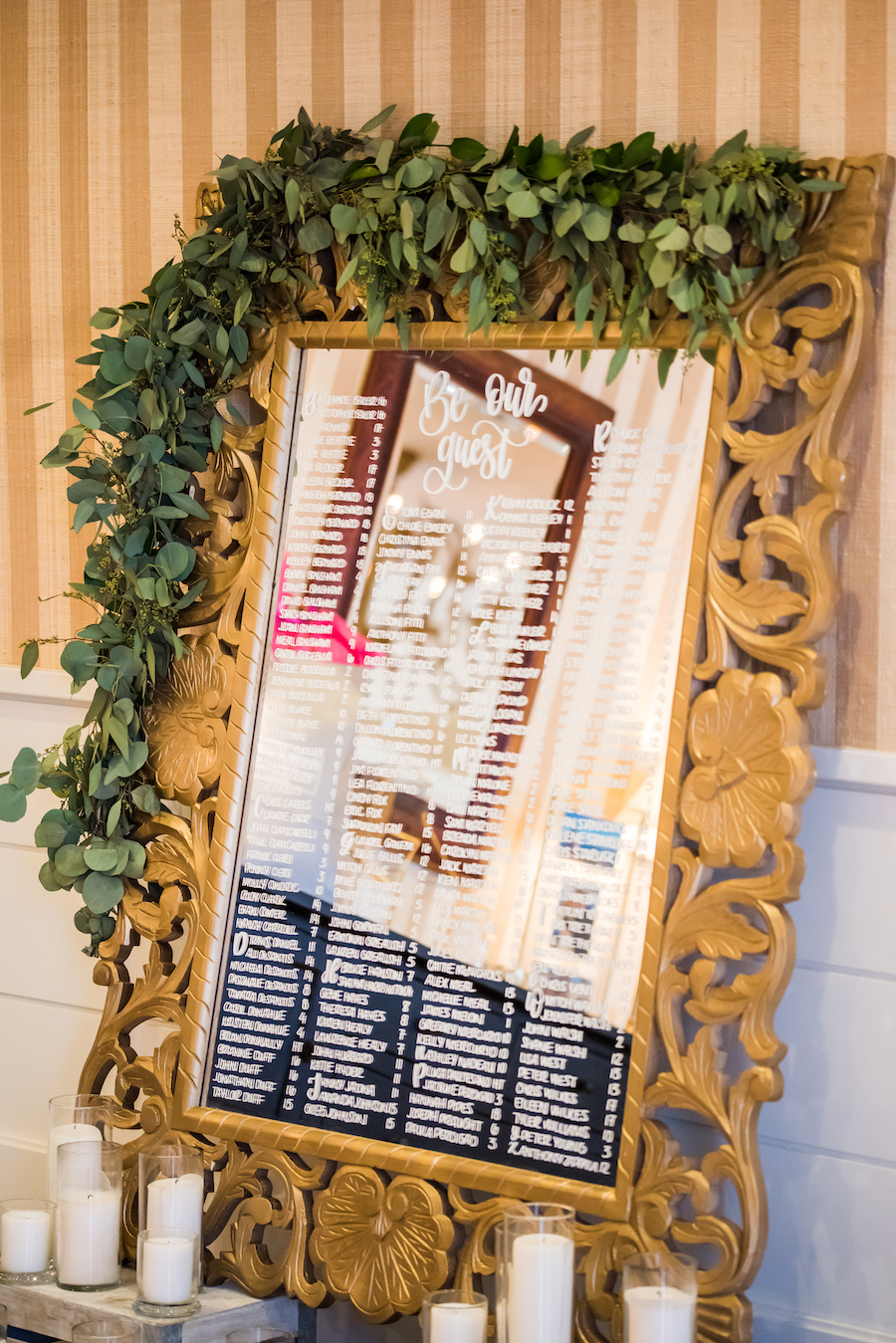 Calligrapher Antea Amoroso designed the couple's seating chart. "I liked the idea [of having a seating chart] rather than using little pieces of paper because I was always like, 'What happens to the table after? Is it just bare?' And people ended up taking photos in the mirror, which was cool," Erica says.
The bride and groom wanted to keep the tablescapes at their reception relatively simple. For the head table, where the couple sat with their siblings and their dates, Beach Plum Floral created a long garland featuring roses, ranunculus, and other blooms.
Erica and Rob adorned the chandeliers in their reception space with hanging amaranthus and delphinium. "That was something I'd always wanted from the start of wedding planning," Erica says. "I thought it was a cool idea to bring the eye up without blocking people's view."
The pair's funfetti-and-chocolate cake featured a topper that read "You're My Lobster," a reference to an episode of one of their favorite shows, Friends, in which Phoebe Buffay says that lobsters mate for life. "We always thought that was cute and, with our oceanfront wedding venue, it felt fitting," Erica says.
Erica and Rob had their first dance to "One Man Band" by Old Dominion. "We're both country music fans, and we liked the idea of the song—that you're in this together now and you're not going to do it all alone," the bride says.
THE FILE
Bride's Dress Hayley Paige, Flair Boston
Bride's Dress Alterations David Josef Fashions
Cake Cake Ann
Cake Topper Letters to You, Etsy
Ceremony Music C-Zone Entertainment
DJ 617 Weddings
Flowers Beach Plum Floral
Hair Lady Luxe Beauty
Invitations Graphic Boutique
Makeup Stephanie Ward
Menswear Indochino
Officiant Justice of the Peace Robin Perry
Photo Booth Hipstr
Photographer Brit Perkins Photography
Rentals Peak Event Services
Signage Antea Amoroso Design
Transportation Rockstar Limo
Getting married? Start and end your wedding planning journey with Boston Weddings' guide to the best wedding vendors in the city.
---
---