Willow Tree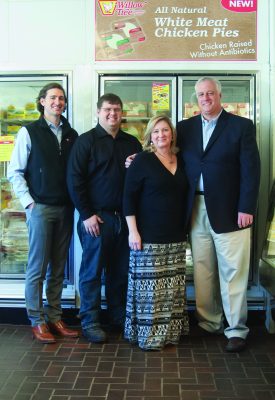 WALTER, CHRIS, ALEX & LYNDA CEKALA
508.222.2479 | willowtreefarm.com
Willow Tree began as a small poultry and egg farm, and has grown to be a leading provider of freshly prepared hand-crafted poultry pies, deli chicken salads, and dips. Walter Cekala is President of Willow Tree.
Who founded Willow Tree?
My father, Chet Cekala, started Willow Tree as a small poultry and egg farm in Attleboro in 1954. He developed our famous chicken pie and deli salad recipes, which were originally sold in our retail store. Those products developed a large following, and business evolved from there. Today, our products are sold at major grocery stores throughout New England and Florida, as well as at hundreds of independent retail locations.
Why is the location of your business so important to its success?
Being located in Attleboro, a city with small-town appeal, was crucial to our early success. It allowed us to get to know our customers—many of whom are still with us—on a first-name basis and to build our reputation through word of mouth.
Our location close to Boston and Providence really helped us when we began distributing our products beyond Attleboro, since we were able to sell our products in both major cities. We initially limited sales to Massachusetts, but by the early '70s we started to sell our products across state lines.
Have you ever encountered any challenges in your family business?
Even the closest of families will have their trying times when you are together as much as you are in a family business. I believe one of the things that has helped Willow Tree be successful for more than 60 years is that we all have been able to contribute to the growth of the business in a unique way. My wife, Lynda, has assisted in the retail store and now helps with the direction and future of the business. My sons, Chris and Alex, the third generation, joined the company full-time in 2010 and have made their mark on the business as well. Chris is the General Manager of the retail store where he oversees the day-to-day operations. Alex serves as the Willow Tree General Manager where he oversees all aspects of the wholesale operation including sales, quality control, and administration, as well as business strategy and development. They both helped develop our newest products, our chicken dips and the Sriracha and Avocado Chicken Salads.
What's the best advice that someone in your family offered you?
My dad taught me the importance of open communication and I've tried to create a work and family environment where everyone feels comfortable coming to me with any issues or for advice.
---