All Dentists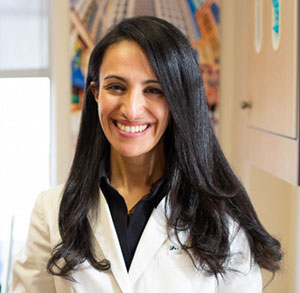 Prudential Dental Associates

Additional Locations
About
Dr. Gheddaf Dam strongly believes in catering to each patient's needs by formulating a comprehensive treatment plan that will suit their individual requirements.
She received her specialty degrees in Oral Surgery and Prosthodontics from the University of Geneva, Switzerland. Among other achievements she was also awarded a scholarship in Dental Implants and Bone Regeneration at Harvard School of Dental Medicine. She currently holds the role of an ITI ( International Team of Implantology) Study Club Director & was elected a Fellow for the International Team of Implantology She is also an Associate Fellow for the Greater New York Academy of Prosthodontics.
Her patients are drawn to her for her warmth, kindness and expertise in many different areas of dentistry
List the treatments and procedures you offer:
Dental implants and Bone Regeneration
Cosmetic Veneers
Simple and complex extractions ( including wisdom teeth)
Invisalign
Full mouth rehabilitations resulting from hereditary dental anomalies
Crown, Inlays & Onlays
Awards or Certifications
Fellow of the ITI (International Team of Impantology)
Associate Fellow of the Greater New York Academy of Prosthodontics
Dean's Award in Excellence in Clinical Teaching from Tufts University
Study Club Director, ITI, Tufts University, Boston
What's your background, education and training?
DMD, Tufts School of Dental Medicine
Dr.Med.Dent, Oral Surgery & Prosthodontics, University of Geneva, Switzerland
ITI Scholarship, Harvard School of Dental Medicine, Harvard University
What do clients have to say about you?
1. I have never met a dentist quite like Dr. Gheddaf Dam. If you are looking for one of the most genuine and compassionate dentists you could ever meet, Prudential Dental is for you. I had a very extensive treatment plan inclusive of veneers, crowns and onlays. This process was very overwhelming for me, both Dr. Gheddaf Dam and her staff consistently went above and beyond any standard level of care to make me feel comfortable. The over-communication and support is certainly nothing that I have experienced from any other health care provider.
The end result was the smile of my dreams. Highly recommend Dr. Gheddaf Da, to anyone seeking a cosmetic dentist!
2. Dr. Hamasat Gheddaf Dam is amazing and I am so pleased with the work she did! She made me feel so comfortable and helped restore my smile :) I looked into several other dentists before starting any work and no one compared to her thoroughness and expertise. She made the process from start to finish so great and put me at ease whenever I had any questions or concerns. She is a true expert at what she does and cares deeply about her patients. I highly, highly recommend her and this dental office!
3. I've been seeing Dr. Gheddaf Dam for years at this practice and I couldn't speak more highly of her. Staff are very understanding about clients' financial situations & always talk through my options.
I was very nervous about having my first cavity and Dr. Gheddaf Dam talked through the whole process with me and made sure I was comfortable. Today when getting two fillings, they went above and beyond and offered me a weighted blanket, and noise-cancelling headphones with music when I had an adverse reaction to the needles and was feeling nervous. The bedside manner of Dr. Gheddaf Dam & everyone at Prudential Dental has always been superb, and they want the best for their patients. I've recommended friends here in the past who've also had great experiences. I love it here!
Insurances Accepted
All major insurances accepted- Delta Dental, BCBS, Guardian,Cigna
Keywords: Dental Implants and Bone Regeneration Cosmetic Veneers Invisalign/ Clear Aligner Therapy Oral Surgery
Hours of Operation
Monday-Friday 8am-5pm