Best of Boston
Best Video Store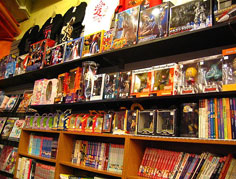 Cambridge
Parents may feel better about parking their offspring with an electronic babysitter when there's more to choose from than the Wiggles or Baby Einstein. In [...]
read more»
2001 Best Video Store
Cambridge
In some stores you search for hours for a decent title. In others, like City Video, you instantly strike gold. Maybe that's because its shelves [...]
read more»
2000 Best Video Store
Somerville
Attention. Compassion. Unparalleled Service. No, it's not a bank—it's a video store. Actually, it's a chain of them, staffed by some of the most highly [...]
read more»
1999 Best Video Store
Cambridge
City's two locations might not have 45 copies of Godzilla, but they've got all the movies that really matter, and the staff to help you [...]
read more»
1998 Best Video Store
Cambridge
Where else but in this sketchy warehouse could we find so many films we've never seen before? The scope of the Oasis collection boggles the [...]
read more»
1997 Best Video Store
Cambridge
Searching for an obscure miniseries by Brit playwright Dennis Potter? Or is Japanimation more your taste? You've come to the right place if you're looking [...]
read more»
1995 Best Video Store
With 16,500 titles available, many locations, and a two-day rental rate of $3 for most films, Videosmith earns the honors.
read more»
1991 Best Video Store
Danvers
The customer-service orientation of this new mom-and-pop (and son) store ought to be a model for others. We love the 24-hour movie-drop-off box and the [...]
read more»
1989 Best Video Store
Cambridge
A great collection, from recent releases to classics to cult films, with a knowledgeable and enthusiastic staff.
read more»
1988 Best Video Store
Boston
A tremendous selection of foreign and art films, and a staff of knowledgeable buffs.
read more»
1985 Best Video Store, Rentals
Boston
Biggest selection in town; lowest prices.
read more»