Best Restaurants in Boston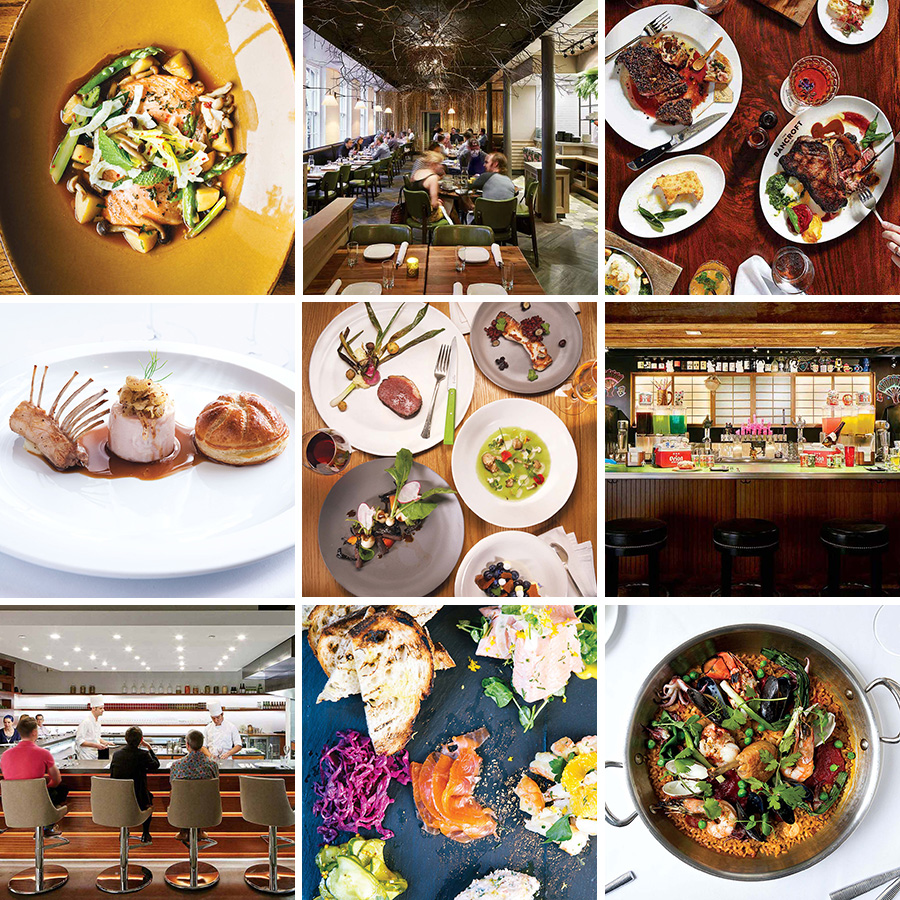 This list is in alphabetical order, not ranked. The numbers are for easy reference only.
— 1. —
Alden & Harlow
Chef Michael Scelfo's first solo outing was an instant success thanks to its vegetable-forward fare and ungodly rich, smoky burger. But Scelfo also deserves a pat on the back for his staffing skills. In particular, bar manager Seth Freidus has assembled a cocktail list that rivals the dinner menu in creativity and ambition, with drinks incorporating vegetables like squash; a house-made bitter on draft; and come winter, amaro-tinged whipped cream, which tops a warming combination of house-made butterscotch, curaçao, and Scotch.
40 Brattle St., Cambridge, 617-864-2100, aldenharlow.com.
— 2. —
Area Four
Michael Krupp and chef Jeff Pond identified a need and filled it: a cafeteria for the Cambridge tech crowd proffering consistently excellent wood-fired pizzas, salads, and croissant-crumb-topped mac 'n' cheese, plus an adjacent high-styled coffee shop. It's an upgraded '60s pizza parlor with sweeping windows and long tables perfect for meetings and casual, back-of-iPad collaboration. For a three-course meal Area Four-style, start with the "Kitchen Sink" salad tossed with fontina and roasted onions, order the sausage-and-banana-pepper pizza as the main event, and cap off the night with the soft-serve of the day, topped with irresistible homemade sauces and twice-baked-for-crunch cookie crumbs. The team opened a sleek South End outpost in 2016, too.
500 Technology Sq., Cambridge, 617-758-4444; Troy South End, 264 E. Berkley St., Boston, 857-317-4805, areafour.com.
— 3. —
Asta
"We ask that the entire party order the same menu" is the familiar refrain at restaurants with tasting menus. But at this ambitious Back Bay spot, diners at the same table can choose from the five- or eight-course menus, and chef Alex Crabb and his team will course them appropriately. If you're with friends who share, that means you can try Brussels sprouts tossed in nutty Marmite butter from the $80 five-course menu, and lamb with radicchio and fresh cheese from the $110, eight-course version. Budget- and taste-wise, everyone wins.
47 Massachusetts Ave., Boston, 617-585-9575, astaboston.com.
— 4. —
B&G Oysters
When Barbara Lynch opened B&G in 2003, she pioneered the idea of presenting local, fresh bivalves and seafood in a hip, bar-centered environment. While many have since followed her lead, B&G remains an essential part of the dining conversation, particularly when considered from beneath a string of lights on the subterranean patio, with plates of seafood-laced pastas, thoughtful salads, and overflowing lobster rolls spread across the table.
550 Tremont St., Boston, 617-423-0550, bandgoysters.com.
— 5. —
The Bancroft
'Burbs, say hello to the swankiest of steakhouses. With high-end touches like Carrara-marble countertops, enormous Oriental rugs, Parisian flea-market finds, and even an Andy Warhol room, the Bancroft feels like a Gatsby-era chophouse of yore. Chef Mario Capone's dry-aged rib-eyes and bone-in filets only add to the occasion-dining attitude, with haute accoutrements like smoked black salt, hot Roquefort butter, and charred avocado. For a real treat, take a turn on the steel catwalk and peruse the glassed-in, 3,000-bottle wine mezzanine stocked with rare vintages of Margaux and trophy pinots from the West Coast. Because hey, if you're going to spring for a hulking Tomahawk chop, why settle for a glass of merlot? We'll take ours with a bottled Hub Punch and a sidecar of Coravin-dispensed Amarone.
15 Third Ave., Burlington, 781-221-2100, the-bancroft.com.
— 6. —
Banyan Bar + Refuge
To transform Hamersley's Bistro's buttoned-down brasserie into one of Boston's buzziest restaurants, the Gallows Group gave chef Phillip Tang free rein. In turn, the former East by Northeast chef spiced up his largely Chinese repertoire with Japanese, Thai, and even eastern Russian elements. The result is a series of pitch-perfect riffs: The lobster roll is upgraded with honey-miso butter and pickled sea beans; Korean fried chicken swaps the typical sticky glaze for a dried-lime chimichurri and a side of Kewpie-mayo potato salad; and a New York strip is reborn as a massive, shareable DIY platter served with scallion pancakes, ssamjang, and kimchi butter. With its beer slushies and tamarind-infused spirits; Tang's progressive menu; and owner Rebecca Roth Gullo's organic, living space, Banyan has officially vanquished the specter of its celebrated predecessor.
553 Tremont St., Boston, 617-556-4211, banyanboston.com.
— 7. —
Bar Mezzana
Longtime Barbara Lynch Gruppo lieutenant Colin Lynch (no relation) struck out on his own with a sexy, subway-tiled coastal Italian restaurant in the South End's Ink Block development. Evidence of Lynch's pedigree is apparent across the menu, from the elegant haute crudo—slender langoustines with mounds of caviar; fat slices of yellowtail with grapefruit oil and chilies—to the lovely lineup of lightly spiked spritzes. Order the above, and all you'd need is a crostini or two, topped with smoked bluefish or hazelnut-studded beef tartare to make a graze-worthy meal.
360 Harrison Ave., Boston, 617-530-1770, barmezzana.com.
— 8. —
Bergamot
Nouveau classics at this Somerville mainstay are priced for a weeknight, but they're special enough for an occasion, especially when coupled with the attentive servers (folding a napkin here, suggesting a lovely Barbera there). For the Tuesday night when you just need a drink, one of the city's most undersung bars can cure what ails you with a gimlet or a "Montenegroni" (Citadelle Reserve gin, Campari, Amaro Montenegro).
118 Beacon St., Somerville, 617-576-7700, bergamotrestaurant.com.
— 9. —
Bistro du Midi
For nearly 10 years, this Provençal bistro has been the perfect place to dazzle out-of-towners, thanks to doting service, world-class wines, a plush but unfussy dining room, and prime Public Garden frontage. From-the-land proteins—such as seared duck breast accompanied by sweet potato, artichoke, and duck jus—are stellar, though the real draw is the seafood dishes (inventive crudo, inky tagliatelle with squid and uni) from executive chef and Le Bernardin alum Robert Sisca, who recently rejoined his protégé, chef de cuisine Josue Louis, in the Back Bay kitchen.
272 Boylston St., Boston, 617-426-7878, bistrodumidi.com.
— 10. —
Bondir
If you think farm-to-table has been reduced to a mere catch phrase, you haven't paid a visit to Jason Bond's idiosyncratic Cambridge bistro. Intricately arranged yet homey dishes highlight offbeat agrarian finds like elderberries, muskmelon, and wild arugula, some of which come from Bond's very own Carlisle farm plot. It's incredibly tough to top the magical atmosphere at the narrow Cambridge space, too, particularly during the winter, when the warmth of the fireplace can be felt throughout the intimate dining room.
279A Broadway, Cambridge, 617-661-0009, bondircambridge.com.
— 11. —
Brewer's Fork
The line between good eating and better imbibing is, thankfully, blurring, and no place better exemplifies that ambiguity than John Paine and Michael Cooney's Charlestown joint. Here you can pair a barrel-aged blonde with crisp maple-glazed pork belly or mussels bathed in a beer-and-tasso-ham broth—each churned out of an impressive 700-degree Le Panyol wood-burning oven. Or sip on a tulip glass brimming with Berliner Weisse, a perfect complement to one of Paine's pillowy, char-blistered pizzas (the sweet butter-and-sugar corn with salty 'nduja still haunts our dreams). Not a fan of the suds? How about a bottle of bubbly from the Languedoc, or some funky Normandy cider to savor alongside an expertly prepared tuna crudo? In today's quaffing climate, you can have it all. Man, are we spoiled.
7 Moulton St., Charlestown, 617-337-5703, brewersfork.com.
This list is updated periodically to reflect closures and other prominent developments. Please send updates to food editor Jenna Pelletier at jpelletier@bostonmagazine.com.