Kaplan Auto Group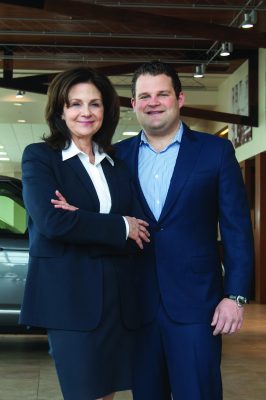 SHEREE KAPLAN-ALLEN
781.619.9000 | jakekaplans.com
The Norwood-based Kaplan Auto Group includes franchises in four locations: Jaguar/Land Rover Norwood, Jake Kaplan's Jaguar/Land Rover, Mercedes-Benz of Portsmouth, and Milford Subaru. It offers customers a wide selection of vehicles that aims to make the car-buying process as transparent and seamless as possible. Its goal is to be an enjoyable and exciting experience. Sheree Kaplan-Allen is the company's president and owner.
Who started your family business and how did you get involved?
My father, Jake Kaplan, started the business in the early '40s. Jake's love for cars matched up with his charm and love for people. The car business was only a natural fit for him.
I started working for my father when I was 25. It wasn't necessarily easy at first, as the car business was made up entirely of men, and was a difficult industry in which to gain acceptance and respect. My father passed away in 1991, and I purchased Jake Kaplan's Ltd. in 1993.
Why is the location of your business so important to the success of your business?
The location of a dealership is definitely an important factor. The car business is all about servicing the customer. Having the right people and the right atmosphere is paramount. Turnover is extremely high in this industry, which is why we take care of our employees, creating longevity and familiarity. The customer receives the ultimate benefit—people they can trust. It all starts with the hiring process. I am so proud of the teams we have put together at all our stores. People will do business where they feel comfortable, and over the past 70 years, Kaplan's has been a place people can trust.
Have you ever encountered any challenges in your business?
There have been a few economic downturns since I have taken over, and they've been trying times. There are a lot of areas that come into focus that you have to watch closely. Our ultimate goal is to get through those times by controlling expenses all while maintaining the customer experience.
What is it like to have your son working in the company with you now?
When I came into this business I felt I had to work harder than everybody to show them I was dedicated and not just riding on my father's coattails. Eddy does the same. He has a great work ethic, and loves to learn. I feel so comfortable having him around to protect the principles and integrity that have been the backbone of Jake Kaplan's. I'm a career woman. I love what I do, and I love people. I'm very lucky!
What is the biggest lesson that you learned from your father, Jake Kaplan?
My dad taught me the most important lesson of all—that every human being is the most important person in the world regardless of appearance, job, education, the car they drive, or the house they live in. In my dealerships, we don't make assumptions or judgments, and we value every customer that we work with. We have created kind and caring environments in all of our dealerships in order to make not only our employees and customers, but also their dogs, feel at home! While our business is selling and servicing cars, our greater goal is to provide jobs and do good work in our communities.
---