The Impossibly Perfect Life of Sager Kopchak
Two adorable kids, a model marriage, and an incredible story of conquering cancer. Boston social climber Sager Kopchak had it all—including a secret that would cost her everything.
---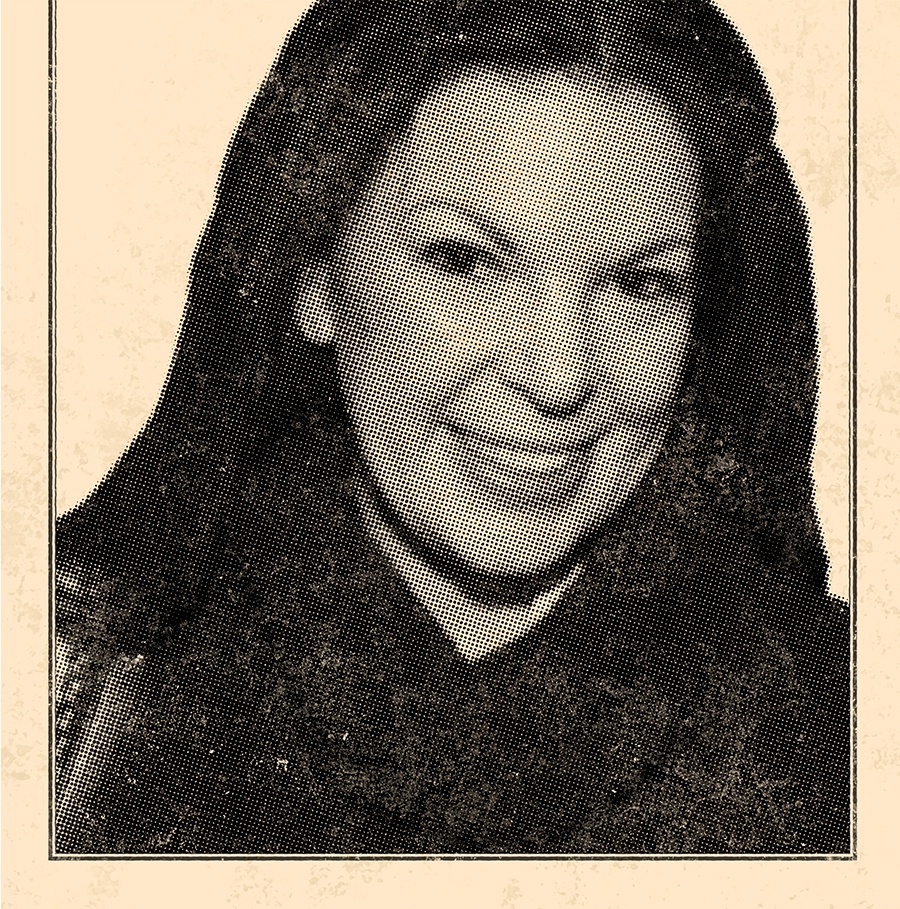 When Sager Kopchak Dallai walked the pink carpet at the Breast Cancer Research Foundation's 2016 Hot Pink Party at the InterContinental Boston, she was impeccably dressed—this particular evening in a black outfit accented by a bright-red satin cape and a timeless quilted Chanel clutch. While China Forbes of Pink Martini performed onstage alongside members of the Boston Pops, Kopchak and her husband, Riccardo Dallai Jr., rubbed elbows with Boston royals Bill Belichick and Linda Holliday, moving seamlessly in a crowd of hundreds that included social butterflies Lynn Dale and Sinesia Karol. Their table featured a group of regulars on the Boston social circuit, from former news anchor Bianca de la Garza to octogenarian extraordinaire Doris Yaffe. (Full disclosure: I was also seated at the table, covering the event for the Herald.)
Kopchak was one of them: a 32-year-old woman with fine jewelry, the right handbag, and a respected husband who was a longtime member of Boston's fashion and social scenes. She wasn't particularly svelte, or stunning, or witty, which is to say she didn't stand out from the crowd; rather, she blended right in among the diamonds, Cartier watches, fur coats, and Hermès handbags.
Reminiscent of superhero attire, the red cape that Kopchak wore that night was quite fitting. After all, she had rocketed onto Boston's social scene seemingly out of the clouds and soon revealed that she harbored a benevolent mission. While she could be found at all manner of gatherings—from magazine launches to boutique openings—she showed a particular interest in nonprofits, including attending a women's wellness event hosted by Beth Israel Deaconess Medical Center and the Boston Ballet Ball.
At the Boston Hot Pink Party, over drinks and dinner, Kopchak shared with the other guests, many of them cancer survivors themselves, the story of her own struggle with the disease and her firm determination to be of service to others. She peppered the attendees with questions about how she, too, could get involved with the charity, approaching one of the event's committee members and pleading to let her help in any way she could. This would not only be a way to give back, but it would also immerse her in Boston's philanthropic scene, arguably the city's most elite social circle.
It was on Dallai's arm that Kopchak started attending exclusive events in Boston after they began dating in 2012. And it was Dallai, owner of the exclusive Riccardi boutique on Newbury Street, who secured her immediate acceptance in the upper echelons of Boston society. At the time they met, Kopchak was the department manager at Christian Dior's Copley Square boutique. She aspired not just to sell high-end fashion to wealthy Bostonians, but to buy it and wear it herself. Much of the couple's connection, friends say, was based on their shared love of luxury goods. Theirs was a match made in retail heaven.
Like her closet, Kopchak seemed to have it all: a loving husband, a beautiful daughter and another on the way, plus plenty of money. But right around the time she began climbing her way up in Boston's philanthropy world, her past started catching up to her. Unbeknownst to everyone around her, Kopchak's enviable life was about to come apart at the seams and send shock waves through Boston society.
Sager Anna Kopchak was born in the shadows of the Chugach Mountains on the eastern side of Alaska's Prince William Sound. A quaint and remote fishing village, her hometown of Cordova is accessible only by boat or plane. It's possible Kopchak derived her interest in the nonprofit world from her father, who devoted much of his life to fundraising and development for organizations that addressed everything from conservation to mental health to marketing salmon. Her mother, a Northeastern Law School grad, worked as a community college teacher and raised Sager and her three younger brothers.
Her life in the bosom of a Quaker family on the northern fringes of the American frontier may have had the trappings of a humble childhood, very unlike the glitzy high-society lifestyle she'd immerse herself in as an adult, but Kopchak confided to friends in Boston that her rural Alaskan upbringing belied the fact that she had family money in a trust fund.
Kopchak left Alaska to attend a Quaker boarding school in Pennsylvania. She went on to college at the University of the Pacific, in Stockton, California; spent some time in South Africa; and moved in 2005 to New York City, where she pursued a career in the fashion retail industry. Life in the Big Apple was good to her, at least in the beginning. She landed a job at Intermix, a chain of boutiques that sells on-trend styles from established and emerging designers and worked at a location on the Upper West Side as well as in the Hamptons, where she built a stable of affluent, sophisticated clients.
It wasn't just her work life that was going well—she met and fell madly in love with Tim (not his real name), a man of considerable means. Kopchak was utterly convinced he was the one and even took him home to Alaska in the summer of 2008 to meet her parents. But when they returned from that trip, Tim announced he didn't want to see her anymore. Kopchak was devastated. "She thought it could have led to marriage," a former colleague in Boston says, "and that he was the one that got away."
The bad news kept coming. Less than a month after being dumped, Kopchak reached out to Tim with shattering news: She'd been diagnosed with colon cancer. She was undergoing weekly treatments that made her groggy at a nearby hospital, she said, and really needed a place to crash. He agreed to let her stay with him once a week, but he was not interested in taking her back. After nine months of supporting Kopchak while she underwent treatment, he finally asked her to leave.
Seeking a fresh start, Kopchak looked north. She secured a transfer to an Intermix shop on Newbury Street in Boston, where she immediately impressed her boss. "She was great because she understood the company culture and didn't have to be trained," says Tracy Doyon, former general manager at Intermix Boston. Things were going well for Kopchak socially, too. She grew close with the women she worked with, who, along with a few other area scenesters, became her social circle in Boston. They were a fashionable crowd who followed trends, indulged in the city's nightlife, and attended local events. "We had a pretty solid crew for three or four years and she was just one of the girls," says one friend of Kopchak's. "She had to keep up that appearance," explains another person close to her in those days. "She was obsessed with the social scene and keeping up with others."
As much as she socialized and shared some pretty intimate details—like her battle with cancer and her heartbreak over Tim—Kopchak was intensely private about other aspects of her life. One friend, who often attended events with Kopchak, said that if you asked her too many questions about her time pre-Boston, she would completely disconnect. Others said there was something about her life history that just didn't add up. It was nothing anyone could put their finger on, but more of a nagging feeling that something about Kopchak's story, and Kopchak herself, was not quite right. "My background in the luxury world means I was surrounded by wealth every day," says a former hospitality public relations rep who was friendly with Kopchak after meeting her at countless social events. "I can tell when people are more genuine than others, and Sager was not being genuine."
A few doubters here and there didn't bother Kopchak in the least, and her rise in Boston continued unabated. She traded up professionally for a job at the higher-end Christian Dior store in Copley Place. When she started dating fashion maven Dallai, who was already a fixture on the social circuit, her immersion in Boston society began in earnest. Soon, she was attending elite gatherings and events—and started spending much more money on her clothes. "It was obvious that she was a social climber, and wanted to land a wealthy man and have a certain lifestyle," a friend from her retail days explains. And that ideal lifestyle apparently did not involve her old friends. "She didn't answer many questions," says one former friend. "She started to become disconnected from reality; it was all about her all the time. She dropped her old friends."
From the start, Kopchak and Dallai were an affectionate couple who posted photos of each other on social media. It was, in many ways, a fairy-tale romance: After two years of dating, Dallai proposed to Kopchak. The fact that they shared a mutual appreciation for high-end clothes only strengthened their bond. "They enabled each other in terms of their partying, love for fashion, name dropping, and social climbing," says a former Riccardi employee. "Status meant everything to both of them."
Fittingly, they tied the knot at the city's most elite wedding venue: the Boston Public Library. The 2014 soiree welcomed family and friends to a stylish dinner celebration. On their wedding day, Dallai shared a photo of his wife on Instagram, writing, "cannot get enough of my beautiful bride."
Dallai's passion didn't appear to fade in their first year of marriage. On their first anniversary, he posted a black-and-white photo from their wedding day. In the shot, Kopchak is laughing while Dallai kisses her arm. "One year ago…this weekend, I became the luckiest husband," he wrote. "My motivator, partner-in-crime, comedian, and BF!!"
Being the wife of the owner of Riccardi certainly came with occasional sartorial benefits, and Kopchak took advantage of them, dressing in freebies from her husband's boutique. But that was by no means the only source of her growing and ever more impressive wardrobe—nor was her husband's income. While wealthy, Dallai wasn't funding his bride's expensive taste: Behind the scenes, Kopchak herself was footing the bill, dropping more than a quarter of a million dollars one year on designer duds and jewelry.
In no time, her closet became a carefully curated collection of high fashion's finest—Dolce & Gabbana, Hermès, and Louis Vuitton, to name a few. She went on shopping sprees online and at Cartier, Chanel, and Christian Dior. Boxes from stylists arrived daily at her Winchester home. Meanwhile, her credit-card statements read like the bill of lading presented at the loading dock of Barneys or Bergdorf Goodman—$2,000 dresses, fine cashmere sweaters and tops, jewelry, handbags, and shoes.
Kopchak charged these items to her credit cards and paid her bills with funds from a JPMorgan Chase investment account. One day in 2016, however, she learned she no longer had access to the funds. Her multi-year spending spree had come to an abrupt end. Shortly afterward, so did life as she had known it.
Kopchak was partaking in her morning caffeine ritual at her local coffee shop in the spring of 2016 when FBI agents walked in. When they told her that she was being investigated for bank fraud, she copped to it on the spot—after all, she'd been stashing legal letters away in her closet for some time. Her crimes? For more than seven years she had been forging checks to herself and stealing from her wealthy ex-boyfriend, Tim, to pay off her credit cards. The final tab came to $1,061,470—all spent on high-end fashion, plus a trip to the Bahamas. She led the agents to her home, where she offered to hand over boxes of designer goods. The contents of many of the boxes had never been worn or used. Some of the boxes had never even been opened.
It turns out that Kopchak was not independently rich. The source of her wealth was stolen money. When she'd gathered her belongings from Tim's home in New York after he'd asked her to leave, she swiped his checkbook as she headed out the door. Over the course of seven-plus years, she forged his checks and used his routing numbers to drain a million dollars from his investment account before he noticed.
The breakdown of stolen money went like this: $17,691 in 2009; $116,887 in 2010; $59,328 in 2011; $129,758 in 2012; $85,744 in 2013; $168,869 in 2014; $229,837 in 2015; $253,356 in 2016. This was how she thanked the man who had taken her in after her cancer diagnosis. Only that was a lie, too. She never had cancer; it was simply a ploy to try to get her boyfriend back. When Tim had come home to find Kopchak groggy and out of it after her supposed weekly cancer treatments, what he was really seeing was a woman who had downed half a bottle of NyQuil to make her performance more believable.
Sources close to Kopchak say she was relieved to finally get caught. It brought an end to the long lie that she had stitched together over the years in order to create an image of a person she was not. Still, over the next months, Kopchak did little to address or rectify her situation with the FBI, and she didn't breathe a word of her troubles to her husband. Ignoring the problem, however, didn't make it go away. In the late summer of 2017, federal agents showed up at Riccardi. That was when Dallai learned that the woman he had married was a fraud, the mother of his children a criminal.
In no time, rumors and tales of her crimes rocked Boston's social scene. Perhaps the most scandalous part about Kopchak's fall was the fact that she'd faked having cancer. "When the news came out that she was a fraud," says a former regular on the party circuit, "I was stunned. I mean, who the hell lies about having cancer?"
On the surface, Kopchak's problems appear to have been the result of money troubles, expressed through a crazy spending habit and an obsession with fashion. A deeper dive, however, shows that her self-destructive behavior was rooted in a series of heartbreaks that arguably defined her life.
When Kopchak was a 12-year-old girl in her small Alaskan town, she became romantically involved with a high school senior. Her parents caught wind of the relationship and tried to stop it, but she found ways to sneak around with him—even drawing police attention after she and her boyfriend handcuffed themselves together at school. Kopchak's mother and father ultimately went so far as to contact the boy's parents to tell them to keep their much older son away from their young daughter. The ploy worked to the extent that the relationship ended. But Kopchak, lovesick and obsessed, intentionally overdosed on Tylenol and was hospitalized.
Her relocation to a Pennsylvania boarding school didn't help matters. There she met her high school sweetheart, Christian, and their relationship lasted well into her California college years, even though he attended a university in New York. During her senior year in college, she later told authorities, she discovered Christian was cheating on her and spiraled into despair. Over the next five months she started drinking heavily, stopped attending classes, and eventually dropped out just months shy of graduation. Too ashamed to tell her parents, she ran away to South Africa to get sober and start over.
When she met Tim after moving to New York, Kopchak once again grew extremely attached. Their relationship got serious, but on that trip to Alaska to introduce him to her parents, Tim suffered an injury so severe that he had to be airlifted from Kopchak's remote village to an Anchorage hospital. But something more than his body was broken after that trip. When they returned to New York, he ended their relationship.
As with past boyfriends, Kopchak seemed unable to process Tim's rejection and spiraled out of control. But in this case, neither handcuffs nor suicide attempts nor reckless drinking would do. This time, she needed a foolproof way to keep this man in her life—so she decided to fake cancer and take his checkbook.
The U.S. Attorney's Office formally charged Kopchak with four counts of bank fraud in September 2017. Soon, her life was all but unrecognizable. Dallai filed for divorce, and Kopchak was sleeping on an air mattress in a rented studio apartment not far from the home where she had lived with her husband and their two daughters. (Between the time she was first approached by the FBI agents and when she was formally charged, she had given birth to their second daughter.) She became an Uber driver to make ends meet and spent time with her daughters while Dallai was at work.
While Kopchak readied herself for prison, her attorneys were hard at work trying to convince the federal judge to go easy on the mother of two. After all, if ever there was a clear-cut case of the adage "Don't blame me, love made me do it," it was this. In a 94-page memorandum filled with details of Kopchak's life, her lawyers highlighted repeated traumas and heartbreaks. Also included were letters from psychiatrists who suggested that her "increasingly abnormal" responses to each of her three major breakups were desperate attempts to hold onto the relationships and derived from low self-esteem that started when she was a child.
When it came to Kopchak's high-dollar shopping binges on designer clothes, one psychologist called it "stress relief" and noted that using her ex's money may have been a way for her to maintain a relationship with him long after the breakup. The memorandum also contained character letters from Kopchak's family members, including her mother, father, and all three younger brothers. Only one of Kopchak's Boston friends (most dropped her once they learned of her arrest and fake cancer) penned a letter of support. The goal was to secure her the shortest amount of time possible behind bars.
A month later, the plan seemed to work. On March 14, a judge sentenced Kopchak to 18 months in a minimum-security prison and ordered her to pay $1,118,246.22 in restitution—which covered the stolen money and Tim's legal fees. She officially traded in her Sportmax fur coat and Victoria Beckham off-white dress for sweat pants, a cotton pullover, and sneakers.
Today, she is six months into her prison sentence at a facility in Danbury, Connecticut. Friends report that her ex-husband, Dallai, is dating someone new. (Kopchak, Dallai, and law enforcement all declined to comment.) "What I wish most for her," Kopchak's mother wrote to the court, "is for her to work to redeem herself with those she has harmed, to gain insight into her wrongs, and to maintain contact with her children." Friend and former neighbor Christine Kendall also takes pity. "She has lost so much of her former life, her friends, her family, and her finances," Kendall wrote. "I truly think these losses are greater punishments than any jail sentence could ever be for her."
---