Royal Jewelers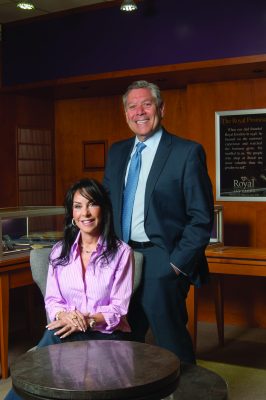 PAULA & STEVEN LEED
978.475.3330 | royaljewelers.com
Royal Jewelers in Andover has been providing New Englanders with fine jewelry and Swiss timepieces since 1948. They strive for personal consumer attention in what co-owners, Paula and Steve refer to as the "Royal Experience."
Who started your family business and how did you first get involved?
Our Dad started Royal in 1948, almost 70 years ago. We are equal partners and co-presidents. Growing up, Royal was always a topic of discussion at the dinner table. For our parents, it was a third child, and for us, an additional sibling. Royal has always been a major part of our life. Our father had a good understanding of how working together in a family business could lead to success. He taught us, above all, to work out our differences for the longevity of our company and our sibling relationship. We have been working together for more than 41 years. We play upon each other's individual strengths.
Why is the location of your business so important to the success of your business?
As Royal is about to turn 70 years old, our location is not as crucial to our business as it once was. Customers can now access us digitally, and our sterling reputation of strong customer service has given us many repeat shoppers and referrals. Our business has grown to the point that our shipping department sends our packages to Royal shoppers in the U.S. and around the world.
What makes Royal Jewelers different?
It's our culture. None of our sales advisors receive commission. Our focus is on assisting you with the world's prettiest jewelry and finest Swiss watches. The goal is your happiness with the jewelry or watch you select. We are also proud to have our service departments in house. They include two watchmakers and three master bench jewelers. Your jewelry or watch will likely never leave the premises for service.
What's the best advice that someone in your family offered you?
From childhood through joining Royal fulltime in the '70s, our parents constantly reminded us that the people who walk through the door of Royal Jewelers are more important than the jewelry we offer. This is the foundation we continue to build on today. It's all about putting the people that shop with us at the center of our universe. Our commitment to customer service has resulted in a number of Boston magazine Best of Boston® awards throughout the years. We were also selected by Lustre Magazine as one of the top 25 "Retailers in Designer Jewelry in the Country." In the spring of 2016, the Luxury Jewelry Association named us one of the top 5 "Luxury Retail Jewelers" in the United States.
---