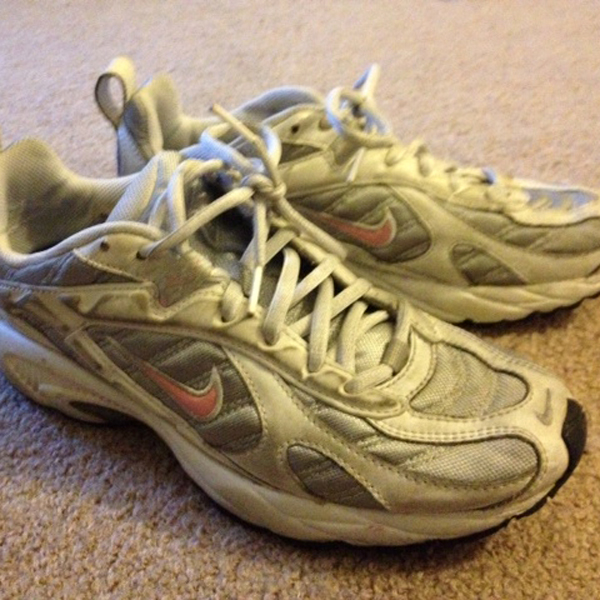 Caitlin Fitzgerald

,

34




Melrose

,

Mass.

I began getting ready the morning of the 2013 Boston Marathon running behind as usual. I was to meet my friend at South Station when her bus arrived from Maine before we headed over the route to drink in the spirit of those completing a feat that I never had. This was the 10-year tradition that my BU alumnae friend and I had, and we were very excited to spend this special day together for another year.

I quickly grabbed a pair of sneakers. I was traveling light but brought an extra pair of slip-on comfy shoes in my small messenger bag in case my feet needed a break. Sporting capri pants, a bit of a stretch for the weather, and my trusty BU fleece, I headed off to meet her.

After giving my friend a welcome back to Boston hug in South Station, I handed her a Charlie Card to load up with funds for the day. She asked how much money I thought she should put on the card. I replied back to her that a bit more than usual as I anticipated that I wouldn't be able to walk as much. I expressed to her that I know walking less on Marathon Monday seems wrong but that I am trying to be more responsible these days. My friends, well versed in my limited walking tolerance due to a slew of orthopedic issues with my left leg, don't even bat an eyelash when I make these statements, and she loaded the card planning for an extra T ride or two.

Little did we know that we would make only one ride together on the T this year as we had no idea how far we would travel in our shoes that day.

When we rode the Green Line and passed through Copley, I remarked to my friend how creepy it is to see all the lights off and nobody in the station. She concurred and we rode on not knowing that Copley Station would not re-open for over a week. We got off at Hynes and had a quick bite to eat while watching the front-runners cross the finish line on a television screen. I was excited. The positivity was infectious. We then visited our usual spots between Mass. Ave. and Dartmouth Street.

Using my cell, we were tracking runners that I knew, excited to catch a glimpse of one of them obtaining a monumental accomplishment for a great cause.

In an effort to rest my already uncomfortable feet, we ventured into Lolita for a seat and a celebratory beverage. To another year! To a great tradition! To friendship! Around 2:40 p.m. we emerged from the garden-level lounge. I was ready for that conscious moment of inspiration that comes over me while watching the runners make their way toward the finish line around the four-hour mark. The moment where I am reaffirmed that people can do anything they put their mind to if they have the power of positivity and determination.

We decided to go down the alley parallel to Boylston between Dartmouth and Exeter instead of walking down Boylston by the finish line. The alley was shady and cold—a classic city of Boston wind tunnel. I was chilly in my capri pants and we stood only briefly at the corner of Exeter and Boylston before I suggested to my friend that we duck into the Tannery, warm up, and track the runners we were planning to see come by around 3 p.m. She agreed. There was plenty of time to get that moment, or so I thought. We passed through the large glass doors of the store, not expecting that we wouldn't exit them again to go back to the race.

We milled around the store for only a few minutes picking up various shoes here and there all while multitasking and checking the runner's status figuring if it said he passed 40k we needed to be outside.

I picked up a sparkly pair of flats made by Jimmy Choo and told my friend they were adorable but cost $500. We both laughed and I put them down and we began to move toward the door to exit the store. The next thing I knew, we were horrified.

One explosion, smoke, screaming … another explosion … then someone locked the large glass doors of the store. We took cover in the basement away from the glass walls of the first floor, feeling that there may be more blasts. Surrounded by apparel and shoes, I can't say I remember anything about the basement other than the faces of the others that were there. I especially remember the children and those that were down there alone. We called loved ones to try to get information and my brother who worked in the area called me to find out my whereabouts and began providing me information as he was in a building that had a view of the Back Bay.

We tried to escape once as a group out the front door on Boylston, but we did not make it over the threshold before something pushed us back inside but not before a mother and her three kids rushed out. There was so much yelling, and I still am not quite sure why we pushed back indoor and I was unsettled with the notion that we allowed a mother and her three children into more danger. The doors were locked again, and I wanted so badly to protect them though their mother was strong and brave and already had said she could handle it on her own. Again as a group of strangers in a bad situation, we yet again tried to make a plan of what to do.

Eventually we exited the store to the back alley. I walked down Exeter Street with the race course at my back, holding hands on one side with a friend I had known for 16 years—and the other a new friend I met just 10 minutes before while seeking shelter from bombs in the Back Bay of Boston. Everything was moving so slowly. It was so surreal.

I didn't feel my feet in these shoes at that point, all I felt was the firm grasps from both their hands signaling for me not to let go. I didn't let go. I held on tight.

In these shoes I walked a lot that day. It wasn't until I finally made it home that I realized my feet hurt and that I had blisters. I am so lucky that that is the only physical consequence I endured that day and my heart and soul are with all of those with physical and emotional aches following this tragedy.

These are the shoes that I wore the day of the 2013 Boston Marathon bombings.