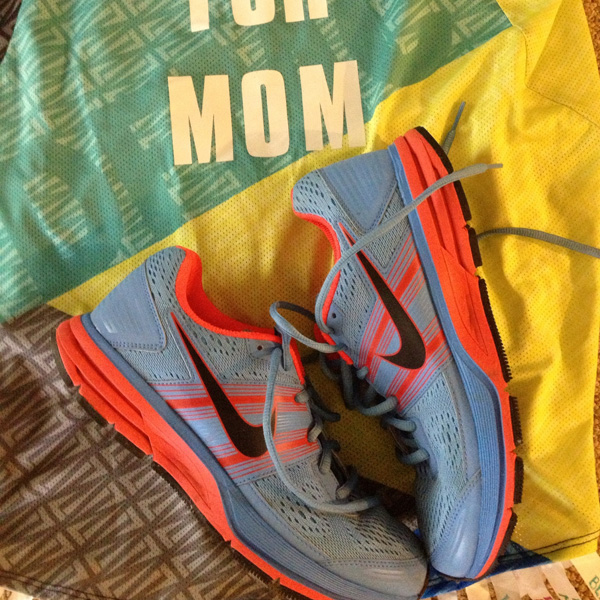 Kristen Souza
I will preface this by saying, I am not an athlete. And frankly do not consider myself a runner. I chose back in October to run Boston to raise funds for Dana Farber, just weeks after finding out my mother was diagnosed with Stage IV cancer. I put in the work. My only goal was to cross the finish line with my mom waiting in the bleachers. My day started as most, I assume. This was my first marathon. The most I had ever run in a race was a 10k. I had only been running for about 18 months. This wasn't just a marathon, it was THE marathon … Boston. The nerves set in, but I was surrounded with teammates at our pre-race haven, just steps from the start line. We swapped stories of jitters, injuries we were nursing, and, of course, words of encouragement. My plan was to just enjoy the experience. This would be most likely the only time I did a full marathon.
I chuckled as I saw the line of male participants on the side of Mile 1 unloading their morning fluids. I sighed realized men in hamburger costumes were quickly passing me. By mile 3, I knew I was running slower and with more difficulty than any run—ever. I had been battling a stomach bug since Friday and was popping Imodium like M&M's. At Mile 5, I was pleasantly surprised to see my sister at my side, who was running for another charity team. We played cat and mouse until Mile 18. At Mile 18, my sister and I were again running side-by-side, and I had handed over my phone at Newton Wellesley Hospital to my husband since the battery died at Mile 12. Shortly after we passed the Mile 20 marker, there were rumblings of an "incident." My first thought perhaps a heart attack or other running-related medical emergency at the finish line. Surely there are contingency plans, and they will pause but resume the race. As we continued along, incident turned to explosion. Explosion shortly turned to bomb. It was over. We were done. About halfway into the 20th mile our race, the race was over. We sat on the grassy median, and my sister frantically tried locating our family. There were four groups of family at various parts of the route that we were trying to locate. One by one we had confirmation, some stuck on the T, some at the Westin, another group at the Public Library. We were down to 10 percent battery between two of us and $5 to split. We headed back to the center of Newton to a Starbucks to wait for somebody to pick us up. I still did not have solid confirmation that my stepmother and one-year-old son were still with my mom. I had no idea if they were safe or stuck in chaos and I was sick. We sat at Starbucks wrapped in Mylar blankets and a sense of confusion. We spoke with other customers who were getting coverage on their phones. Not too much longer we were picked up, and I got the confirmation that my stepmother and son were in fact with my mom and stepfather, safe but still stuck in the city. By about 6:30, we finally were all back under one roof, safe.
Although the day has been clouded by this awful event, I choose to cherish the moments that the spirit of the marathon is about: running by the Dana Farber cheering spot and getting a big, encouraging high five. Passing the Wellesley girls just in time to see a tall rugged man run over and get his kiss from one of the ladies. Getting cups of ice from perfect strangers and thinking this was the only thing getting me through the next mile, stopping at my family's cheering spot and seeing their posters, getting kisses from my children and words of wisdom from my dad. I ran with earbuds, but when I needed a boost I pulled them and took in the crowd. The yells of my name, "go Dana Farber!", etc. every little bit helped and every bit was appreciated. Of course, I was disappointed that I didn't finish, who wouldn't be? But what I do know is I will continue to run and look forward to the high fives, cups of ice, and moments of support I am sure to receive when I run Boston in 2014.