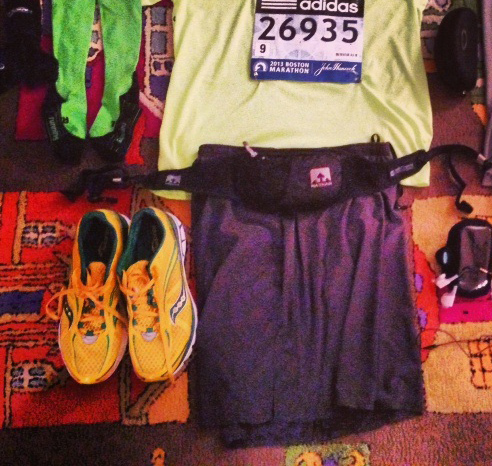 Will DiTullio

,

32




Charlestown

The 2013 Boston Marathon was my second marathon. The day had started off perfect. I stayed at my aunt and uncle's house. They live in Ashland, and I arrived in Hopkinton at 8 a.m. My wife, Julie, has worked for the BAA for the past 10 years and she was at start line for the first time this year, coordinating interviews with the WBZ and the Universal Network. I was able to say my goodbyes prior to starting my trek from Hopkinton to Boston.

Just before the second wave was about to head out, I met my teenage crush, Summer Sanders. Summer and I talked for a couple of minutes and took a photo. Soon after, I began getting ready. The day was beautiful and the streets were lined with amazing support from the spectators. Each time that I would begin to struggle, I would hear someone yell my name and I would keep going. My goal was to run around 4 hours. When I reached mile 18, I was struggling. My splits were slower than I was used to during training because I began cramping. My calves and quads were unforgiving, but I had no choice but to continue. I kept thinking in the back of my head, I can't wait to get to the finish line and see my wife, 4-month old son and a number of family members that would be waiting for me in the grandstands as I crossed. As I was running through the streets of Brookline, I received a call from my wife. At first, I didn't pick up. Moments later, my sister, who was at the finish line also called me. I began to think that there must be an issue. I immediately slowed down, pulled out my iPhone—which I had if I wanted to listen to music—and called my wife. When I got my wife on the phone, I heard her crying. She informed me that there were 2 explosions at the finish line. My family was unharmed physically but had seen some horrific things.

I was about two or three miles away when the blasts occurred. Fortunately, for my sake, I began cramping or I may have been on Boylston Street at the time of the blasts. My family was able toget home safe to our place in Charlestown. I caught a ride from a friend who had seen me on the course. I will never forget the 2013 Boston Marathon. I was unable to cross the finish line, being stopped just beyond Kenmore Square, but my family was safe and sound. I have vowed to run next year in the memory of those that lost their lives and those that were severely injured. I will not live in fear!