The Boston Retirement Community Revolutionizing Independent Living for Residents From Across the World
When we reach our retirement chapter, we should feel more free than ever to do the things we love. And with the right independent retirement community, we can still choose how and with whom we spend our time. With the latest approaches to independent living, our next chapter can be full of new memories, familiar friends, and continued pursuit of our passions.
Just outside of Boston, in the idyllic town of Lincoln, Massachusetts, one retirement community takes an especially unique approach to independent living that preserves—and even elevates—the excitement of life. At The Commons in Lincoln, a continuing care retirement community set on more than 30 acres of rolling hills and serene woods, retirement doesn't take the personalization of life away. Rather, it gives residents a new opportunity to customize their next phase of life—from the look of their own personal cottage and the way they pursue their passions to fulfilling ever-evolving health and wellness needs.
We spoke to The Commons in Lincoln Executive Director Reynaldo LeBlanc and Director of Sales and Marketing Mary Garrity Cormier to learn more about The Commons in Lincoln's innovative approach—here's how they're making independent living a fully customizable adventure.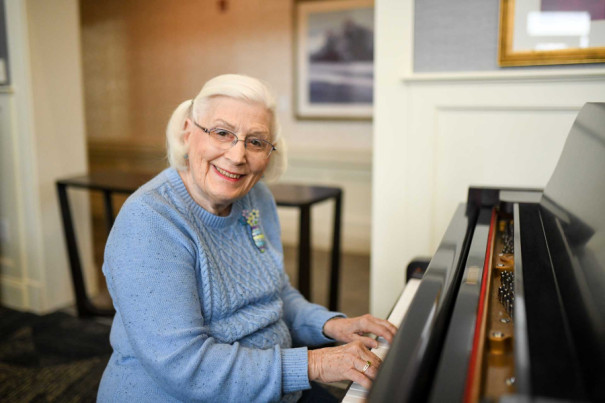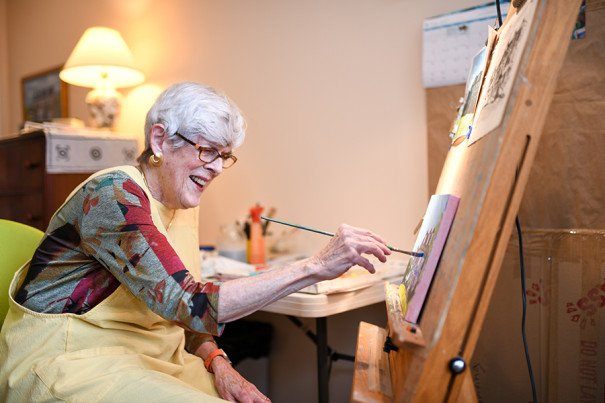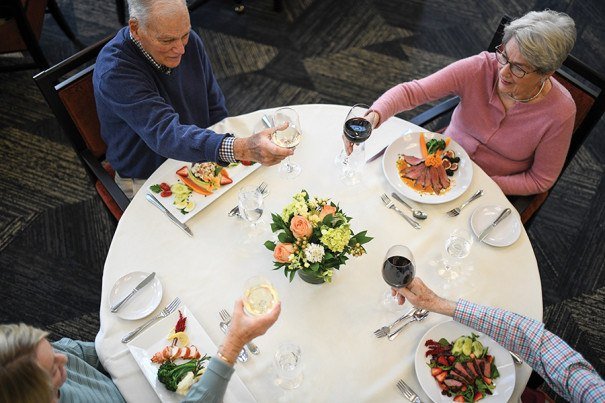 Getting to Know You
Often, choosing a retirement community means coming into the process with apprehension, and sometimes a feeling of resignation. They feel choosing a retirement community means trying to fit into a new, unfamiliar mold. But at The Commons in Lincoln, they've flipped the script: They accommodate your preferences—before you even move in. "That special touch, that individualized experience, is what sets us apart," says LeBlanc. "We take tremendous pride in it."
From your first phone call with The Commons in Lincoln, the process is centered all around what specifically you want out of your next chapter in life. "It's not a transactional approach," says LeBlanc. "Our approach has to do with creating the best possible experience, and what that means to you, would be different from me."
The team at The Commons in Lincoln keeps information sessions intimate, capping the round table sessions at around ten people. Prospects walk away with a clear understanding of life at The Commons, which can help them make the best choice for them. "We want people to be in the best place where they will thrive – no matter where that is," says Garrity Cormier.
If the future resident believes they may be a good fit for life at The Commons, they come for a tour of the campus, which is tailored toward their unique desires. "We want to get to know the person and cater the experience around them," says LeBlanc.
Garrity Cormier and her team discuss with future residents what their interests and passions are, what they're looking for in their living situation, and about their career, family, health priorities and needs.
After the info session and tour phase of the decision process, visitors return and meet current residents over lunch or dinner, an exciting and personal step inspired by the college touring process. This way, they see their future life from a relatable and personal perspective and can begin to find excitement in a rather emotional transition. Without a sales team member present, they'll get the chance to ask any questions and receive transparent answers from current residents.
As Garrity Cormier says, the choice is always in the potential resident's hands—a consistent theme throughout The Commons in Lincoln experience. But after an intimate info session, a customized tour from a like-minded resident, and a meaningful introduction to other residents at The Commons in Lincoln, the idea of spending your next chapter there will likely come naturally.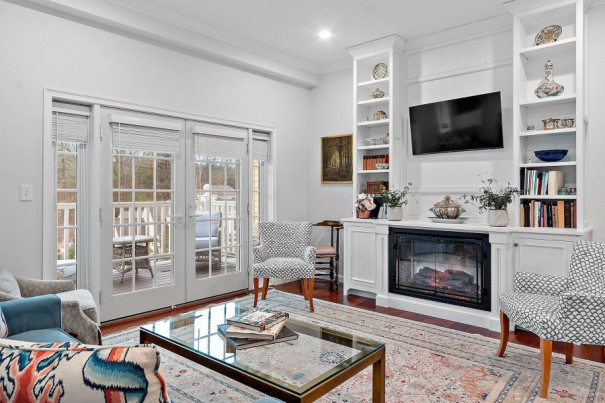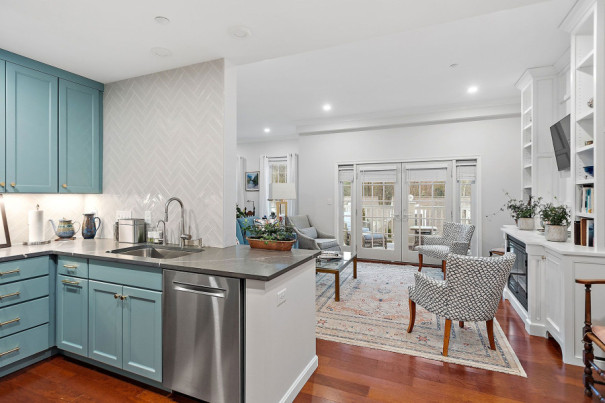 Your Very Own Home
One of the first things visitors notice about The Commons in Lincoln is the stunning campus dotted with charming cottages and New England style houses. But what they may not realize is that the interiors of these 130 apartments and 38 cottages are distinct from one another. That's because residents have the freedom to design the space to match their aesthetic preferences.
"We do not do any construction or renovations until the person has picked what they would like," Garrity Cormier says. "They work with our director of customer experience, Megan Bailey, and get to pick their paint colors, their counters, their flooring—all of those custom finishes." The Commons allows residents to undertake their own renovation projects using provided contractors and choose design elements before they move in, so their home has a unique flair and allows them to connect with the space on a personal level. For example, one resident, a culinary enthusiast who has written cookbooks, opted to renovate his entire kitchen to his liking.
Other communities, Garrity Cormier says, limit the customizability of the units to furniture and decor, making the whole living experience less warm and inviting. But The Commons in Lincoln is in touch with what people these days really want. "The new generation of seniors desire flexibility and adaptability," adds LeBlanc. "They don't want to be put into a cookie-cutter situation that feels like the old way of approaching senior living—where you take it or leave it."
Plus, the way residents choose to fill their homes with memories remains entirely in their hands. They can hold family reunions and host visitors for days at a time—and if the space in the resident's own home isn't quite enough to accommodate grandchildren and out-of-state guests, they can stay in one of the guest suites on The Commons campus. Many residents also hold informal social gatherings in their homes for everything from sports watching to wine tasting, utilizing their space however they like.
Residents not only enjoy the independence of designing their home's look and choosing how they use it–at the same time, they benefit from helpful services that result in hassle-free living. Residents have access to services like snow removal, housekeeping, and landscaping, and instead of traveling or driving every day to run errands and make appointments, they have the option of on-site medical facilities, a library, a beauty salon and barber shop, a country store, and a top-tier culinary program. If you want it, it's all right there.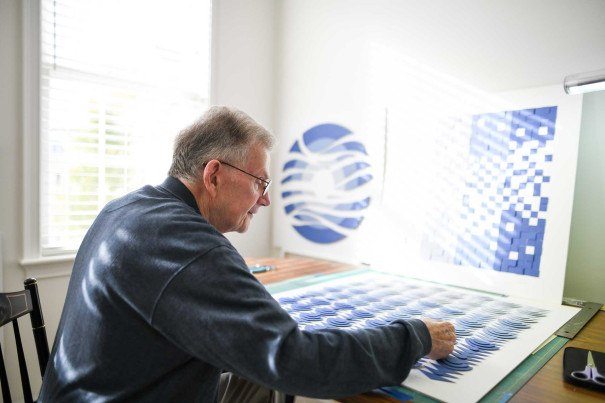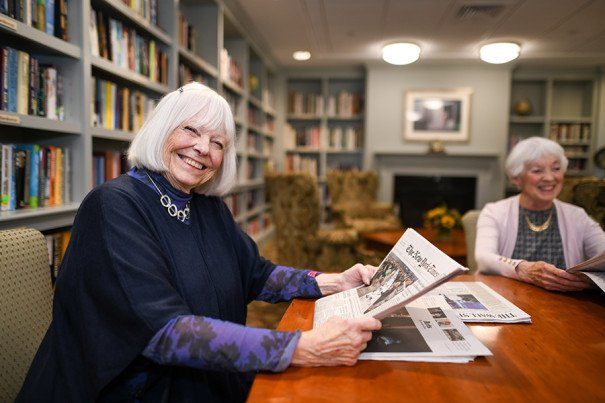 Pursuing Passions Your Way
The Commons in Lincoln's personalized approach gives residents the ability to continue living life according to their vision. For many, a large part of that vision involves pursuing passions and hobbies. At The Commons in Lincoln, Garrity Cormier and LeBlanc say that residents are diversely talented, and their freedom to practice and display their talents makes room for them to continue—or begin—pursuing those passions however they wish.
For those who have had careers in music or hold a special appreciation for the performing arts, The Commons in Lincoln has connections with local groups like the Boston Symphony Orchestra, Tanglewood, and several theaters in Boston to give residents fantastic outlets for enjoying local and national talent. Garrity Cormier says residents collaborate with the programming department to create a month-to-month calendar, choosing which performances they want to get tickets for that month.
The Commons is also open to providing opportunities for residents to display their unique talents. "None of what they're doing or what they have done gets left at the door," says Garrity Cormier. "They come into the community with these talents and interests and add them to the fabric of who we are."
Recently, a resident who is a former architect continued his passion for art and design in retirement. With a refreshed sense of purpose, he teaches art classes and exhibits his work in the local community. Using 3D software, he creates intricate geometric patterns and textures that can take up to 40 hours to complete. "If something isn't here that they would like to pursue, but they feel like they'd like to get it going, that's exactly what they do," says Garrity Cormier.
Residents have the ability to improve and contribute to life at The Commons in ways that come naturally to them. Retired professors and scholars are encouraged to hold lectures for other residents on their areas of expertise. Still others are retired doctors, one of whom, an epidemiologist, gave lectures during the coronavirus pandemic so that the residents were up to date on the latest health and safety information.
Another resident, whose expertise is in architecture and landscape design, was able to collaborate with management to improve conservation development at The Commons and make the landscaping on the grounds more purposeful. He infused the already-flourishing gardening committee with his expertise, bringing the committee to a whole new level. "That's the beauty of how the community grows," Garrity Cormier says.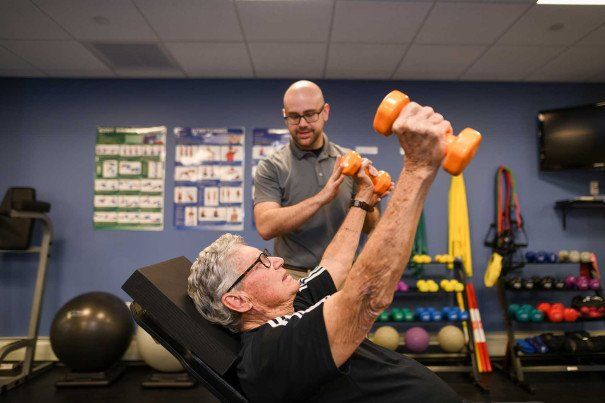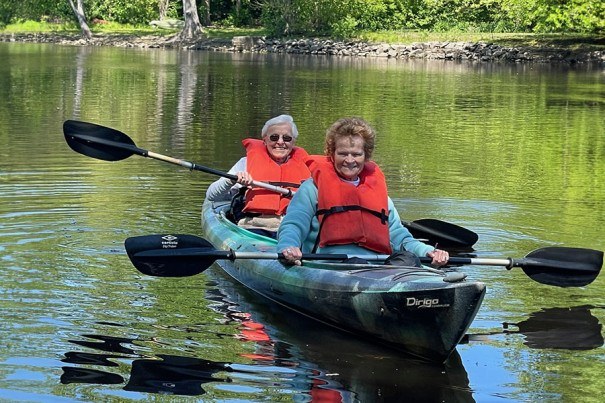 Health and Wellness With a Personal Spin
Just as with other areas of life at The Commons, residents can also work on their wellbeing in ways that suit their lifestyle and interests.
With a variety of options for pursuing fitness, residents can improve both their physical and mental health. For some, that means scheduling one-on-one personal training sessions with campus Fitness Specialist Jason Williams. For others, taking a group class like water aerobics, yoga, resistance bands, Chaboom line dancing, or Tai Chi are fun ways to stay active and social. The events calendar is always full of choices for every ability and interest. "You name it, it's here," says LeBlanc.
The Commons' approach to physiological health care also allows residents to take control of their health. They have access to an on-site health center and skilled nursing team, making it easy to access the care they need when they need it—whether they have a common cold or need a safe place to recover from surgery.
The Commons is also a Type-A continuing care retirement community, so the cost of living includes access to on-site fully licensed assisted living, memory care and skilled nursing services. Residents who require a higher level of care don't have to worry about unpredictable spikes in care expenses as they age. "In the Type-A contract, your costs are much more predictable," says LeBlanc.
In terms of mental health, residents' happiness and wellness is at the forefront of The Commons' philosophy, and residents can choose what they want their mental self-care to look like. For many, it's making time for socializing and fun; The Commons hosts social hours for those looking for structured plans and ways to meet new people.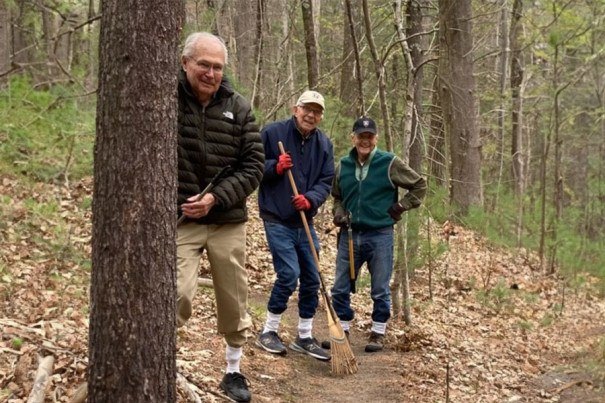 Lovers of the outdoors can take to the woods with Williams for mindfulness walks to Walden Pond and try out the ancient practice of shinrin-yoku, or forest bathing, where participants sit or stand among the trees and breathe deeply to reduce stress and boost wellbeing.
Residents can also choose to participate in support groups and one-on-one therapy sessions with licensed social workers and skilled nurses as they face challenges like grief, life transitions, and caregiving for partners and other loved ones.
"We try to look at all different approaches to your mental wellbeing," explains LeBlanc.
It's this philosophy that makes life at The Commons easy and personal for residents from their very first interaction with the community. "They're the CEOs of their lives," says Garrity Cormier. "They design their life the way they want to."
This is a paid partnership between The Commons in Lincoln and Boston Magazine
---