CARYL CAPECI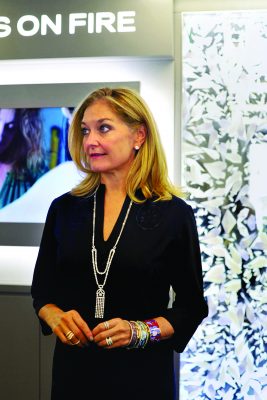 CARYL CAPECI
Hearts On Fire
1.877.PERFECT | heartsonfire.com
Caryl Capeci is the President of Hearts On Fire (HOF), a global luxury diamond brand. As the company's first female leader, she is passionately expanding her vision for this exciting diamond jewelry brand that is for and about women.
Why is passion so important to Hearts On Fire?
Passion is everything at HOF. From the minute you walk
into our Boston headquarters, you realize that we are unlike any other fine jewelry or luxury brand. Our culture thrives on energy and innovation. After all, passion and love are at the root of why people give diamonds. HOF's brand DNA is simply an extension of the deep human emotions attached to our product.
What childhood influences affect your leadership?
My dad owned a men's clothing store, which gave me a
true appreciation of independent retail businesses and the importance of personal relationships. I think I inherited his drive and determination, but also his sense of humor which helps in leadership. You can never take yourself too seriously. HOF is a brand that is sold in many family run jewelry stores, so I have real admiration for the role these businesses play in the jewelry industry and in the success of HOF.
How has your career prepared you?
I cut my teeth in the diamond business by spending my
first decade working on marketing programs for DeBeers and the iconic "A Diamond is Forever" ad campaigns. That was complemented by honing my strategy and management skills at Arnold Worldwide where we helped Royal Caribbean change perceptions of cruising. For the past decade at HOF, I have combined my industry and brand experience with the business acumen of selling diamond jewelry globally.
Why Boston?
People are surprised to learn that HOF is based in Boston, but we love it. Compared to other diamond jewelry brands, we are the younger, more modern player in the category. It feels right that we are here surrounded by such a dynamic technology and university community. In our 20 year history, we have always marched to a different drum from the other heritage diamond brands, and calling Boston our home is part of that story.
What's most exciting for the brand today?
Hearts On Fire is known as "The World's Most Perfectly
Cut Diamond" with an exceptional and consistent cut that
gives our diamonds more brilliance and value—and that is a message I love sharing. Now that we are owned by Hong Kong based Chow Tai Fook, the biggest jeweler in the world, we have been able to seamlessly integrate our operations in the US and internationally—with rapid expansion in Greater China. We are now in 800 locations in 32 countries! Their support is providing more opportunity than ever, and allowing HOF to stand out in the competitive luxury industry.
---