'Shebeen' Mobile Irish Pub Coming to Boston
The tiny, Galway-made bar features two taps, seating for 10, and endless amount of charm.
---
Preferences in beer, booze, and even bar aesthetics are constantly in flux. Just like our fickle food palates, our predilections for imbibing is susceptible to a revolving door of trends. Yesterday's onerous, craft cocktail laboratory is today's modern-day speakeasy. But here in Boston, things are about to get even more interesting.
After reaching their ambitious, $35,000 Kickstart goal earlier this spring, Kevin Mabry, Domingo-Martin Barreres, and Suzie Dagenais, are well on their way to launching their debut Barmobile, a fully functional cocktail bar and lounge carved out of a vintage 30-foot Airliner.
And they're not the only ones attempting to upend the traditional, suspended dynamic of the classic pub.
John Walsh, a cabinet-maker from Galway, is set to introduce the U.S. to The Shebeen, a mobile, 10-seat Irish pub that has become a phenomenon in his home country. The tiny, 17-foot-wide pub, built from a converted caravan, comes complete with wooden floors, faux-brick walls, Irish memorabilia, and a bar with two draft lines. Walsh says he first conceived of the project after purchasing a trailer to take to the Electric Picnic music festival in Laois, something he was unable to offload after the event.
"My original plan was to make it [The Shebeen] out of an old shipping container," Walsh says. "But I had bought this caravan about three years ago for a music festival here—we would bring it down there as a place to stay—and when I came back I put it on one of the local buy-and-sell sites. We just couldn't get rid of it. So I decided to turn it into something useful. Initially, I thought maybe a kid's playhouse or some sort of cottage. It just went from there. I own a lot of old pictures, and I love that look you see in traditional Irish bars, so I decided to convert it into a pub."
---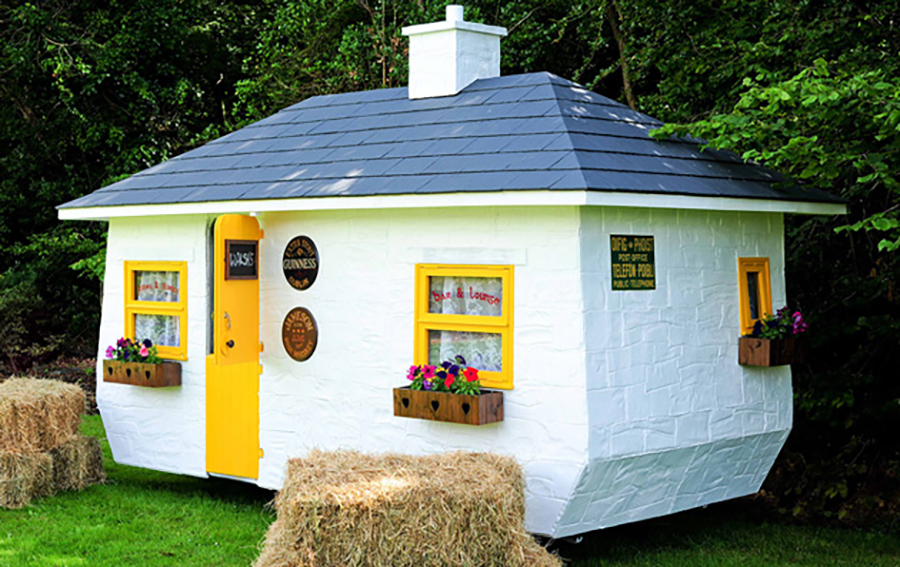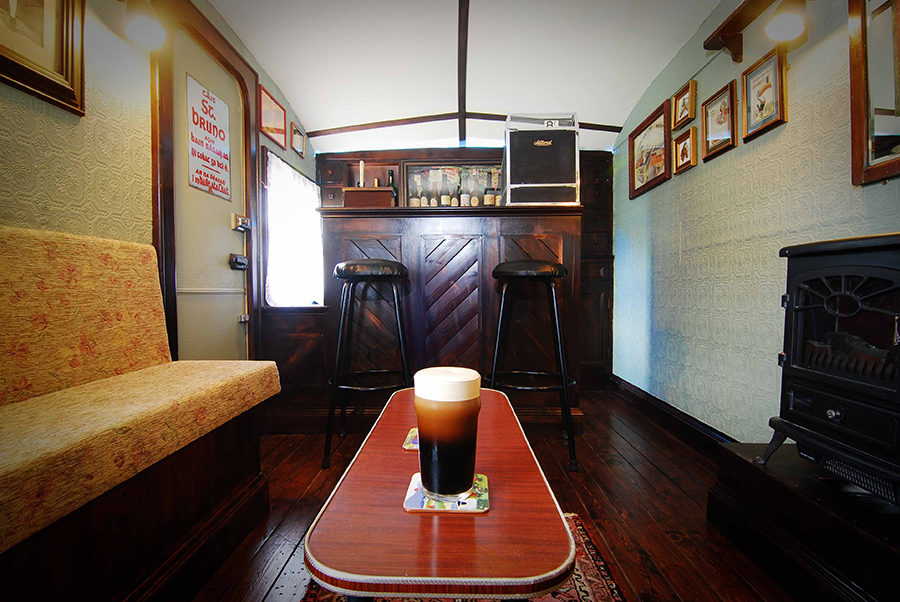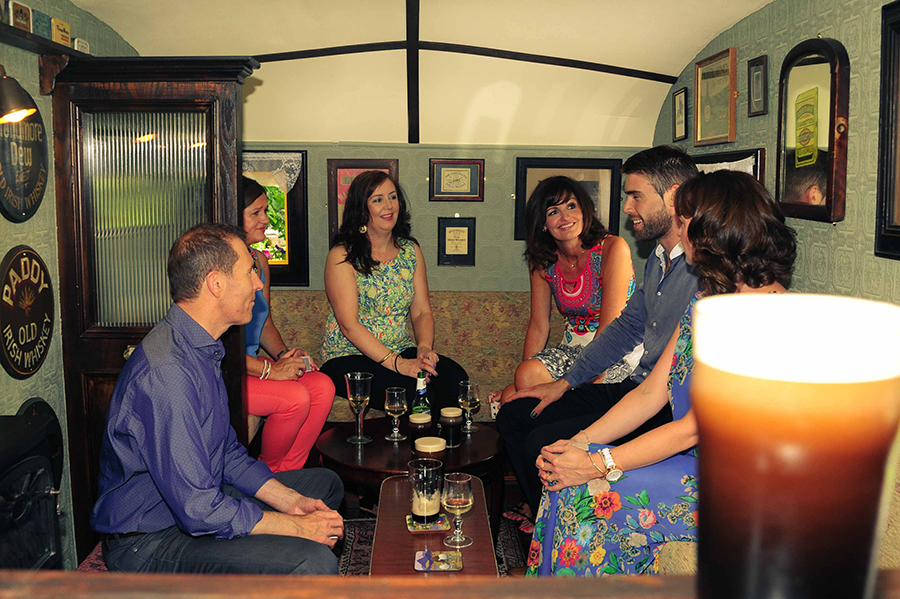 Walsh, who runs Clinical Cabinets, a designer of laboratory, healthcare, and workspace furniture, turned the project into an end-of-the week reprieve. Every Friday, Walsh and his team would redirect their attention to The Shebeen, constructing and upholstering furniture, wallpapering, and paving the stone walls, until finally after six months, it was complete. Since they put the final touches on The Shebeen, it's been deployed at weddings, private parties, and as a promotional vehicle for brands like Dingle Brewing Company.
Now the second Shebeen trailer, one in a growing fleet, is heading to New England. After hearing about the concept, two local restaurateurs (both still unnamed) reached out to Walsh to procure their own mobile pub. The first of those is two weeks away from completion, with a tentative July launch date here in Boston.
"I was always convinced it would go over well in Boston," Walsh says. "There was a lady in the bar trade over there who approached us almost immediately to see if we'd be willing to ship one over. We now have it started and should have it completed within the month. Then there's another gentlemen in Boston who's interested who we just met last week. We've actually gotten a good bit of interest all over the world."
In addition to their their forthcoming Boston pub, Walsh's company will be shipping Shebeens to Australia, Canada, and the U.K. To rent a fully-stocked Shebeen costs upwards of $700 a day, $1,400 for a weekend, and $29,000 to buy.
Each Shebeen is custom-designed, with unique features distinct to each pub. For instance, the company's first U.S. concept has a thatch roof to evoke the Irish countryside, as well as taller 16-foot ceilings, because as Walsh says, "We needed to make it with a little more headroom—you're much taller than us over in the States."
---