Tastemaking: Magic Mushrooms
Move over, truffles. The two Harvard grads behind Martha's Vineyard Mycological are turning island-grown shiitakes into the Boston culinary scene's next "it" ingredient.
---
As the chef de cuisine at O Ya, Nathan Gould's daily to-do list includes sourcing some of the finest ingredients in the world, from A5 Wagyu beef to pristine uni and bluefin tuna. But right now, Gould seems to be more excited about a tiny mushroom-growing operation on Martha's Vineyard. "They're probably the most beautiful shiitake mushrooms I've ever used," he says. "They have a resistance, almost a toothsomeness, to them that you don't often see in cultivated mushrooms." He's served the 'shrooms in various ways, from simply grilled to dehydrated and pulverized into an umami-rich steak seasoning.
In 2015, Tucker Pforzheimer and Truman French started Martha's Vineyard Mycological as a small operation, supplying a handful of island restaurants and selling mushrooms in limited quantities at farmers' markets. But in the past year or so, their shiitakes have become the darling of top city chefs, too, with Pammy's Chris Willis, Townsman's Matt Jennings, and Benedetto's Michael Pagliarini serving them raw, brewed into dashi, and tossed with handrolled pasta. Even the new-to-Boston fast-casual chain Tender Greens, backed by Danny Meyer, has signed on to use this season's crop.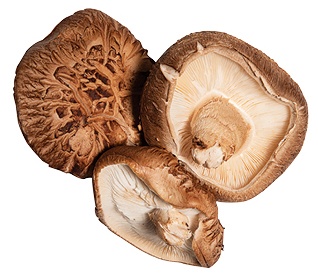 The duo's meaty shiitakes. / Photograph by Toan Trinh
This summer and fall, French and Pforzheimer—who met at a Harvard mycology class—expect to harvest almost a ton of shiitakes a week on just 5 acres of land in Chilmark. "It's a cottage industry, like lobstering or oyster farming," says Pforzheimer, the son of Barcelona Wine Bar restaurateur Andy Pforzheimer. "You're using the environment that you have to grow a specialty product." While their shiitakes are cultivated, not foraged, the duo rely on the island's natural climate to replicate wild growth. A traditional Japanese method, the process involves inoculating sustainably harvested oak logs from the island with spores, stacking them up in the woods like Lincoln Logs, and then essentially waiting for the fungi to spring out. Since they feed off the oak, they have more flavor, nutrients, protein, and fiber than most cultivated mushrooms on the market, which are typically grown indoors on sawdust or manure.
Even with their startup success, the entrepreneurs say mushrooms can sometimes be a tough sell with New Englanders, many of whom still view them as a bland garnish rather than a main protein. But these two are nevertheless dreaming big, with plans to re-create the model in other locations in New England and visions of meaty grilled shiitake steaks on every chophouse menu in the country. Mushrooms still aren't as "cool" as they should be, the guys say. "But we're working on it," Pforzheimer adds.
---