A Gloucester Getaway Offers a Welcome Break
Taking a short getaway may be the best thing you can do to restore your mojo, but you needn't go far to reap the benefits a change of scenery and some R&R. Gloucester just 40 miles north of Boston on stunning Cape Ann is the perfect destination for a quick getaway.
The ideal base for your visit is the Beauport Hotel Gloucester, overlooking Gloucester Harbor, Pavilion Beach and the Atlantic Ocean. Dressed in hues of navy, sand, white and sky blue, the 94 rooms and suites (some with balconies and fireplaces) convey an elegant nautical-yet-casual beachy ambience reminiscent of a grand cottage on the Cape.
So, pack your overnight bag, head along Route 128 North and check in at the Beauport for an escape to America's oldest seaport …
Day 1
Wake to the sounds of gently lapping waves and take in the fresh scent of sea air. Since you've slept in a little longer than usual, you notice the rumbling in your stomach and head down to 1606 Restaurant for breakfast. The day is so gorgeous, and you opt to dine on the deck. Your mouth waters for a stuffed omelet cooked to order, fresh fruit and a lightly toasted bagel. You could sit there all day just admiring the scenery, but you've made plans.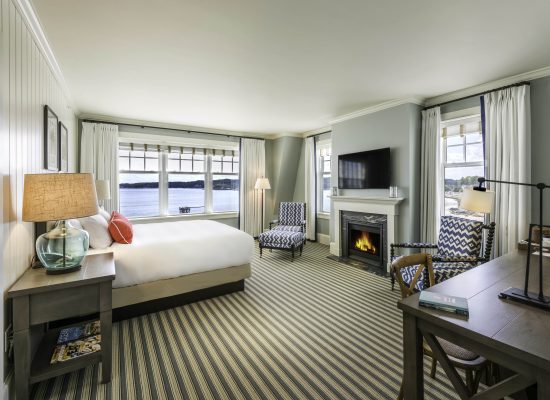 First on the docket is stand-up paddle boarding, available onsite with Cape Ann SUP. It's a good workout for your core, but it's relaxing at the same time and a great way to start the day and get a glimpse of the shoreline. A walk into town (just two blocks away) follows with a stop at the famous Gloucester Fisherman's Memorial statue on Stacey Boulevard. It lists all the Gloucestermen who lost their lives to the sea during the city's long maritime history.
Shopping at the quaint boutiques on Main Street is fun, but when you see the sign for the Cape Ann Museum, you decide to check out works by regional artists, including Winslow Homer and Edward Hopper. You're an admirer of Hopper, best known for his painting Nighthawks, and pick up a map of houses and scenes he painted in Gloucester; you spot several of them as you wander the downtown streets.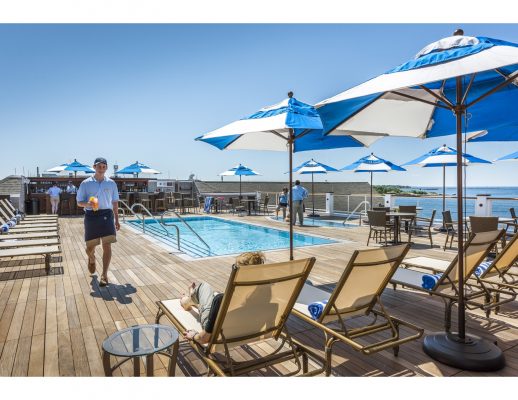 Afterward, you return to the hotel and drop by the Beauport Boutique gift shop to pick up more suntan lotion. You happen to notice a great selection of gifts, jewelry and souvenirs and choose a Colby Davis necklace might as well indulge in more pampering! You go up to your room, drop off your purchases and put on your swimming suit. You're really excited to check out the Birdseye Rooftop Pool Bar; it's one of the exclusive amenities you get for being an overnight guest. A dip in the pool and a soak in the hot tub sound like a great idea; then, you grab a cocktail, relax on a beach chair and take in the ocean views. This is more restorative than you thought possible but there are other things to come, like the in-room massage you've scheduled.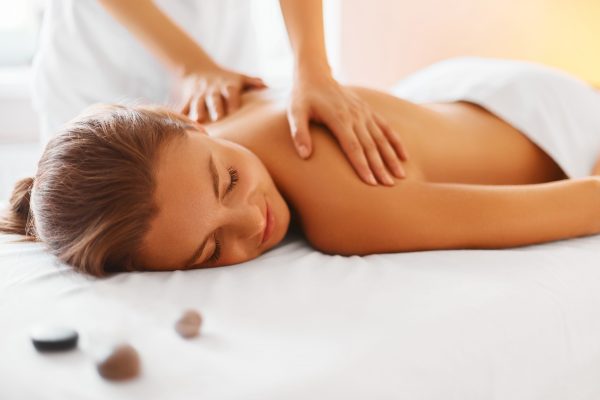 Your body is like jelly after the massage, but you perk up in time to take the hotel's complimentary shuttle for dinner at Seaport Grille. The menu has so many fresh seafood options, as well as other delectable items for turf lovers. You've snagged an outdoor table and timed it right to watch a spectacular sunset.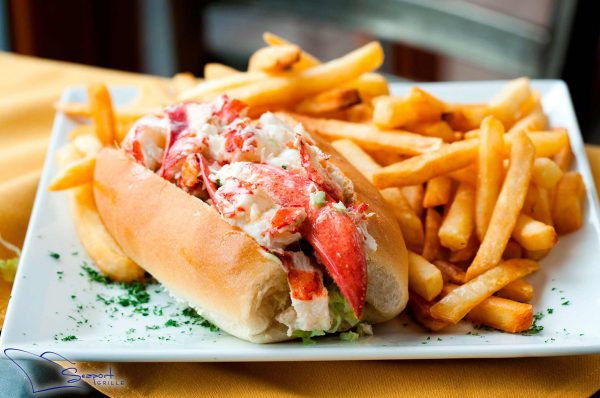 Although you've had a full day, you don't want it to end at least not yet. Once again, you head to the hotel and grab a seat around the fire pit at the 1606 Restaurant & Bar. What an ideal spot for a nightcap and the chance to share laughs and stories with the new local friends and global visitors you met at the pool.
Day 2
Today is going to be exciting. You haven't been to Stage Fort Park since you were a kid, but after breakfast you've decided to walk the trails and along Half Moon and Cressy's beaches, collecting shells and beach glass as you go. It feels good to be on the historic site of Gloucester's first settlers who arrived in 1623. You spot a sand volleyball court and jump in for an impromptu game and then break for a lunch of simple picnic fare you brought along.
It's a good thing you checked your watch. It's already 3:00, and you need to get ready for tonight's event. You have just enough time to take a quick dip in the pool or read a chapter of your novel before boarding the shuttle again this time for Beauport Cruiselines and a fabulous sunset dinner cruise.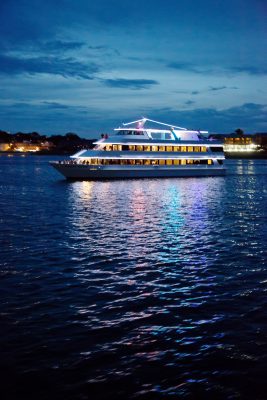 The well-appointed ship has two floors for dining, three bars and a third-floor deck that is perfect for viewing sunset over Gloucester Harbor. Dinner is wonderful, and you're loving the live music.
When you return to the Beauport Hotel, you take off your shoes for one last walk along the shore. Tonight, you leave the balcony doors ajar and let the gentle rhythm of the waves sing you to sleep and the fresh sea air restore your soul. This getaway to Gloucester was exactly what you needed.
For more information on reservations and getaway packages, contact Beauport Hotel Gloucester.
This is a paid partnership between Beauport Hotel and Boston Magazine's City/Studio
---