Leading Dog DNA Test in 2023: Top 3 Options To Learn More About Your Pup
Dogs come in a wide variety of shapes and sizes — all of which are delightful! Some are well-known and clear. Most people know the visual commonalities of a Golden Retriever or a Chihuahua, and many can pick out a German Shepherd or Doberman Pinscher. But these days there are also plenty of "designer dog breeds" like Golden Doodles and Yorkie Poos that are becoming increasingly recognizable, as well.
Some dog's breed mix is fairly obvious based on the names alone. But there are many of us who didn't choose a specialty breed or a dog with a traceable lineage. There are many of us whose dogs found us, in one wonderful way or another! And there are those of us who adopted from shelters to help out a homeless pup (even if it's debatable who "saved" whom).
In every scenario under the sun — recognizable dog breeds or not — it is useful to use a comprehensive dog DNA test to find out what's truly "under the hood" of your best buddy. So which test is the best dog DNA test? Read on to find out.
Top 3 DNA Tests for Dogs in 2023
1. Wisdom Panel – Paw-sitively Best Overall Dog DNA Test
2. Embark – Most Research-Backed Dog DNA Test
3. Orivet – Most Innovative Dog DNA Test
Reviews
1. Wisdom Panel – Pawsitively Best Overall Dog DNA Test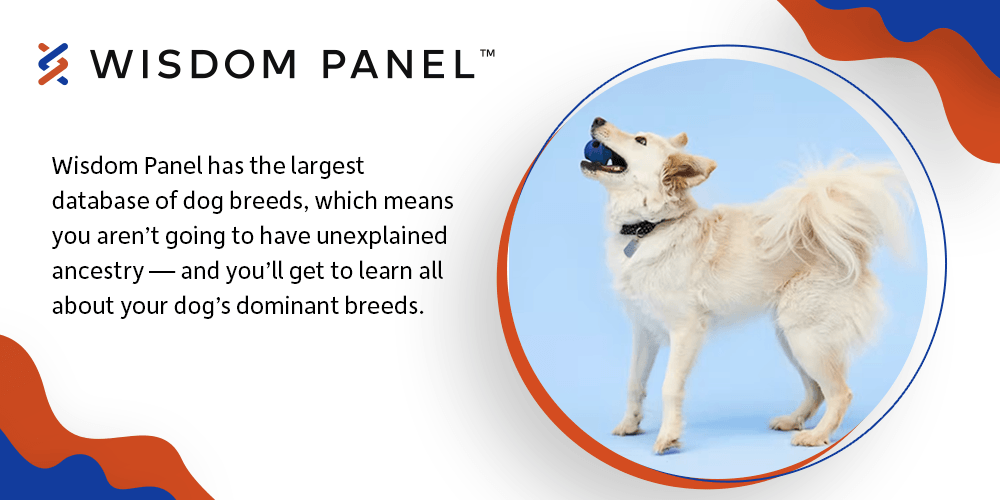 Pros
Communicate with, see pictures, and compare photos of your dog's relatives
Optional vet call available if tests reveal health concerns
Highly reviewed by news outlets and media news sources
Product Review and Features
Wisdom Panel Breed Discovery dog DNA kit is number one on our list. Why? Well, it's been featured on CNN, Better Homes and Gardens, Tech Trends, People, Insider, and Today, to name a few popular hot spots. Of course, without the popularity tour, it boasts the most accurate breed detection within a 1% reporting and won't stick you with percentages that your dog belongs to the Supermutt division of dogs. If we are being honest, that happens a lot from some other dog DNA test brands.
Wisdom Panel has the largest database of dog breeds, which means you aren't going to have unexplained ancestry — and you'll get to learn all about your dog's dominant breeds.
Wisdom Panel DNA test kits provide so many different options and availability for customers in search of a variety of things for their unanswered questions. There are actually three varieties of the Wisdom Panel dog DNA testing kits you can choose from:
Wisdom Panel Discovery Breed Kit: Tests for over 350 breeds, checks for dog relatives that have also tested and registered with Wisdom Panel, tests for drug sensitivities (MDR1 medication test)
Wisdom Panel Essentials Kit: Tests for 25+ genetic health conditions, tests for more than 35 physical traits, and everything included in Discovery Kit
Wisdom Panel Premium Kit: Vet consultation to discuss findings, more than 180 additional health tests, everything in Essentials Kit, and everything in Discovery Kit
With its easy to follow instructions, the Wisdom Panel dog DNA tests are simple to do, as well.
1. Register your kit and create a profile with Wisdom Panel with the code provided with your kit.
2. Collect the DNA from your four-legged friend for 15 seconds.
3. Mail the samples back to their lab with the mailer that has been prepaid to make it easy and convenient for you.
4. Wisdom Panel will email a report back in two to three weeks with the results.
Sizes, Discounts, and Promotions
Wisdom Panel knows that dog people have friends and their friends have dogs. They know it and they love it. Because of that, they offer the Refer a Friend program. Refer a Friend program means that when you refer a friend and you each use the super-secret code Wisdom Panel gives one friend, then both friends get $20 off their Wisdom Panel purchase. See? It does pay to have friends, especially if they have dogs.
Wisdom Panel offers free shipping as well. This is just yet another reason why they are at the top of this list.
The Bottom Line
Wisdom Panel provides customers who either want just the basics or want the whole dog-gone truth about the tail-wagger in their life. They have over 3 million customers and offer a huge database of customers that have provided consistent reviews and everyone seemed pawsitively happy!
2. Embark – Most Research-Backed Dog DNA Test
Pros
Tests your dog across 350 breeds
Screens for more than 230 health risks
Developed by veterinarians and scientists
Used by veterinarians, breeders, and dog owners alike
Cons
Free shipping only applies to US-based customers
Product Review and Features
Embark dog DNA Test Kits come up second on our list out of sheer awesomeness! Not only is the Embark website a crisp, easy, well-designed user experience that outlines all the features of this great dog DNA test while offering a clean customization process so you can easily get the version of this test that you want. The company is also incredibly impressive on the data and research end of things.
Embark is a research partner of the College of Veterinary Medicine at Cornell University. In addition, Embark is also the official dog DNA test of the Westminster Kennel Club dog show. It's hard not to see this level of third-party advocacy and just stop right there, but the reality is that there are excellent reasons why Embark DNA test kits are ranked so highly and these reasons stand firmly on their own, with or without these impressive credentials.
The Embark DNA test offers three options for its tests, including the Breed ID Test, the Breed + Health Test, and the Breed + Health Test Two-Pack. Each of these tests includes learning about your dog's breed, ancestry, relatives, and optional support from specialists in dog DNA and genetics.
The Breed + Health Test also incorporates a screening for genetic health, insights about your dog's traits, a genetic diversity measurement prediction of what your dog's adult weight will be (if your pup is still a puppy), and they will send the results directly to your veterinarian on your behalf, as well.
The Embark dog DNA test options have a range of great features, including breed, ancestry, and health risks. Ancestry results include three generations of lineage, so you can trace your dog's family tree back to its grandparents.
An Embark DNA test compares your pup's DNA to its database of more than 350 breeds, using the best technology and dog DNA test advancements. An Embark DNA test also screens your dog's DNA for more than 230 health risks, so you know you're getting the most comprehensive info about your dog's health possible.
The Embark Canine Relative Finder service offers you the opportunity to connect with the owners of other dogs in the database. This service is incredibly effective, with a 90 percent match rate. This helps Embark customers decide whether they want to connect with their dog's siblings, parents, or sometimes even their dog's puppies!
Sizes, Discounts, and Promotions
We are going to discuss Embark's website again because it was just every obsessive-compulsive clean person's website user's DREAM website. So immediately, customers are overjoyed and will be loving every tap of their keyboards while entering their email for an amazing $40 (say it out loud: forty dollars!) off your first order for just joining their email club on their very nice and sleek site.
As of the time of writing this article, promo code BESTDOG also gives you a $40 discount on any order, along with free shipping.
The Bottom Line
The Embark Dog DNA Test comes in at second place on our list of the best dog DNA tests available on the market today. It is a veterinarian-developed program backed by excellent research.
You can tell the high quality of this research is partially due to Embark being a research partner of Cornell University's College of Veterinary Medicine. This is further supported by Embark being the official dog DNA test of the Westminster Kennel Club Dog Show. With those credentials, it's easy to see why Embark comes in at a tail-wagging number two on our list.
3. Orivet – Most Innovative Dog DNA Test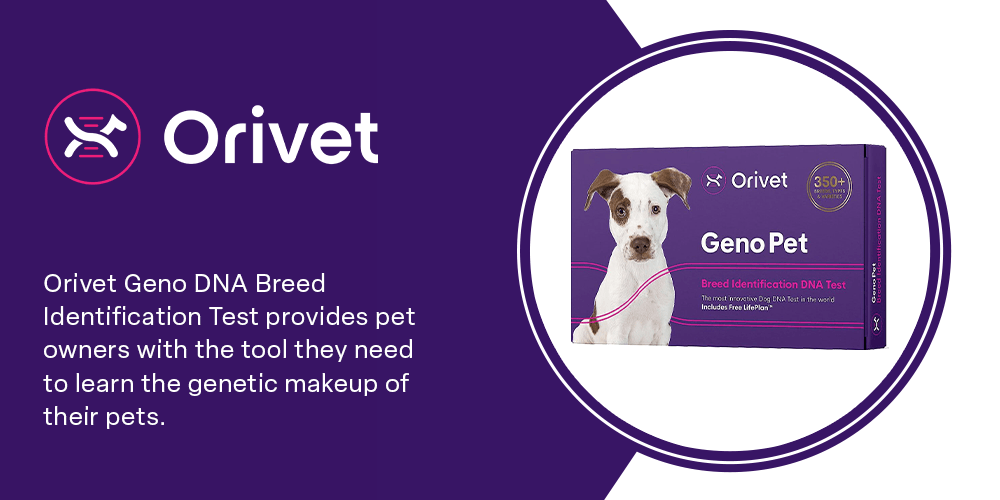 Pros
Easy DNA collection
Provides insight into behavior and personality
Tests for over 200 inheritable diseases
Cons
10 Minute Drying Time is Lengthy
Product Review and Features
Orivet Geno DNA Breed Identification Test provides pet owners with the tool they need to learn the genetic makeup of their pets. Orivet has puppy pride for their dog DNA kit by barking far and wide that it is the "most innovative dog DNA test in the world". This dog DNA test kit also provides their customers with detailed results, down to percentages of each breed distinctively, that make up your dog's DNA.
Each Orivet Geno test includes Orivet's own LifePlan. LifePlan is a program that Orivet offers their customers which is an interactive road map about their pet, including information that can keep their pet healthy and happy. LifePlan is offered free and can be updated over time as customers' pets grow.
Orivet also offers not only the Breed Identification Test but the Breed and Health Test Kit Combo. The health kit combo tests the DNA for over 200 inheritable diseases. Knowing inheritable diseases and possible risks that your dog might encounter in its health future gives you, the responsible pet parent, a better opportunity to prepare for possible health costs or other preventative ways for your furbaby. This includes an online accessible interactive health report that can also be updated over time.
Instructions for use of the kit are easy!
First, you need to visit the Orivet website, orivet.com/activate
Make sure you haven't fed your fun little Fido any snacks or meals for 10 minutes, use all the provided DNA collection swabs to collect DNA from the inside of your pup's cheek by rubbing it for 15 seconds.
Allow the swabs 10 minutes air drying time. Place it inside the collection pouch, making sure not to seal it too tightly.
Put the collection pouch inside the self-addressed prepaid envelope and return back to Orivet to await the answer about the pooch you've been so eagerly wanting to know!
It's that doggone easy.
Sizes, Discounts, and Promotions
The Orivet Geno Test can either be purchased as just the breed identification test or can be purchased with an additional Breed and Health Test Combo.
The original Breed kit alone includes sterile DNA collection swabs, an information brochure with DNA collection instructions, and self-addressed prepaid envelopes.
When purchasing the Orivet Breed Identification Test, customers are able to get free shipping with purchases over $49. And when new customers spend at least $49, they can also get $20 off with a promo code offered on the Orivet website.
The Bottom Line
Orivet Geno earns a bronze medal among our list of the best available DNA tests. The instructions are easy to follow and there is not only a large list of dog breeds they test but also a lot of extras if additional tests are purchased. This is one of the best dog DNA tests that has the potential for pleasing dog owners the world over.
How Did We Make the List?
We made our list of the best dog DNA test options with the help of a panel of experts. This panel consists of researchers and dog owners who put a variety of brands through the wringer to determine the best dog DNA tests available on the market today.
The best dog DNA tests were determined by comparing brands along a range of categories including depth of breed database, number and depth of health aspects reported, professional associations and affiliations, scientific processes, ease of use, availability and accessibility, pricing, discounts, and user reviews and feedback.
What remains are the best dog DNA tests so you can reduce your research and make a more informed choice to learn more about your best friend.
Things To Consider When Looking for the Best Dog DNA Test
It is a pretty fair and safe assessment that most of the time when you are buying something online it is because you are up late at night because you can't sleep or because you just saw something from somewhere else online that convinced you that now you need that product. In this situation, it is dog DNA kits.
And how do we know that we are going to get the best DNA test for your pup? Here are a few things to look out to know that you are in fact going to purchase the right one and not feel like an adult child who just wasted adult money:
Make sure the test you choose is accurate
A great knowledgeable person to point you in a good direction is your veterinarian. But most of us are going to avoid that at all costs because we are millennials and that's what we do, so how to figure this out on your own you might be wondering?
A good way to know you're using accurate dog DNA tests is to know what its testing database breed amount is. For example, the top dog DNA testing kit company on our list, Wisdom Panel, has a database of over 350 types of dog breeds to accurately narrow down breed DNA percentages via their expansive dog breed identification test. It even features the breed and DNA makeup of coyotes, wolves, and Mexican Street Dog.
Look at the return time for the results
See if you have to pay for the return samples or if they provide you with a mailer. All three of the testing kits in our article provide you with pre-stamped, pre-addressed postage-paid mailers making it easier on customers to return their samples.
On average most companies, like the three featured in our article, take about 2-3 weeks return time to return results to the customers with the comprehensive DNA and other results depending on the type of test purchased.
Specifics for purebred vs. specifics for mixed breeds
This greatly depends on what kind of information is being sought out. There are some tests that pet owners already know their dog's breed but would like proof of their purebred status.
Some DNA tests for your dog can provide important information like diseases that are breed specific and possibly hereditary per litter, connected through bloodlines, or genetic markers that are specific through certain family trees.
Additional perks, features, and bundles
Some companies have different bundling options that provide further testing options for additional health tests, hereditary traits, personality traits, and genetic health markers. Temperament, diversity in genetics, your dog's ancestry, medical aversions, genetic diseases, breed-specific abnormalities, bloodline-specific traits, and other tests depend on how much you want to spend.
Different tests and their add-ons answer different specifics. So as the customer you just really have to narrow down what it is you are wanting and not get overwhelmed with extra add-ons and selling points, you don't need.
Company interactions with the customer
There have been some customer reviews that feel company outreach after testing kits results have been returned has fallen down. It has made the experience feel more like a scam where, in the words of one customer, you are inundated with additional purchase buy-on options for months after the initial DNA tests were completed and purchased.
As a customer, reading company reviews is important and not just the best reviews. Remember to read the worst reviews and be safe when shopping online.
How to DNA Test a Dog
Although dog DNA tests sound like something that only people in lab coats and fancy degrees should be working with, don't let that intimidate you. These dog DNA tests may help dog owners gain some knowledge about their pets that have health benefits or connect with possible family relatives that are close by.
The dog DNA tests that we have included in this article follow the basic steps of how DNA tests work with a few differences for each company. It is all such an easy process regardless of which company and kit you choose to use. Most follow similar basic step-by-step instructions like we've provided below so you know what to expect.
1. Check the instruction booklet provided with the dog DNA kit and make sure you follow whatever the suggested feeding guidelines are prior to taking your dog's DNA sample.
2. From the kit, take the cotton swabs provided and collect saliva from the inside of your dog's cheek for 10–20 seconds. This ensures proper saturation of the cotton swab with the saliva which contains the DNA sample.
3. Place the cotton swabs in the collection pouch from your dog's DNA test.
4. Put the collection pouch into the prepaid mailer from your dog's DNA test.
5. Send the mailer back and wait for your results, typically 2–3 weeks wait time.
The best dog DNA test companies make it so easy and so simple that there isn't any question why the popularity of dog DNA kits has become more than just something to try but also fun birthday gifts and other just-because presents for friends and family members.
What Does Dog DNA Testing Tell You?
The dog DNA tests that are available on the market are not the same as the ones that first appeared on store shelves years ago. There have been advancements in what you'll get in your dog's DNA results, including more in-depth testing, broader spectrum testing guidelines, health screening, a wider range of breed expansion in testing fields, and faster turnaround times for the return of results in most dog DNA tests that are available for purchase.
How do you know purchasing dog DNA tests is worth it? What do dog DNA tests tell you? Below are some questions that are answered by dog DNA tests.
Temperament and/or personality – Tests can provide information that explains certain traits and behaviors of your dog — you may even find that your pup would be a good candidate as an emotional support dog.
Weight of your dog – The test provides guesstimated/projected adult weight if tested on puppy age. Provides suggested healthy weight limits for pets and what weight limit should be maintained for continued health status.
Nutrition – Nutritional suggestions for a healthy coat, maintaining a healthy weight (especially for dogs with medical conditions or puppies who need specific food), etc.
Purebred pedigree, family tree lineage, and extended family – Knowing all the dog breeds that make up your tail-wagging wonder pup is fun if you found your dog or if your pupper's found you. It will also let you know if you are already aware if your dog's breed has any blood ties to purebred bloodlines, and if your pup is a purebred dog or a mixed breed.
Breed required nutritional requirements – Knowing your dog's breed (or if your pup is a mixed breed dog) is important — whether it be a toy breed or an extra large dog. An easy example of why this is important is: extra large puppies require a specific kind of dog food which can change their health and life longevity. Obviously, knowing this at an early stage will have a significant impact on your pup's health, development, and well-being.
Biological age determination – There is a difference between biological age and chronological age with dogs. Biological age is important to be able to determine with your pet because it helps make associations to how stress plays a factor with the aging process on your dog's body and how the aging process affects your dog and its life process.
Genetic markers and other health conditions – There are some dog DNA tests that look for genetic mutations. A dog's breed is often associated with some health risks, as well as diseases that can be tested for specifically with your dog's DNA.
Dog DNA kits have made large strides with how much information you can learn about your pet. Most of the questions or concerns you have can now be answered with most dog DNA tests.
When Should You DNA Test Your Dog?
Dog DNA tests are usually designed to be used at any stage of a dog's life: puppy, adult or senior. Depending on the test you purchase, each company has different guidelines and suggested age of use for the test, but there should be suggestions from veterinarians and other dog experts as well.
Wisdom Panel for example, our top pick for dog DNA test, reminds customers and dog owners that puppies do not usually reach full age maturation and physical trait level until around age 2. Their test is designed for puppies to old timers but cross-contamination can happen with puppies who aren't weaned yet.
Some veterinary medicine professionals suggest testing as soon as 6 weeks old so genetic markers can be identified, hereditary factors can be determined, and chronological age can be determined for your pup. Knowing these factors means that pet parents can start making a difference in their puppy's life now to help prevent or cope with health issues in the future.
Conclusion
DNA tests for dogs are a fun, informative, and pivotal research activity that is highly recommended. It's important to get DNA tests for your dog's health and quality of life issues, not only for the fun aspect of knowing what your pet is mixed with.
The fun continues as you engage in conversations with friends, loved ones, neighbors, and the other pet owners at the dog park about which of your dog's breed variances cross over and which are easily earmarked by their looks versus behaviors and breed surprises.
Fun conversations aside, knowing your pet's genetic makeup through DNA tests helps you give your pup the best shot at a long, healthy, and happy life.
Summary of Top Recommended Dog DNA Tests
1. Wisdom Panel – Pawsitively Best Overall Dog DNA Test
2. Embark – Most Research-Backed Dog DNA Test
3. Orivet – Most Innovative Dog DNA Test
This post was produced and paid for by Originated Media
---