Design Insider: The Unique Method Behind These 4 Stunning Custom Homes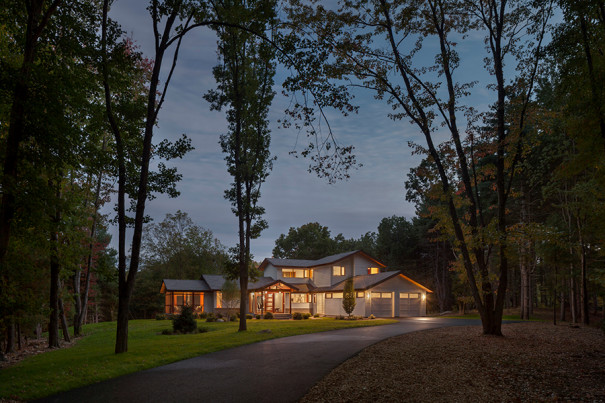 Michael Hawkes, Registered Architect and Design Manager of Acorn Deck House Company, knows that building a new, custom home is an exciting process—and can be a predictable one, too! Eliminate the unknowns by opting for a luxury home designed and built using Acorn Deck House Company's sophisticated panelized prefabrication method, which offers many benefits including:
• More predictable cost than what can be achieved through other building methods
• Built with individual components, so there are no design limits
• Fabricated with cutting-edge technology inside a climate-controlled environment
• Tighter tolerances, enhanced fit, higher structural integrity, and increased energy efficiency
• Minimized building waste and increased sustainability
Here are just four of the stunning homes designed and custom-built by the Acorn Deck House team.
The River View Residence, pictured, is a stunning one-level Deck House located in the mid-century modern haven of Carlisle, Massachusetts. This two-bedroom, two-bath design draws inspiration from the original Deck House models of the '60s, but utilizes modern-day features such as a metal roof and geothermal heating.
Raven's Perch features clean lines and expansive glass to artfully showcase the panoramic views beyond.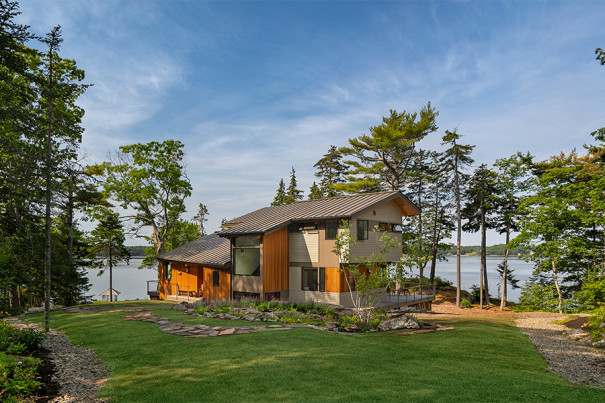 Headland, pictured, is situated to take advantage of the site's panoramic ocean views while still providing privacy from the neighboring property. The home's solar orientation provides passive solar heat gains in the winter while the home's deep overhangs provide shade for the large glass windows in the summer. The mono-pitch roof was strategically designed to slope up towards the ocean to maximize daylight and the views.
Monadnock Retreat is a striking home nestled amongst the mountains of New Hampshire. It features an expansive open floor plan and floor-to-ceiling walls of glass to capture the views.
Visit our website to learn more about our unique building process.
This is a paid partnership between Acorn Deck House and Boston Magazine's City/Studio
---