Girls Rule: The Women of the 2018 Columbia Threadneedle Investments Boston Triathlon
This July, the Columbia Threadneedle Investments Boston Triathlon invites athletes from Boston, across the country, and around the world to participate in one of the city's significant events. The triathlon includes a swim at Massachusetts Department of Conservation and Recreation's (DCR) Carson Beach, a bike ride along DCR William Day Boulevard, and a run through South Boston.
In honor of the triathlon's 10th anniversary, title sponsor Columbia Threadneedle Investments and event organizer ethos are celebrating the amazing female athletes and women working behind the scenes to pull off another successful year.
Triathlon is one of the few professional sports that generally provide equal opportunity and pay to champions of both genders. There are no separate courses, so women compete on the same course and the same distance as men. At the Boston Triathlon, athletes can compete in either a sprint or Olympic distance event, as an individual competitor or part of a relay team.
"Our choice of a sport that is accessible to all ages and genders was very deliberate," says Leslie Walstrom, Head of U.S. Marketing for Columbia Threadneedle. "We put clients at the center of everything we do, and women are a crucial part of our employee base and customer population."
Triathlons have paved the way for superstar female athletes like Ironman champion Angela Naeth and her team IRACELIKEAGIRL. Competing in more than 60 triathlons to date, Naeth founded the team in 2017 to connect with like-minded women and encourage them to participate in endurance sports.
"I wanted to help others become the best version of themselves," says Naeth. "I wanted to create a bigger platform for women to support one another."
IRACELIKEAGIRL works to provide a community for women who want to close that gender gap. In only its second year, the team has grown to more than 130 international members and supporters.
"Triathlon has given me so much opportunity, so I started thinking of ways to encourage women to experience this inspiring lifestyle and about all of the things I really loved about training and racing," says Naeth. "I've been racing for over a decade and I had some knowledge to share. Bringing this all together provides a trusted community where women and girls can feel free to ask for help, receive it, and share it."
In addition to assisting others, Naeth says the team has helped her realize her own personal goals.
"For me, I have found a new vision for racing and being part of something larger than myself," says Naeth. "I race with my hair in pigtails to symbolize the power of the girl and this vibrant community. We achieve this by showing up, supporting each other, and giving it our best every race, every day."
The Boston Triathlon proved to be a perfect outlet for the team. Nationally, triathlons tend to break into 65 percent male and 35 percent female participants, but Boston breaks even with 50 percent male and female athletes.
"It's a great race for beginners to veterans," says Naeth. "It allows for our team members to be part of a great community. This race has a very positive, welcoming feel to it; that is why it's our official team race."
Another team competing alongside Columbia Threadneedle and IRACELIKEAGIRL is Team BMC from Boston Medical Center. The race is aiming to raise $100,000 to support the Grayken Center for Addiction, which serves as the umbrella for all of BMC's work in addiction, including treatment, training, research, and prevention.
This will be the third consecutive year Team BMC has served as the official race charity partner. However, it will be the first Boston Triathlon for Katrina Ciraldo, a second-year BMC family medicine resident who sees patients at South Boston Community Health Center. Co-chair of the Committee of Interns and Residents Opioid Working Group, Ciraldo hopes the fundraising from the triathlon will enhance programs for her patients.
"It's critical to meet patients where they are in their recovery and offer the treatment and support necessary to keep them healthy and alive," says Ciraldo. "The stigma around addiction is deadly. Witnessing patients struggle can be tough, but seeing them thrive is so rewarding."
Ciraldo says the importance of equal representation is evident even in her work environment. She sees a clear connection between gender inequality and addiction.
"Studies show that people who experience more adverse childhood events have a higher risk of developing addiction, and gender-based violence and inequality of opportunity for women in the workplace no doubt contribute to that," says Ciraldo. "We have to say time's up for gender inequities and I'm glad the triathlon reflects women's obvious capacity to excel. Women are amazing, and we have a lot of work to do."
With female participants like Walstrom, Ciraldo, and Naeth giving their all, they're proud of the 10-year tradition the triathlon has established. Walstrom hopes the next 10 years will help the triathlon rise to the level or prominence of the Boston Marathon, based on its support of the city's charitable organizations.
"It's a community feel," Walstrom says. "The neighbors are out cheering us on. While I enjoy the challenge of competing, my favorite thing by far is seeing people show up in the morning a little nervous and anxious about the race, wondering if they can even do it. Then later, watching them cross the finish line feeling like champions – it never gets old."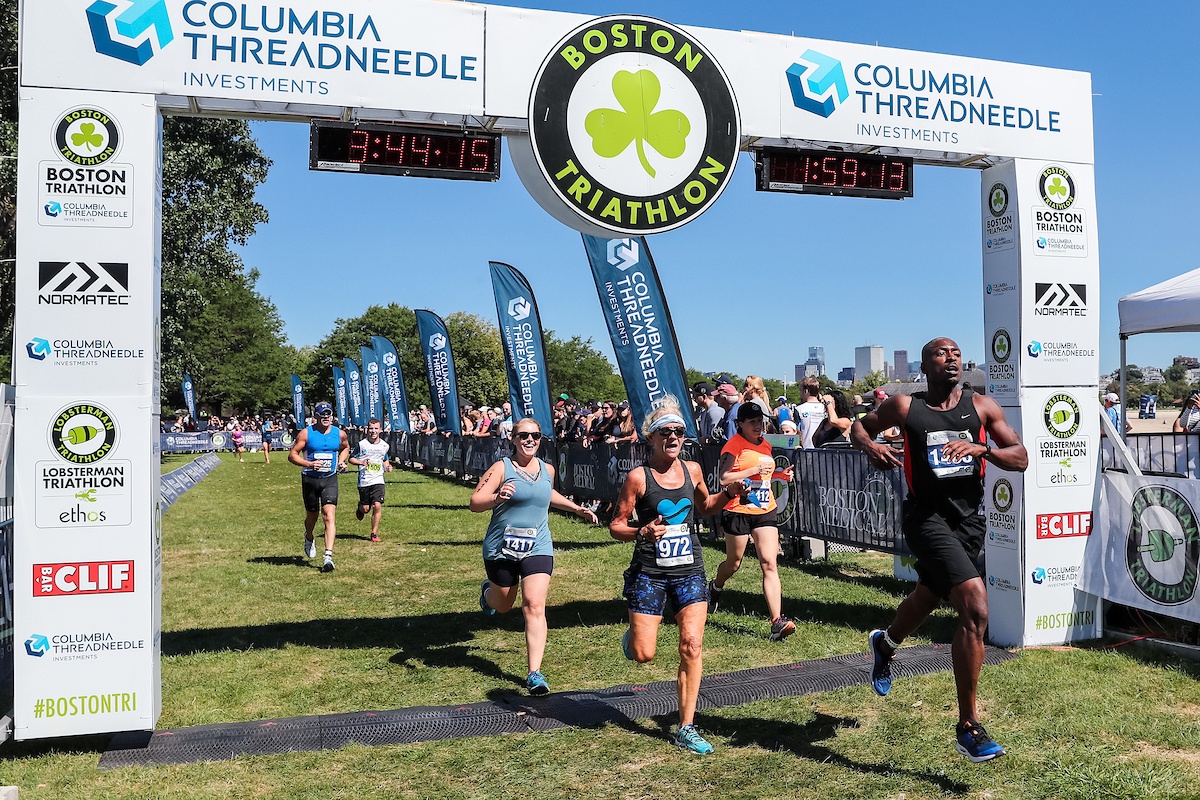 For more information on how you can participate in the Columbia Threadneedle Investments Boston Triathlon or how you can support this year's awesome female athletes, visit bostontri.com.
This is a paid partnership between Columbia Threadneedle Investments and Boston Magazine's City/Studio
---