Vineyard Vines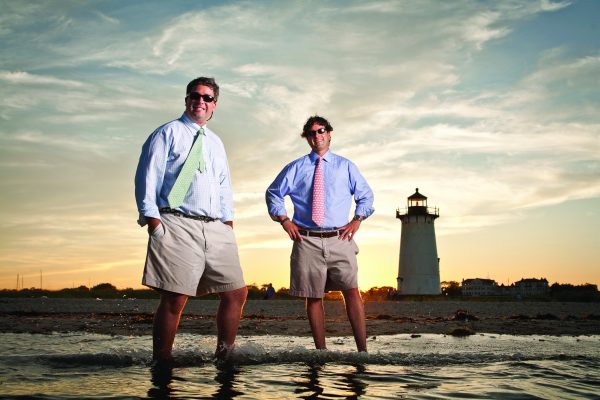 SHEP & IAN MURRAY
1.800.892.4982 | vineyardvines.com
Vineyard vines is a lifestyle clothing and accessory retailer, founded in 1998 by two brothers, Shep & Ian Murray, who today serve as the company's CEOs and co-founders.
Who or what inspired you to start your own business?
We were entrepreneurial from a young age. Our parents were both travel writers and our grandmother owned a talent agency, so we came from a long line of people who liked to work for themselves. Even before we started vineyard vines, we had passion projects and small businesses. Later on, when we were both sick of our corporate jobs, we drew on that entrepreneurial spirit, and that was what ultimately inspired us to start vineyard vines.
What family members are currently involved in the business?
My brother and I have been co-founders and CEOs together from day one. We've shared an office for 18 years now. Our president, Mike Gaumer, was employee number one and while he's not family, he feels like family.
Why is the location of your business so important to the success of your business?
In terms of our stores, we've always envisioned that vineyard vines is the place where the whole family meets up. We try to create spaces that are not about selling, but rather venues where people can drop in, hang out, have a bite, listen to music, and host events. In the process, they might decide to buy something, but that's not the point. The notions of family and community are intrinsic to our brand.
Have you ever encountered any challenges in your family business?
Of course there are days when we both want to drive the boat and have differing opinions, but it helps to know each other well and when to push and when to give. Shep has a good idea of where the brand should be long-term and how to make it inspired by iconic institutions of the past, and I'm more in the moment—it works for us.
What's the best advice that someone in your family offered you?
My last boss at my corporate job in New York told me during a review that I needed to think more inside the box. I resigned that day, and so did Ian. It was, of course, terrible advice, but I'm thankful every day for those words. They were the push I needed to fully commit to our vision for vineyard vines.
Since you work together, where and when do you like to relax as a family?
We spend summers with our families on Martha's Vineyard. For both of us, it's the place that most fully epitomizes our 'every day should feel this good' way of life.
---