Modern Influences
Two art-loving Bostonians draw on their world-class collection to transform a Back Bay condo into a masterpiece.
---
Gerald Fineberg is a self-proclaimed history buff, but not the facts-and-figures kind. Instead, he sees history through art — and when you get a tour of the roughly 9,000-square-foot condo he and his wife, Sandra, own at the Mandarin Oriental, you begin to understand his perspective. Sitting at his kitchen table, Fineberg gestures to a large cartoonlike painting done in baby-soft blues and yellows, depicting a blond man with an anchor tattoo shooting a blindfolded Wimpy (of Popeye fame). "This is My Lai," he says. "After the massacre, and the publication of that famous photograph of the Vietnamese man getting shot in the head, John Wesley painted this. It's his interpretation of what was happening."
Here in this modern kitchen, seeing a cartoon character recast as a war victim, one starts to ponder the lingering questions of the Vietnam era. Look closer, and Wesley's painting also offers a snapshot of '60s culture (everyone read the Sunday funnies, tattoos were mainly for military men, Americans as a group were more blond than they are today) that textbooks cannot. Standing as a historical artifact rather than just a pretty picture, the painting fits right in with Fineberg's approach to collecting. "You've got to train your eye to look at tough art, look at history, study the artist, and know where it's coming from," he says.
Fineberg, a real estate mogul and hotelier, and his wife have been listed among ARTnews's top 200 art collectors in the world. Unlike investment collectors, though, the Finebergs live with their art and buy according to their own tastes. The couple got started in the early 1980s almost by accident: While renovating their home at the time, a Beacon Hill townhouse with high ceilings, they discovered they had nothing to hang on the walls. So Sandra's brother, who was collecting in New York, invited them to check out the art scene. "We went down and got introduced to people," Fineberg says. "Her brother took us to shows, galleries, and museums, and we started meeting the artists of the day — Philip Taaffe, David Salle, Enzo Cucchi, Peter Schuyff, Julian Schnabel, all those people. Every show was an adventure."
After a handful of frustrating years coveting out-of-reach works and buying art that they ended up disliking after a few months, the couple began reading voraciously, traveling, meeting more artists, and developing their eye. "When we got in, there were prices we couldn't afford, like [Jasper] Johns or [Robert] Rauschenberg from the '60s," Fineberg says. "So we got into pop art, then got into minimalism, then discovered the Zero movement from Germany, and we began to collect forward and backward in time."
As emerging collectors, the Finebergs had arrived during a heady era: The art scene in the '80s — fueled by drugs and money — was frenetic and star-studded. Fineberg recalls being at an opening in New York when the famed neo-expressionist Jean-Michel Basquiat walked in. "He looked terrible. He came to apologize to Diego Cortez [then the Finebergs' art adviser] because they'd had a fight and hadn't spoken in about six months," Fineberg says. "A couple of weeks later, Basquiat died of a [heroin] overdose."
Today the Finebergs have several pieces by Basquiat in their collection, as well as works by his even more famous mentor, Andy Warhol. On a trip to the pop-art legend's last incarnation of the Factory, shortly before his death in 1987, they picked up an outsize painting of shoes; it's still one of Sandra's favorites. "Sandra has a shoe fetish like Imelda Marcos," Fineberg explains. "There were some great ones that we could've had, like his big self-portraits, but she really wanted the shoes. That's how you pick, and she's enjoyed that more than any other work here."
"Here" is the Fineberg's current residence, three units in the Mandarin Oriental condo development that they bought five years ago. With the help of architect Kelly Monnahan and interior design firm PlanetaBasque, they've since transformed it into a home for both themselves and their art. "We didn't want to feel like we were living in a gallery," says Fineberg, "but we didn't want a conventional layout, either." Monnahan's innovations include sliding walls, to accommodate a rotating collection of smaller pieces, and "floating" walls, filled with art and lighted above and below to distinguish them from standard walls. Three long, double-wide hallways allow guests to step back to study the works, many of which are very large — like the Cindy Sherman and Andreas Gursky photographs in the entry hall, each topping four feet.
Of course, being able to see the works clearly is only the first step in understanding them, as Fineberg notes during a tour of his collection. He pauses before a book-sized painting, Jan. 19, 1982, by On Kawara. Since 1966, the New York–based minimalist artist has been painting the date of each day in the same font on the same-size canvas; each painting is then packaged in a box with a newspaper from the same day and the city where the artist happened to be. Asked what happened on this particular date, Fineberg shrugs, "Nothing special." Then he adds, "When people come here, they look at a blank painting and say, 'You know, I could've done that.' But they didn't. These artists are all trained, and this is their thing."
There are showstoppers here, to be sure. Beyond the minimalist wing is a 12-foot-high sculpture by John Chamberlain made of painted scraps of wrecked cars (to accommodate its height, Monnahan cut a circular soffit in the ceiling). Standing nearby is the life-size, hyperrealistic nude sculpture Linda, by John De Andrea; after it was installed, concerned neighbors began calling about the motionless naked woman in the window. Then there's the Jeff Koons sculpture of a peddler, Kiepenkerl — one of three made, and the only one held privately (according to the Sotheby's website, a Kiepenkerl sold in a 2008 auction for 3.2 million British pounds, then the equivalent of $6.3 million). Like many other pieces in the Finebergs' collection, Kiepenkerl had to be craned into the condo, which required closing a lane of Boylston Street one Sunday morning. Though the sculpture was in a crate, it could still be seen on its way up 12 stories, drawing a crowd below to watch the impromptu art show.
While pieces like these are impressive on their own, others have a powerful effect as a group. Down the corridor, for instance, there hangs a sensational array of photographs that essentially illustrate the history of the art form. Among them are the first "photographs" in the world—1850s cyanotype photograms of plants, created by Anna Atkins — as well as beautiful sepia-tone prints of Gertrude Stein and other celebrities taken by Man Ray (1920s); platinum prints by Vogue photographer Horst P. Horst (1930s); and work by the New York crime-scene photographer known as Weegee (1950s). These photos, hung randomly, would keep any art student busy picking out the famous artists and subjects.

Though the Finebergs today have amassed thousands of pieces, their roster is hardly fixed. For example, they recently traded a 2003 Jeff Koons sculpture that looks exactly like a lobster-shaped inflatable pool toy for something they liked better. And often, they're just ready for a new addition.
"Our collection is always in motion; we're always changing," Fineberg says. "If you come back, you'll see four or five new pieces, and this is where we" — referring to his wife, Sandra — "have our big disagreement."
"I say, 'Will you please leave it so I can enjoy it? I just want to enjoy it!'" says Sandra, in mock frustration. "I like to see what I have. You need time to appreciate it." The Finebergs' current art adviser, Michael Black, concurs. "Gerry is a very curious collector. He gets fidgety if two weeks have gone by and he hasn't bought anything."
One thing they don't collect anymore? Emerging artists — though, given Fineberg's involvement with the Institute of Contemporary Art (he's a board member), it's not about taste so much as price tags. "Twenty-five years ago, new artists were affordable, so it was okay if you made a mistake," Fineberg says. "Now, after three years of working, they're up into six figures. You can't afford to buy them. It was new buyers coming in, and they thought this was the greatest. I don't know why they pushed the artists so fast.
"I like to buy after six, eight, 10 years of work so that I can choose the right piece," he says. "Even great artists have some dogs."
---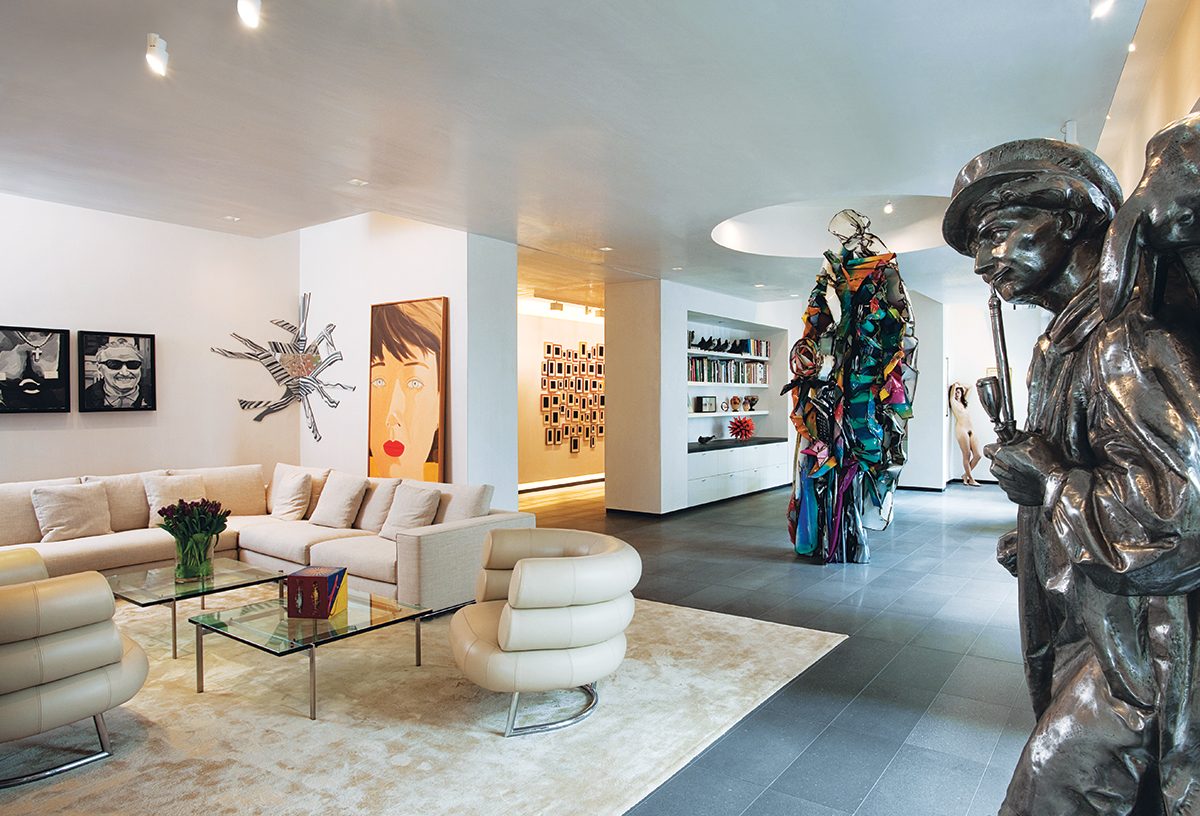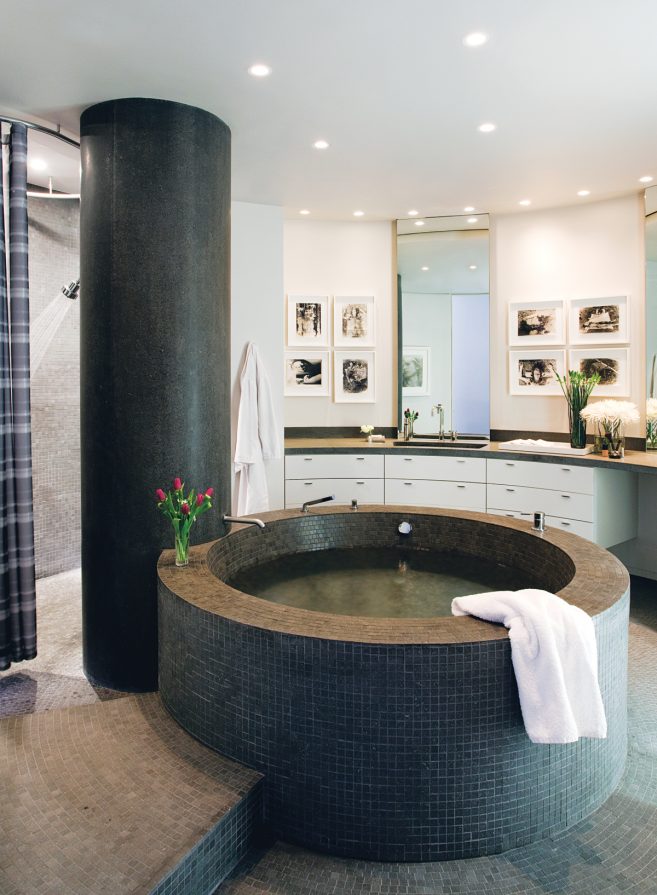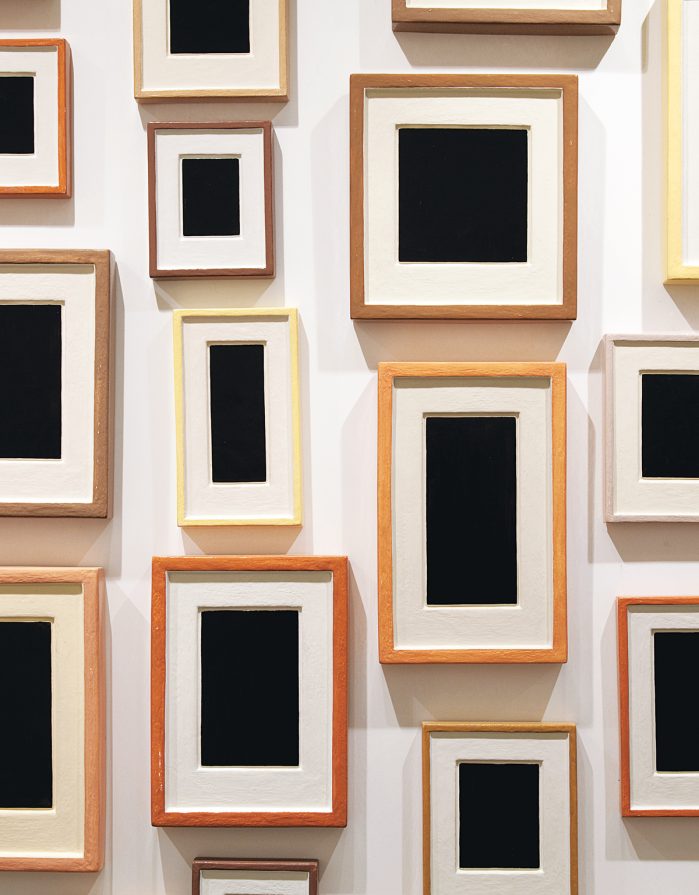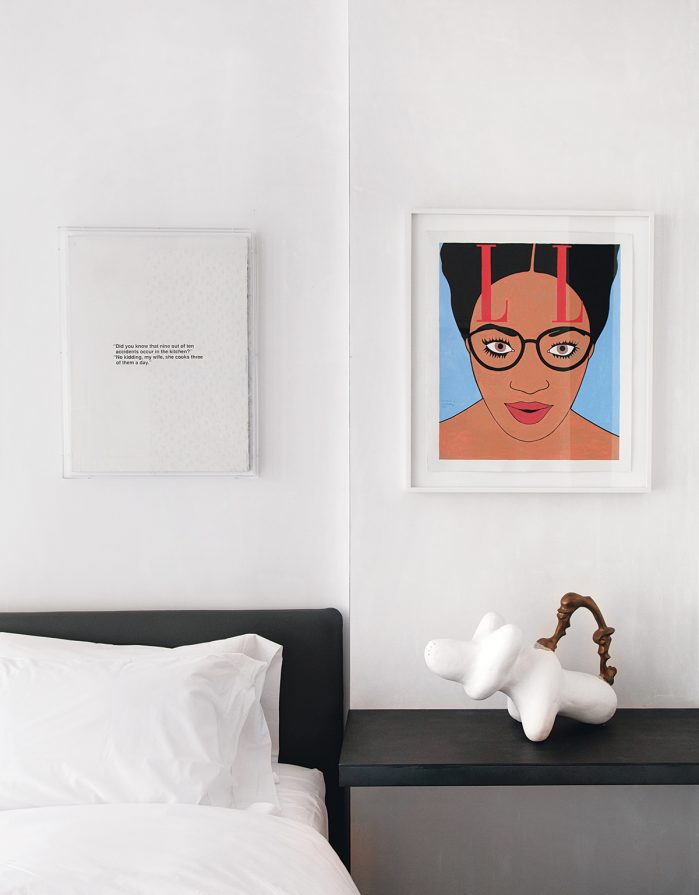 ---