W.L. French Excavating Corporation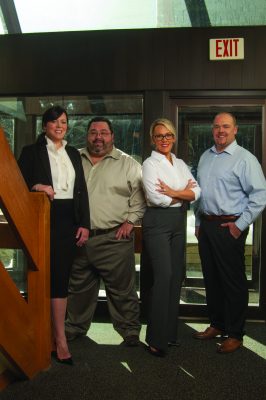 WILLIAM L. FRENCH JR., JESSICA FRENCH GOYETTE,
LISA FRENCH KELLEY, & THOMAS DION
978.663.2623 | wlfrench.com
W. L. French Excavating Corporation is a Union Site Contractor and Soil & Waste Management firm headquartered in North Billerica, MA. William L. French Jr. is the company president.
Who started your family business and how did you first get involved?
Our father began the business in 1972 when he was 18. At a very young age, I would go to work with him on a regular basis and developed a love for the equipment and the work he did. I purchased my first truck at 15 years old and haven't looked back. There was nothing else in life I wanted to do more than to be part of this business, and one day own and operate it.
Why is the location of your business so important to the success of your business?
Being located in greater Boston has afforded us the opportunity to work on the properties and campuses of some of the most prestigious institutions and business in the world, including Harvard University, MIT, Boston College, Biogen, Oracle, Novartis, and Logan International Airport, to name a few.
Have you ever encountered any challenges in your family business?
There are always challenges in family businesses and working with family can be stressful at times. We are committed to swiftly addressing and resolving issues as they may arise so that our primary focus remains on business matters.
Like all businesses, we have faced many challenges including the economy, growth, growing pains, and changes within our industry. We are continually working to prepare for change and remain adaptable and responsive to our projects and clients' needs.
What advice or principle guides your business?
We truly love and are passionate about our work, our team, and our company. Our philosophy is the same philosophy as it was when the company was founded 45 years ago: stay true to your word, stay focused on your goals, work hard at them every day, and the rest will fall into place.
Since you work together, do you like to relax as a family?
We spend a significant amount of time together, both inside and outside of the business. We truly like being together and have a level of understanding between one another that is rare. One of the biggest assets of being a family business is the level of trust, communication, and in-depth knowledge of your family. It's invaluable. When times are good, there is no one you would rather be with, and when times are trying, who can you rely on more than your family? No one.
---