MFA Offers Second Glimpse at Herb Ritts
Featuring 15 recent acquisitions from the Herb Ritts Foundation, the new exhibit is a sort of modified reprise of a popular 1996 retrospective of the photographer's work at the museum.
---
In 1989, famed fashion photographer Herb Ritts created a now-iconic image of Stephanie Seymour, Cindy Crawford, Christy Turlington, Tatjana Patitz, and Naomi Campbell, nude and intertwined in embrace. Originally intended to run in a major magazine like so many of Ritts' images, Rolling Stone in this case, it later became much more—a singular frame representative of an entire era, when supermodels reigned.
Now, a print of the photograph hangs inside the Museum of Fine Arts, appropriately on a wall of the Ritts Gallery, the museum's first space dedicated entirely to photography. It's one of the 52 photographs that, alongside a collection of music videos and ad campaigns directed by Ritts, comprise the "Herb Ritts" exhibit, set to open Saturday.
"What I love about Herb Ritts' images is that regardless of what they were originally intended to be used for, they really have withstood the test of time. This photograph was taken in the early '90s, but 25 years later, it's still a beautiful image, and we can still look at it and appreciate it and enjoy it for its formal qualities," said James Leighton, a curatorial research associate at the MFA. "He was challenging the line between art and commerce. He could make a picture for Rolling Stone or Playboy, and it could be hanging on a museum wall 25 years later. He was really able to just run for it."
"Herb Ritts" serves as a sort of modified reprise of a 1996 exhibit, "Herb Ritts: WORK," which to this date remains among the most highly attended exhibits in MFA history. It was a milestone exhibit not only for the museum, but also for director Malcolm Rogers, who had taken on the position just two years earlier.
"It was one of his first projects, an exhibition that he wanted to use to really put his mark on the map, and show the public what his Museum of Fine Arts was about," said Leighton. "It was the MFA's first special exhibition dedicated specifically to one photographer—and not only one photographer, but a photographer who was known at the time as a commercial photographer. We really were challenging our audience's perspective of what fine art was, what Malcolm's tenure at the museum was going to be, and how it was going to present art in a 21st century environment." (Indeed, a September 1996 issue of Boston magazine claimed that Ritts had come to shake up "the staid and sedate Museum of Fine Arts.")
With the celebration of Rogers' 20th anniversary at the MFA last year and his upcoming retirement, the museum seized the opportunity to offer a second glimpse at Ritts' career, which had been instrumental in defining its director's own. But Leighton, who collaborated with curators Karen Haas, Anne E. Havinga, and Kristen Gresh, didn't want to simply recreate the 1996 exhibit. And so, Rogers and the four curators turned to the Herb Ritts Foundation, to fill in the gaps in the MFA's collection, at the time already the largest museum holding of Ritts photographs in the world.
Ritts himself died in 2002 from AIDS-related complications, so while the photographer was instrumental in the creation of the 1996 exhibit, continuing to make images that he wanted to be included just weeks before installation, this time it was entirely up to Rogers and the curators to interpret his work.
"It's a different take," said Leighton. "It was a collaborative effort, but collaborative in a different way than it would have been if he was still with us."
The new exhibit, presented on a smaller scale, presents 37 photographs that were featured in the original show, as well as 15 works recently gifted to the MFA by the Herb Ritts Foundation. It's divided into two sections, with photographs in the Ritts Gallery showcasing works related to fashion and the human figure, and photographs in the adjacent Clementine Brown Gallery focusing on celebrity personalities and portraiture.
Additionally, the Brown Gallery presents directorial work by Ritts. During his career, the photographer directed 13 music videos and more than 50 ad campaigns for clients including Lancôme, Calvin Klein, and Donna Karan. The MFA exhibit features a loop of six commercials, as well as two music videos, "Cherish" by Madonna and "Wicked Games" by Chris Isaak, all presented without sound.
"We didn't want the music to be competing with the visual imagery. Once you have Madonna singing in a room, it's Madonna singing in a room," said Leighton. "What we really love about showing the music videos is that you can see how he's translated his visual language from a still image into a moving picture."
But in order to solidify Ritts' connection to music icons from the late '90s and early 2000s, the curators created a Spotify playlist with 12 of the 13 songs that he created music videos for (sorry, folks—turns out "Gone" by *NSYNC isn't available for streaming), and Leighton encourages visitors to listen to it while roaming the galleries.
"I actually listened to it on my way over to work this morning. I haven't done it in the galleries, but I want to say I have every time I was working on the labels," he said. "I listened to more Madonna in the last six months than I have in the last six years."
In addition to his influence on pop culture, the exhibit also offers a look inside Ritts' creative process. A case inside the Ritts Gallery presents the progression of one image, "Tatjana Veiled Head, Joshua Tree," from a frame on a contact sheet to a sample print, scribbled over with Ritts' edits, to the cover of British Vogue, which also included a spread with five images from shoot. The magazine would run a total of six images, and Ritts, as Leighton pointed out, offered them an edit of nine options.
"To think that he wasn't showing them everything he shot, wasn't showing them every single option and every single possibility, that he was giving them a very concise, very tight edit—it was very controlling," he said. "But it also speaks to how confident he was in his work and the story that he wanted to tell and the photography that he wanted to show."
Above the case hangs a platinum print of the image, a tighter view that emphasizes the texture of the veil over the model's face, produced by Ritts later on and existing beyond the magazine cover version's shelf life on newsstands.
"It's a testament to who he was as a photographer—that he was not thinking that something just had to have a very brief life," said Leighton. "He was really looking to create images that could go on and live and be representational of a person or a time period and really able to have a long life span."
---
'Herb Ritts' at the MFA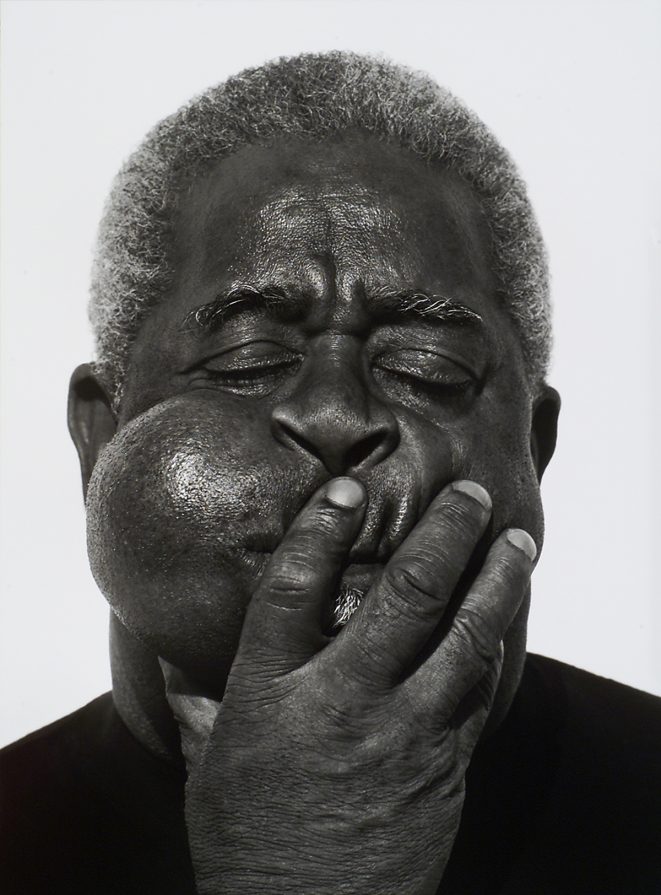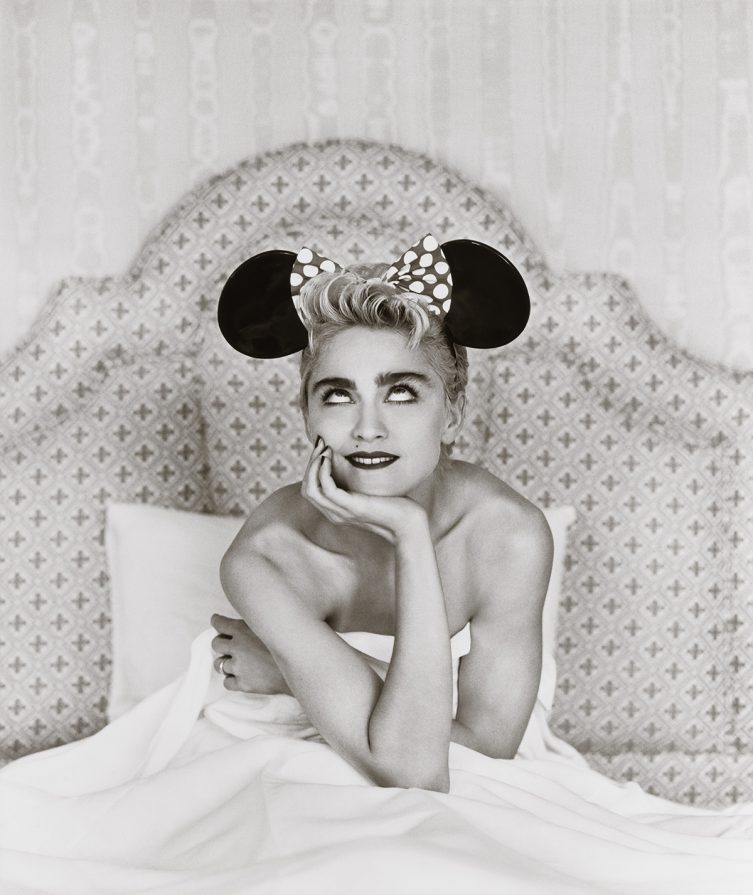 Photographs © Museum of Fine Arts, Boston
"Herb Ritts" opens at the Museum of Fine Arts on March 14 and runs through November 8. For more information, including related programming, visit mfa.org.
---