Kelly Automotive Group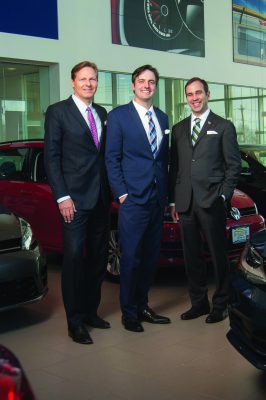 BRIAN & BRENDEN KELLY & BRIAN HENEY
978.774.1000 | kellyauto.com
The Kelly Automotive Group, founded in 1965, currently has thirteen brands in nine locations on Boston's North Shore, and employs just over 500 people. It was named a "Best Dealership to Work in North America" by Automotive News, as well as being in the Top 100 dealers in the U.S. in terms of pure retail and customer satisfaction. Brian Kelly is president of the Kelly Automotive Group.
Who or what inspired you as a child to start your own business?
Like many entrepreneurs, I started with a paper route, shoveling snow, and mowing lawns until I eventually started working for my father, Roland Kelly, at his used car lot on Rantoul Street in Beverly. I started at 13 years old, taking out the trash, washing cars, and doing odd jobs. As I got older and could drive, I became a mechanic and then started selling cars while I was still in high school. When I graduated from high school, I became a full-time salesperson, and later, a manager. At 28, I bought the dealership from my father. I have always been interested in people, cars, and business in general.
The Kelly Automotive Group is a true family business. My two boys, Brian and Brenden, and my son-in-law, Brian Heney, are an integral part of the company, as are my brother, Neil, my sister, Cathleen, her son, Drew, and my daughter-in-law, Kelley.
Have you ever encountered any challenges in your family business?
Working with family brings a different dimension to the business and occasionally challenges. We're lucky that everyone gets along. Everyone has a specific talent and recognizes where they can be the most useful, happy, and productive within our group. We are in the process of getting the fourth generation ready to come in. One of the reasons we're so successful is that we run this company as a team.
What's the best advice that someone in your family offered you?
My father gave me lots of good advice, among them that "cash is king" and as long as I save and had money in the bank that I could weather any storm and continue to grow and improve my business in any economic environment.
Since you work together, where and when do you like to relax as a family?
Right now it's all about the grand kids. I have six altogether with another on the way. They are all involved in sports, so we spend a lot of time watching their hockey, baseball, basketball, and football games as a family. They even star in our TV and radio commercials!
---