Pornhub Says It Will Plow Snow in Boston for Free
The porn website plans to send out branded plow trucks to help during Tuesday's storm.
---
Update: Wednesday, March 29, 11 a.m.: Pornhub promised to plow streets and parking lots in Boston, New York, and New Jersey for free. But did they? We looked into it, and there is almost no evidence that they did.
Earlier: When Boston plow truck drivers get to work clearing snow during tomorrow's big storm, they'll have some help—from Pornhub.
Pledging to assist anyone who "wants to get plowed," the adult entertainment site says it is sending out a fleet of branded trucks to clean the city's streets and parking lots for free.
"The Pornhub team understands that by this time of year, most cities have run up their budget in snow removal," Pornhub Vice President Corey Price tells Boston, "and we thought we'd lend a hand in getting our fans plowed."
The cheeky service, which is only being offered in Boston and New Jersey, is slated to begin when the flakes start falling overnight and continue for the duration of the storm, Price says. Each of the trucks—he says there are more than two dozen of them—will have the porn website's black, white, and orange logo on their plows and doors.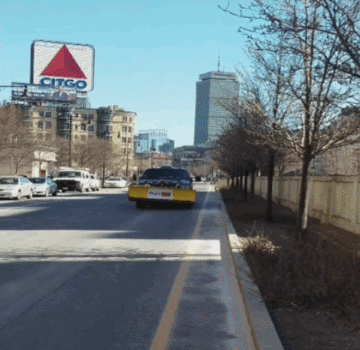 The trucks will also be available on demand to clear lots owned by small businesses, Price says. Requests for a plowing are being accepted via email at phubplows@gmail.com. They are not offering to plow driveways, he says.
This will be the first time the site has brought its snow-removal services to a city, but there are plans to put Pornhub-branded trucks to use elsewhere. "Our fans are important to us and we hope to plow any state in need," Price says, adding that people are encouraged to tweet with the hashtag #PornhubPlows.
There certainly will be a lot of plowing going on in Boston tomorrow. Forecasters say we could get 12-18 inches of snow.
---
---