When to Drive (and When Not to Drive) on Thanksgiving
Google Maps' annual report on avoiding the worst of the Turkey Day traffic is out.
---
Driving on Thanksgiving in Boston, like in all American cities, is a disaster waiting to happen. Play your cards wrong, and you could end up spending precious holiday time cursing your fellow man in traffic.
But fear not, Thanksgiving travelers. Google Maps has the data to save you the Turkey Day road rage. Follow their advice and you could be cruising down the Pike worry-free this year.
According to an analysis of traffic patterns from last year, Google has determined that the worst possible to time to leave the city pre-Thanksgiving is on Wednesday at 3 p.m. The best daytime hour to leave? 6 a.m. on Thanksgiving itself. Technically speaking, the data show that the very best time to leave would be 3 a.m. the morning of, but odds are you aren't going to do that. So the earlier the better.
After the feasting is over, the worst time to hit the road in the Boston area is on Friday at 3 p.m, Google says. Your best bet is to leave early on Sunday, at 6 a.m.
Google Maps and the Google News Lab came to these conclusions by studying the "speed and location of Android phones that have location services enabled" in 25 cities for Wednesday through Sunday, according to a description of the methodology on a website for the study.
Of course, could avoid the hassle altogether by staying put in the city, in a Thanksgiving Airbnb perhaps, or at one of the Boston restaurants still taking last-minute dinner reservations.
The study also tracked Google searches for the same period (apparently Massachusetts is really interested in house cleaning services on the day before Thanksgiving), and had some advice on when to optimize your trip to the grocery or liquor store. Read the full results here.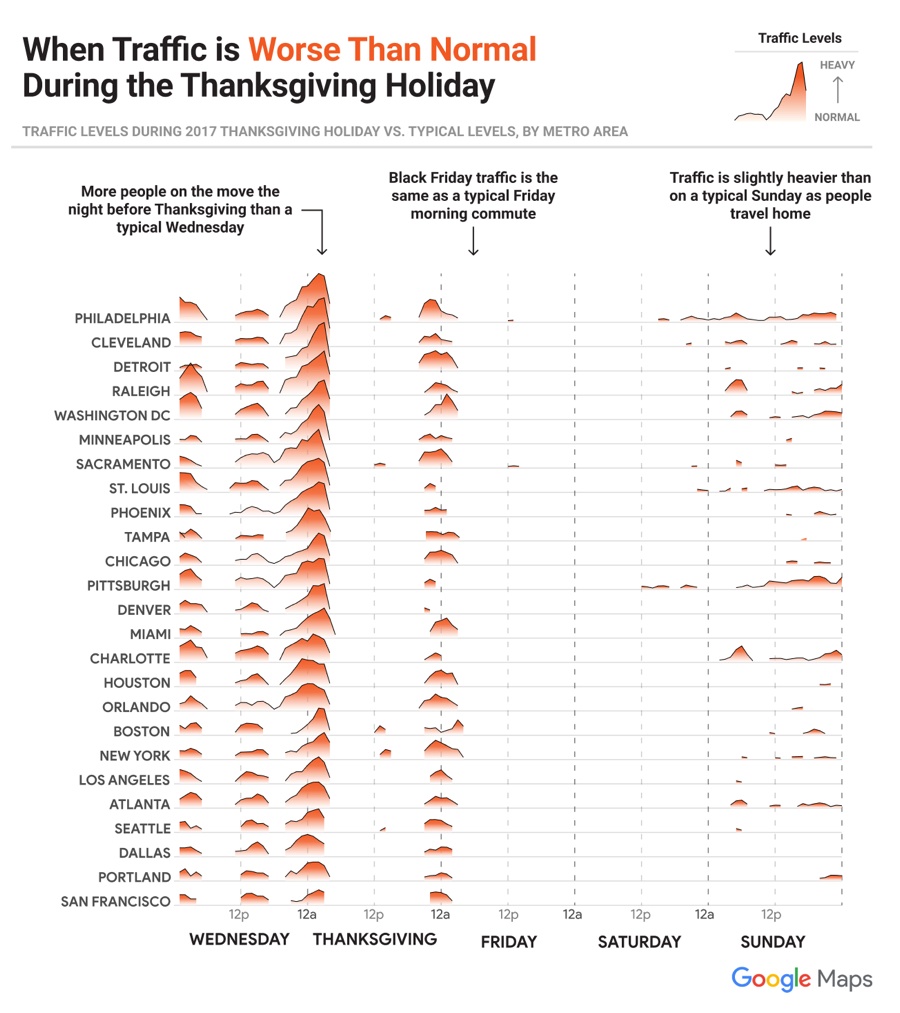 ---
---