So You Want to Live in the Seaport
Navigate the market with our trusty neighborhood guide, and spend your weekends admiring art at the ICA.
---
Call it what you will: The Seaport, the South Boston Waterfront, the Innovation District—no matter its name, the neighborhood has become one of Boston's hottest in the last few years. In fact, if Boston was Panem, the dystopian country in the Hunger Games trilogy, the Seaport would be the Capitol—a futuristic, strikingly clean, and wealthy area filled with well-dressed residents, where the Boston Convention and Exhibition Center looms overhead like a spaceship.
It's all a far cry from the neighborhood's past as an industrial wasteland filled with parking lots. While the Fort Point section gained traction as an artist community, it's only in the last five years that the rest of Seaport became highly coveted as a residential location. Fast forward to today and the Seaport is booming. Filled with restaurants, shops, hotels (with several more in the pipeline) and countless conventioneers, it's become a museum destination, too, with the Boston Children's Museum in Fort Point and the Institute of Contemporary Art holding court on Fan Pier. There's not a ton of green space, and its lack of diversity is an embarrassing reinforcement of Boston's reputation as a highly segregated city, but if you've tired of the crumbling buildings with no elevators in the South End or Back Bay, you may take a real liking to the Seaport.
Residents say the least attractive aspects of the Seaport are the chronic construction and lack of a "neighborhood" feel. Though the developers are diligently trying to foster typical neighborhood happenings like farmer's markets, outdoor fitness classes, and cool public art (don't miss the new installations of Okuda San Miguel's work), the Seaport maintains an eerie quietness at times, as if a tumbleweed from the Old West will blow onto an episode of The Jetsons.
The Seaport's ghost town atmosphere is directly related to the bountiful amount of temporary corporate housing, investment properties that go uninhabited, and sky-high price tags that are unattainable for most families. And without many civic spaces like libraries or schools, the Shrine of Our Lady of Good Voyage is perhaps the only gathering space where nobody is trying to sell you something. That said, some people who live in the Seaport tell us they love how it's new and exciting, with a skyline that changes every month. And no, there isn't a grocery store, but if you can afford to live there, we're guessing you can afford to have your groceries delivered.
---
Prices at a Glance
Median home value: $999,700
Average rent price: $3,425 per month
---
What You Can Buy
An Industrial Chic Fort Point Studio
319 A Street #210, Boston
Price: $599,000
Size: 462 square feet
Bedrooms: 0
Baths: 1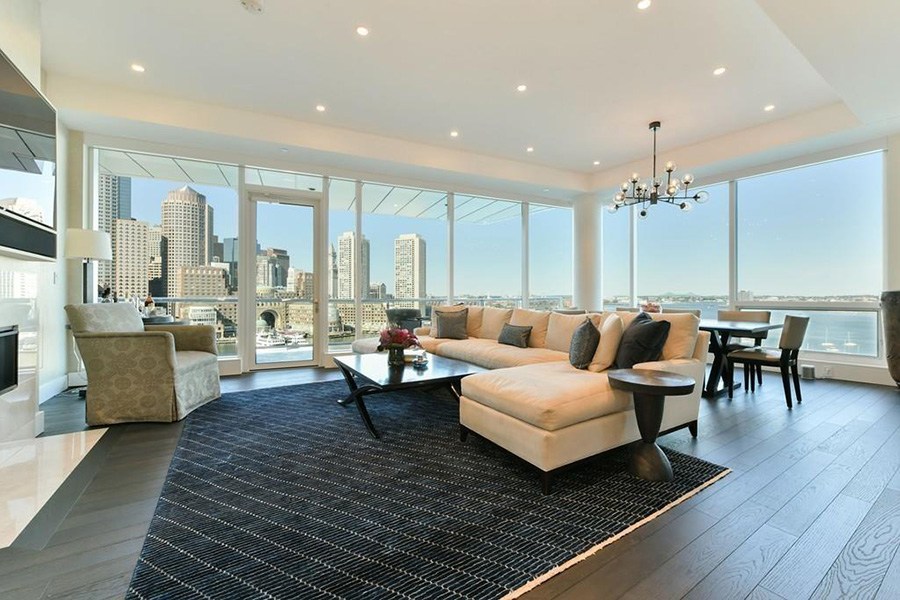 A Sprawling Home in 22 Liberty
22 Liberty Drive Unit 10A, Boston
Price: $7,500,000
Size: 2,756 square feet
Bedrooms: 3
Baths: 3.5
---
Public Transit Options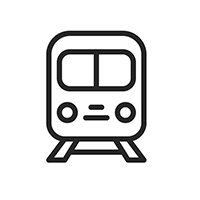 There are no subway stops in the Seaport, but South Station on the Red Line is right across the channel.
The MBTA Silver Line stops at Courthouse, World Trade Center, and Silver Line Way.
---
What a Real Estate Agent Says
The Seaport is rapidly becoming Boston's hottest spot to live with the recent addition of several large developments that brought with them an influx of shopping, restaurants, and a cinema. Residents not only get to work, live, and play in the city, but they get to do so right in the Seaport. Most of the units in the heart of the newly developed Seaport range from $1,700 to $2,100 per square foot in buildings like 22 Liberty and 50 Liberty (penthouses start at $2,500 per square foot). But there are still many economical deals in the Fort Point area, including historical building conversions ranging from $700 to $14,00 per square foot on Farnsworth, Sleeper, and Congress Streets.
—Stacey Alcorn, LAER Realty
---
Grocery Stores

Trader Joe's
44 Thomson Place
---
Perks
Because the Seaport is just across the Fort Point Channel from the Financial District, folks who work downtown have an easy commute on foot. It's that proximity to things that residents of both Fort Point and the Seaport appreciate most—the ability to reach major destinations in a matter of minutes. Drivers also like its proximity to the highway, and the area is quite dog-friendly. Plus, Fort Point's many converted factory buildings are filled with history and serve as a nice juxtaposition to the Seaport's contemporary vibe.
---
Did You Know?
The Seaport is filled with restaurants these days, but the most iconic eatery in the neighborhood for decades was Anthony's Pier 4. Opened by Anthony Athanas, an Albanian immigrant, the seafood spot became a Boston institution, filled with patrons ranging from Hollywood greats like Judy Garland and Elizabeth Taylor to politicos who hobnobbed in the private event space upstairs.
However, it wasn't always the food that put Anthony's in the headlines. Athanas once purchased a Hudson River cruise ship called the SS Peter Stuyvesant, then converted it into a stylish bar and dining room attached to the restaurant. The ship was ravaged during the Blizzard of '78 and sank. It sat in the shallow waters for decades, until what remained of the vessel was removed from the harbor last year.
Anthony's most notorious presence in the news came in 1982, when Brian Halloran, a gangster turned FBI informant, and Mike Donohue, an innocent man giving him a ride home, were killed when Whitey Bulger opened fire on them as they left the restaurant. (The shootout was later recreated for the big screen in Black Mass, the Whitey Bulger biopic starring Johnny Depp.) While Athanas passed away in 2005, the restaurant lived on before shutting down in 2013. And as you might expect, the site will soon be home to luxury condos. In 2019, it'll become PIER 4, a boutique, nine-story residential building with 106, one- to four-bedroom ocean homes, each with private outdoor space and water views.
Home prices by Zillow, rent prices by Renthop. Icons via GETTY IMAGES.
---