A Culinary Journeyman Shares His Globetrotting Menu for the Dial, Coming Soon to Cambridge
Chef Justin Urso will bring eclectic flavors to 907 Main, a boutique Central Square hotel opening in May.
---
Chef Justin Urso has risen through the ranks of acclaimed kitchens throughout the northeast, but this spring he's finally ascended to his first executive chef role. He also happens to be working at Central Square's first rooftop bar, but that's just a coincidence.
Urso is behind the menus at Blue Owl and the Dial, the fifth-floor terrace bar and the flagship restaurant, respectively, at 907 Main, a boutique hotel opening in May in Cambridge. "I am very excited to put my mark on the Boston dining scene and build a new and lasting concept in Central Square," he says. Urso started his career in Boston under the great Frank McClelland, at both L'Espalier and Sel de la Terre, and was previously chef de cuisine at two other French-inspired local spots, Catalyst and Deuxave. Urso has also cooked in New York City, including at the Michelin-starred Del Posto.
Blue Owl—named for a Cambridge candy factory owned by Tootsie Roll Industries, Eater Boston notes—will have its own lineup of snacks and drinks, plus 40 seats above the cool Cambridge neighborhood. The Dial will also have outdoor seating—on the ground level, that is—as well as more substantial breakfast, lunch, dinner, and weekend brunch menus peppered with global influences. "I had a lot of fun writing the menu for the Dial," he says. "I am really excited about cooking some of the cuisines that I very much enjoy, but have not had the opportunity to cook professionally."
To develop the Dial's menus, Urso started by making a list of iconic dishes from around the world. One of the chef's personal favorites—and a plate emblematic of his overall approach—is jerk quail with mango puree and jicama pineapple salsa. "During my time living in NYC I lived in Crown Heights, which is a largely Caribbean neighborhood. Living there instilled in me a love of all things Caribbean culture, especially the food… I knew I wanted to incorporate jerk into the menu but add a new twist and make it my own, which is how I settled on quail."
Urso is also excited about the restaurant's house-made pasta program, as well as the raw bar. Take a look at the menus below.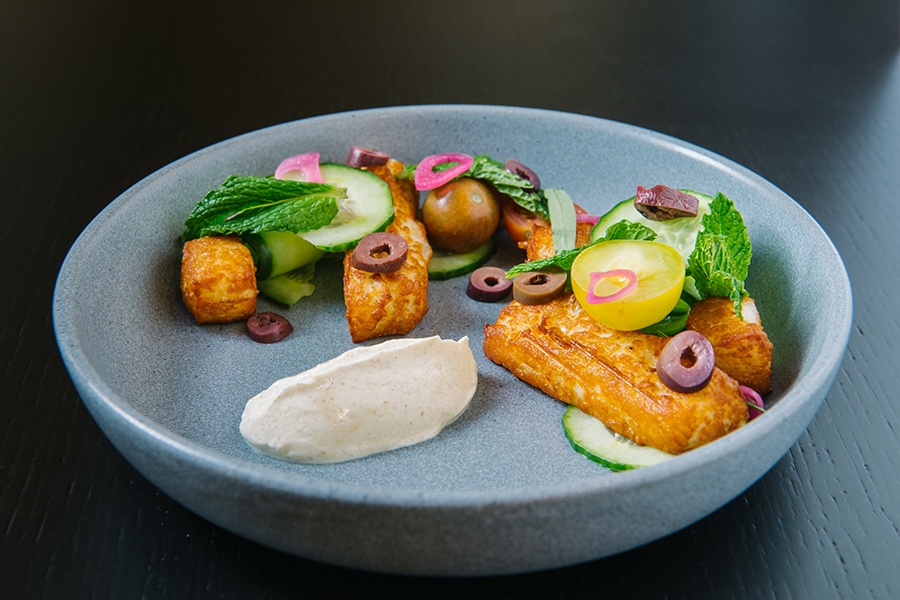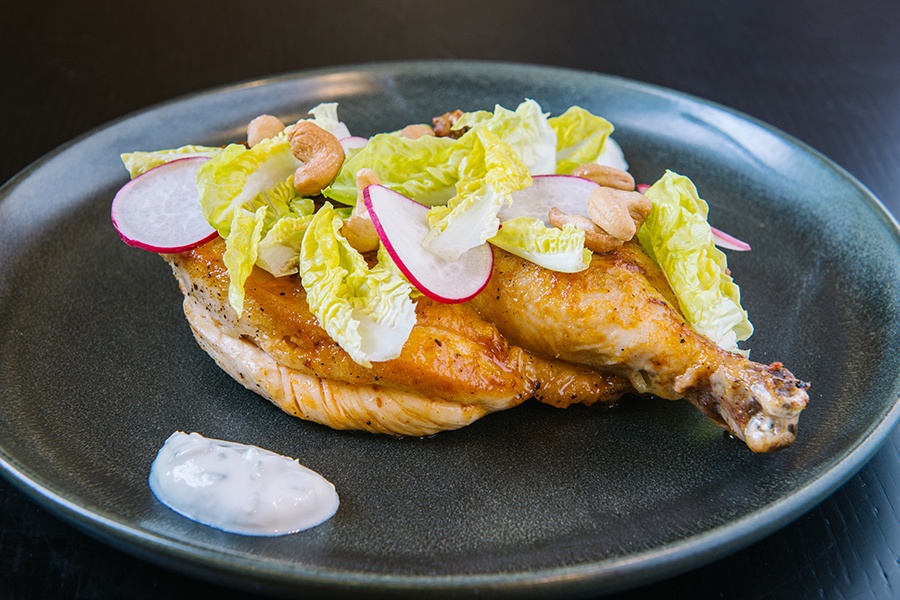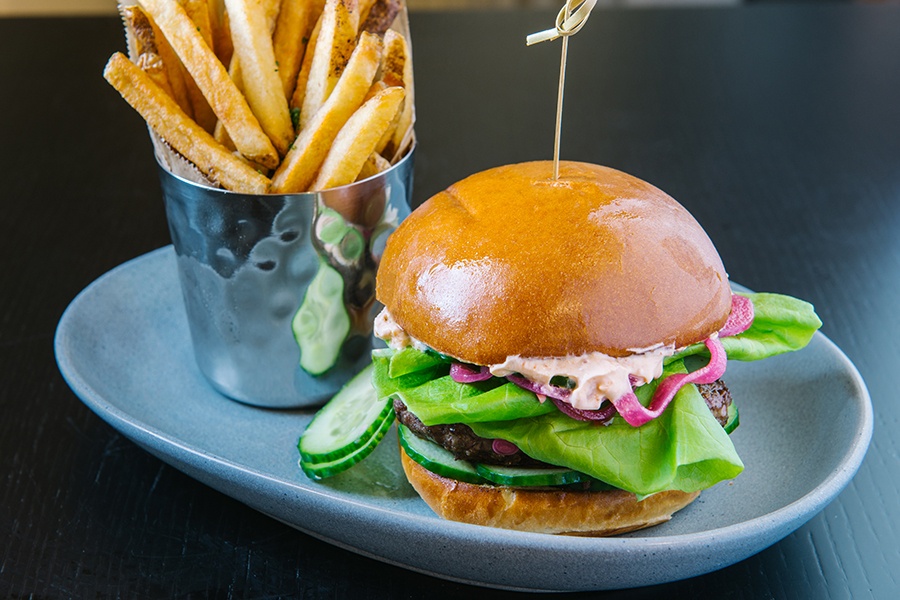 "I am looking forward to building our kitchen team and mentoring the next generation of young cooks," Urso says.
907 Main and its house restaurants are certainly more at home in today's Central Square than they would be in its grittier past. But Hay Creek Hotels, the team behind the hotel, wants to tap into the neighborhood's history through stylistic touches. For instance, Cambridge's legacy of music clubs will be receive homage through concert footage screened on TVs, as well as the restaurant's live, local music series: Dial Sessions.
In addition, Blue Owl and the Dial won't be the only place to grab a bite at 907 Main. The hotel will also house returning ice cream shop Toscanini's, plus a second location of Belmont bakery Praliné French Patisserie. (Patty Chen's Dumpling Room will not return to 907 Main St., despite initial plans to do so.)
"We're letting people know we're not closed off from the neighborhood," one of the hotel's owners, Patrick W. Barrett III, previously told the Boston Globe. "We're like a community center in terms of food and fun, and open to everyone. We want it to be accessible."
907 Main, the Dial, and Blue Owl are on track to open together in May 2020, with Tosci's and Praliné soon following.
Coming May 2020, 907 Main St., Central Square, Cambridge, 907main.com.
The Dial
Dinner and Lunch
Snacks

Marinated Olives
Tostones with Charred Habanero Aioli and Pikliz
Yucca Fries with Mojo Aioli
Falafel Tahini, Sumac, Shredded Cabbage

Raw

Chatham Oysters with Rice Wine Mignonette
Salmon Poke Bowl with Avocado, Cucumber, Nori, Radish
Tuna Sashimi with Black Garlic Puree and Togarashi Spiced Puffed Tapioca
Black Bass Ceviche with Red Onions, Cilantro, and Aji Amarillo

Small Plates

Green Chickpea Hummus with Grilled Flatbread
Jerk Quail with Mango Puree and Jicama Pineapple Salsa
"Le Virtu" with Pork Broth, Lentils, Chickpeas, Prosciutto, Penne, Meatballs, and Pecorino
Tempura Asparagus with Miso Chili Dipping Sauce
Baby Lettuces Salad with Green Goddess Dressing and Shaved Vegetables
Cucumber Salad with Fried Halloumi, Kalamata Olives, Mint, and Ras el Hanout Yogurt
Sugar Snap Peas with Labneh Za'atar

Pasta / Noodles

Bucatini Carbonara with Guanciale, English Peas, and Black Pepper
Spaghetti a Ricci with Uni Butter, Jonah Crab, and Fresno Chile
Vegetable Ramen with Miso Broth, Bok Choy, Scallions, Bean Sprouts, and Shiitake Mushrooms
Pirogies with Caramelized Ramps and Brown Butter Crème Fraîche

Mains

Lamb Burger on a Brioche Bun with Harissa Yogurt, Marinated Cucumber, and Pickled Red Onions
Halibut Cheek Fish and Chips with Crushed Peas, House Chips, and Malt Vinegar Aioli
Skirt Steak Chimichurri with Charred Spring Onions and Romesco
Piri Piri Chicken with Toasted Cashews, Labneh, Lime, and Gem Lettuce
Black Bass Green Curry with Lemongrass, Coconut Milk, and Kaffir Lime
Salt and Pepper Soft Shell Crab with XO sauce, Charred Snap Peas, and Toasted Green Garlic

Sweets

Ice Cream Sundae: House-Made Blondie with Toscanini's Cardamom Ice Cream, Pistachios, and Salted Caramel Sauce
Jalebi: Indian Fried Dough with Cardamom Rosewater Syrup
Baklava: Phyllo Dough with Toasted Almonds, Pistachios, Hazelnuts, and Wildflower Honey
Toscanini's Ice Cream and Sorbets: Rotating Selection of Flavors

(Lunch Only) Sandwiches, served with choice of Fries, Quinoa Tabbouleh, or Salad

Duck Carnitas with Salsa Verde, Cotija, and Scallion
Chicken Tikka Sandwich with Curry Aioli, Shredded Cabbage, and Shaved Red Onion
Sesame Crusted Tuna Burger with Miso Aioli, Nori, Napa Cabbage Slaw, and Onions
Falafel on House-Made Pita with Hummus, Cucumber, Pickled Vegetables

(Lunch Only) Bowls

Thai Salad Bowl with Sesame Crusted Salmon, Toasted Cashews, Cucumbers, Cilantro, Thai Basil, Napa Cabbage, and Lime Chili Vinaigrette
Carne Asada Bowl with Skirt Steak, Chimichurri, Charred Spring Onions, Quinoa, Black Beans, Fresh Cilantro, and Avocado
Mediterranean Bowl Quinoa Tabbouleh, Babba Ghanoush, Hummus, Falafel, Arugula, Tahini Vinaigrette
Pesto Chicken Bowl with Warm Quinoa, Baby Spinach, Arugula, Cherry Tomatoes, Shaved Parmesan, and Pesto Vinaigrette
---
---