News
Good Company, a New Charlestown Cocktail Bar, Features 'Farm-to-Glass' Creations
Local produce plays a starring role in intriguing drinks at longtime bartender Seth Freidus' first solo spot.
---
From curry-roasted-carrot cocktails to Japanese whisky flights to design-your-own sours, there's a new cocktail bar in town: Good Company, the first solo project from longtime local bartender Seth Freidus, opens November 15 in Charlestown. With a "farm-to-glass" focus, the bar highlights local, seasonal produce in unexpected ways. Will you ever look at acorn squash the same way once you've had it in cocktail, mixed with Irish whiskey, demerara rum, oloroso smoked spent grains, and honeycrisp yogurt?
"I've always loved cooking at home and taking a culinary approach to cocktails and their ingredients at work," says Freidus, an alum of esteemed bar programs at spots like Eastern Standard and Alden & Harlow. "Living in a state with so many great farms, I wanted to highlight their local ingredients in our cocktails, as many kitchens around the city do in their food."
Freidus places an emphasis on using all parts of the ingredients he's sourcing so carefully. Take the Pawpaw cocktail on the opening menu, for example: Farmer's Gin, Singani 63 brandy, pawpaw soda, and spent coffee ground. The pawpaw flesh is used for the soda, says Freidus, and the pulp is used for a hard candy garnish. "The skin is inedible, so we used it to make coasters," he said. "Even the pawpaw seeds were replanted."
The aforementioned carrot, squash, and pawpaw cocktails are among a tightly curated list of eight creations that make up the main part of the cocktail menu. "They each represent one if not two local farm ingredients," says Freidus. If pressed to pick a favorite, he chooses the Mole cocktail—a tequila-based concoction with mole negro, roasted red pepper, and lime, served with a spent beer grain cracker, mole chocolate, and sea salt. "It's a really unexpected, savory flavor profile."
But there's more to the menu, too: There are customizable sours, for instance. Choose your spirit—rum, tequila, vodka, etc.—and you'll be served a sour in a carafe with ice, alongside three flavored drink powders made from byproducts of other ingredients, with a chilled cocktail glass, for your flavor mixing enjoyment. There are also flights of all kinds—featuring a rotating selection of three cognacs, sherries, agave spirits, and more—and a variety of beers and wines from near and far.
Freidus also feels strongly about "putting the same level of care into zero-proof drinks," he says, and the opening menu offers a trio of nonalcoholic takes on popular classic cocktails, including a white Negroni, a spicy margarita, and a mule. Yep, you'll see veggie-forward combinations here, too: The mule, for example, is made of carrot, curry, lime, and ginger beer.
On the food side, the idea is "fun, approachable snacks that can either be a quick bite or a full dinner," says Freidus, featuring local, seasonal ingredients just like the drink list. "The food is designed to pair with our cocktails." Think steak tartare with salsa verde, crispy Jamaican jerk chicken wings, burrata toast, and a double smashburger.
Located in the same development as fun spots like Urban Wild and Tradesman Coffee & Pizza, Good Company features wood and leather accents and an 18-seat, quartz-topped bar that offers a peek into a glass room where you might see bartenders clarifying juices and carving ice. Outside, there's a seasonal patio with a fireplace.
Whether you're swinging by for a quick drink and snack or settling in to explore a larger portion of the menu, Freidus's goal is to create a "warm, energetic gathering place for neighbors and visitors," he says. "We want to be your second home, but with fun and exciting cocktails and snacks."
Opening menu: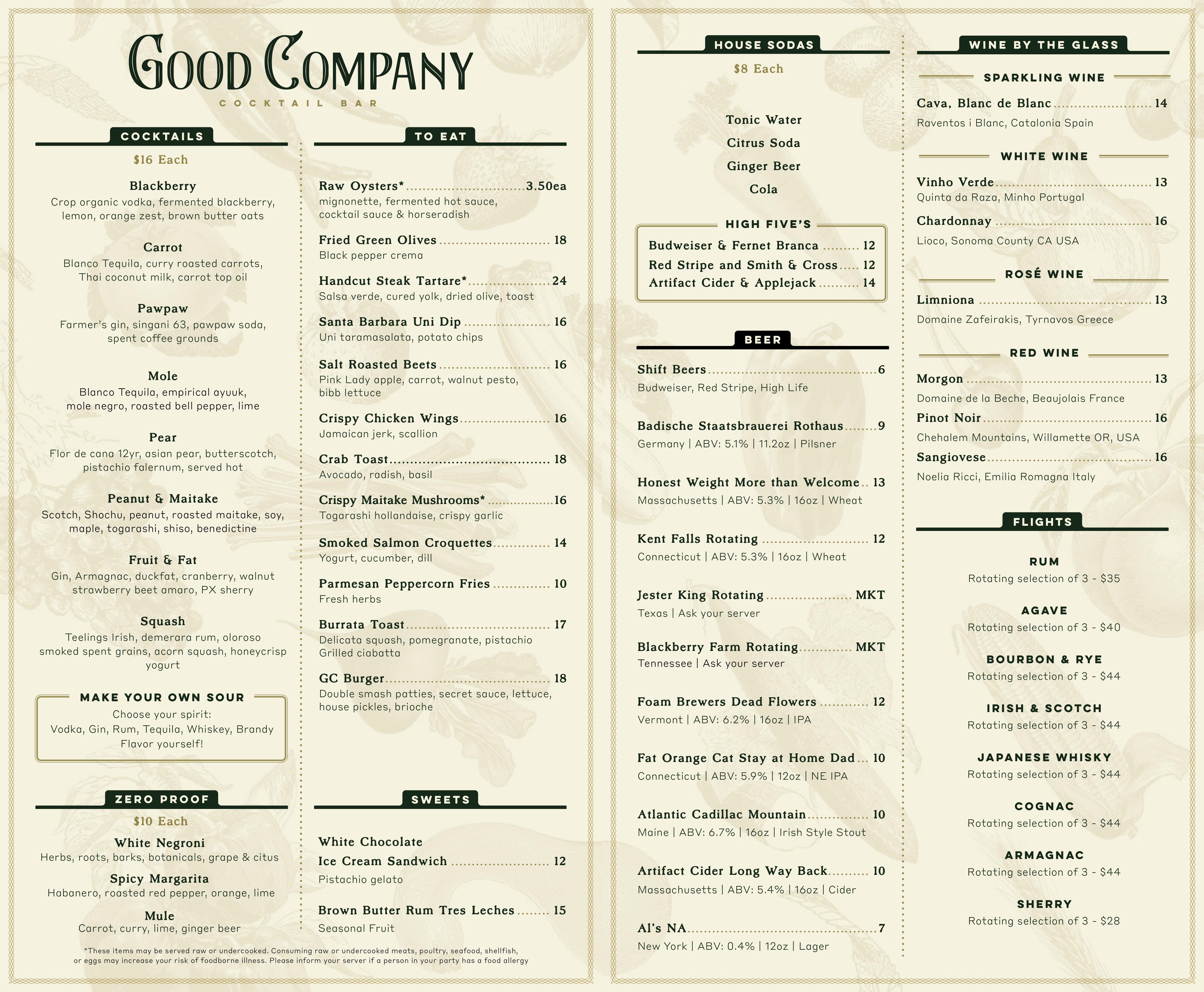 100 Hood Park, Charlestown, Boston, goodcompanyboston.com.
---
---