The Bostonian's Guide to Planning an Ultra-Luxury, Hassle-Free European Vacation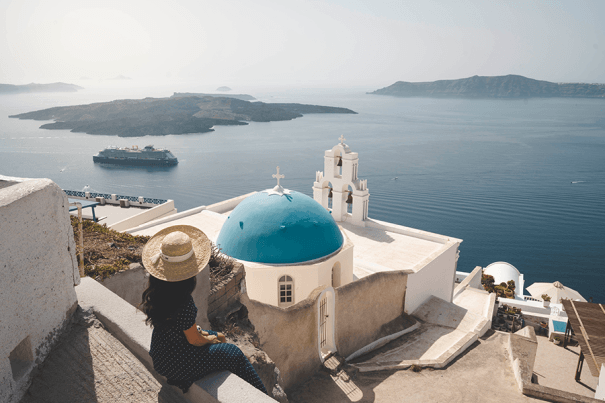 The opportunity to travel the world only comes every so often—between work obligations, family events, and kids to look after, finding the perfect week to take a trip basically requires threading the logistical needle. That's why so often, when you do come across a promising block of time on your busy calendar, it can feel like a lot of pressure to plan the perfect getaway.
Take Europe as an example: So many Bostonians want to visit the continent, but not so many Bostonians know where or how to start planning. With hundreds of destinations to choose from, extensive logistics required to get to and fro—cars to rent, flights to take, research to do—something's got to give.
Travel advisors can help relieve you of that travel planning pressure. We took time to chat with advisors at Cruise Travel Outlet (CTO) to find out more about European cruises, the best travel format for access to that sweet spot of luxury, convenience, and relaxing-yet-far-reaching itineraries. First and foremost, they say that Celebrity Cruises—the first and only cruise line/resorts at sea to be Star-Rated by Forbes Travel Guide—is the best way to go. Here's everything you need to know about getting your perfect Celebrity European cruise on the books and what to expect on the voyage.
Good if By Land, Better if By Sea
If you're new to cruising, you might not know what you're missing if you travel Europe by land—and with Celebrity Cruises, the advantages begin before you even board the ship. For many cruises, you'll have to board a flight to reach the port of call for the cruise. Flights by Celebrity is a program that helps you save hundreds of dollars on your pre-cruise flights. And if you have to book a hotel the night before your cruise or during an overnight European stay, the Hotels by Celebrity program will do the same.
Plus, if there's something we've all likely learned (maybe the hard way) about vacations, it's that there's a balance to be found between seeing and experiencing as much as possible and keeping things simple and streamlined. Bill Walsh, president of CTO, says that a Celebrity Cruise is the best way to keep that balance in check.
You can see up to eight countries on one Celebrity Cruise. The best part? "With the cruise, you just pack once," says Walsh. On a land tour, like a bus or self-guided road trip, you're forced to unpack and repack every time you switch accommodations. On a cruise, you have one home base that you return to each night. "It's just a more convenient way to see more in Europe and not be exhausted," he says.
Plus, the way Celebrity Cruise itineraries are designed, you get more "bang for your buck," says Katy Jones, director or marketing at CTO, when you reach a port. On other cruises, which don't dock for as long, you may only have a couple of hours. "You're in port for usually eight-to-12 hours, so you can do greater shore excursions," she says. Many Celebrity Cruises even offer overnight stays at certain European destinations.
And, Jones says, after the first couple days, you get into a rhythm. "You come back, you relax, you have a cocktail, you go to bed, you wake up, you're in a different country altogether."
Not only that, but you're not restricted to a brochure or pre-chosen destinations once you reach the port. "If you're on a land tour, you're going where everyone else is going, and that's it," says Walsh. "With a cruise, if you want to see the Vatican, you can just customize what you want to do."
You can even take your family on a Private Journey, where you get to curate your own shore excursion to your specific tastes with the help of the Celebrity Cruises Destination Insiders team. You can get a private car, limo, airplane, and an individual local guide for your unique tour.
Considering All Your Options
CTO's first piece of advice when you decide to take a European cruise? Don't underestimate your itinerary options. With Celebrity Cruises, for example, there are a generous number of destinations to consider.
You can travel to the eastern or western Mediterranean; northern European countries like England and Scotland; the Dalmation Coast; Iceland; and Israel—and that's not even every option. For some current inspiration, Jones tells us Croatia and Portugal are becoming increasingly popular, as well as the Azores, Greek Isles, and Ireland.
Most European cruises stop at a different port on each day. But if you want more time dedicated to relaxing on board, Jones says you can take a repositioning cruise. For example, she says you can take a transatlantic voyage to get those extra relaxed days.
This decision process will likely be the first of many times you'll be glad you have a travel advisor at your side. "I feel like 80 percent of our clients who say they want to go to Europe have no idea where they want to go," says Katy Jones, director of marketing. In this situation, she says there are a number of qualifying questions your advisor will ask to design your perfect expedition: What part of Europe do you want to visit? How many different countries do you want to see? How many days do you have to spend on vacation?
But, even with this consistent protocol, the advising process is always completely tailored to your desires and priorities; no two advising sessions are the same. "The questions really depend on what your answers are," says Jones. "Every itinerary is different."
Welcome Aboard
A vacation spent aboard a Celebrity Cruise ship, according to Walsh and Jones, requires no compromising or sacrificing on any front—it's a relaxed luxury resort at sea. Whether you have a fitness and wellness regimen that requires maintaining the highest standards for food and drink, or a penchant for live entertainment, Celebrity ships have it all.
According to Walsh, the live entertainment is one of the most notable highlights. "You have entertainment every single night," he says. "You're not just having dinner and going to bed—if someone wants to go out and see a Broadway show, it's there." Celebrity Cruise ships have a number of recent offerings in the way of entertainment—Stage Door programming is where you'll get your Broadway fix.
They also have live shows like Elements, the dynamic journey through the five natural elements using multimedia dancing art; Arte, the immersion into iconic works of art through dance, acrobatics, and illusion; and Rockumentary, which takes the audience through classic rock performances over the decades (and more).
For wellness-seekers, the EdgeⓇ series ships have a full-service spa with more than 120 different types of treatments, even BotoxⓇ. There's also a luxurious gym with full equipment including PelotonⓇ bikes, so you don't have to break from your routine when you embark on your vacation—unless, of course, that's the whole point of going.
She says day-to-day, having the same server at your favorite restaurant or returning to the same martini bar to chat with the bartender elevates life onboard. But an experience that was even more telling of Celebrity's attentive crew members: A bartender she had on a previous sailing recognized her 10 years later. "I've been on a lot of cruise lines," says Jones. "They're all great, but what I take away from Celebrity is [the crew] all remember me." After a long day of excursions, she says it feels like coming home.
Speaking of dining, you're in for a treat on Celebrity Cruise ships: On the Edge Series ships alone, you can find more than 30 food and beverage options, including Chef Daniel Boulud's first and only restaurant at sea, Le Voyage, onboard Celebrity Beyond.
There's even an exclusive five-star restaurant, Luminae, also by Chef Boulud, for guests staying in The Retreat. The Retreat is a stunning series of suite-only accommodations with private concierges, and personal butlers. Luminae restaurant is part of the Retreat Sun Deck, which is complete with a bar and pool.
This is a paid partnership between Celebrity Cruises and Boston Magazine's City/Studio
---