THC Gummies: 5 THC Edibles for Stress, Pain Relief, and Sleep
Whether combating stress, managing pain, or helping with sleep issues, premium THC gummies can provide effective support in an easy-to-consume format that doesn't require dealing with a mess, odor, or combustion.
Summit

15mg THC/Gummy

Natural Fruit Flavors

Therapeutic Benefits

All-Natural Ingredients
Feals

1.5mg THC/Gummy

Suitable for First-Timers

Flavor: Natural Tangerine

Vegan & Non-GMO
CBDfx

5-10mg THC/Gummy

Energizing Sativa Effects

All-Natural Berry Flavor

Suitable for Daytime Use
But what makes certain THC edibles better than others? And how do you know that you're getting the best quality product?
We'll delve into these questions and more in our guide to THC gummies. Discussing top-rated products, what makes them special, and how to make the most of your purchase, our guide has everything you need to know to find relief and support with the best hemp-derived THC edibles for any lifestyle.
Top 5 Summary
1. Summit Delta-9 Gummies – Overall Best THC Gummies
2. Feals The Gummies – Great for First-Time THC Users
3. CBDfx Delta-9 THC Gummies + CBD – Ideal for Daytime Use
4. Batch Recreation THC Gummies – Perfect for Social Activities
5. Delta Remedys Delta-9 THC Ring Gummies – Most Potent
Best THC Gummies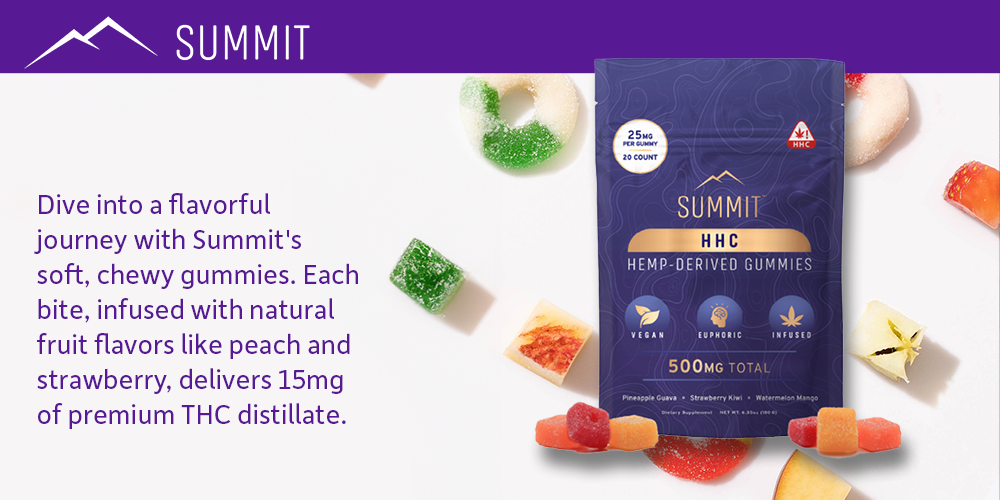 Summit Delta-9 THC Gummies Highlights
These Summit gummies are available in 20-count packages with 15 mg of THC per soft, chewy bite. At this potency, you can expect solid effects suitable to a wide range of users. With each delicious gummy containing natural fruit flavors such as peach, strawberry, and apple, you'll get to enjoy a tasty treat while receiving the therapeutic health benefits of premium THC distillate.
Summit Delta-9 THC Gummies Benefits
These THC edibles provide a pleasurable way to take advantage of THC's therapeutic and recreational effects with a carefully calculated dosage that helps you reach your desired state of mind with minimal effort and hours of effects.
As a result, taking half or a whole gummy can provide the sleep-supporting, mood-balancing, and pain-relieving effects of THC without worrying about overstimulating your endocannabinoid system.
Furthermore, these Summit D9 gummies are made of only all-natural ingredients to ensure the quality and safety of your product, giving you peace of mind that what you're consuming won't harm your overall general wellness.
Why We Picked These THC Edibles
Ultimately, Summit's ability to craft a delicious cannabis-infused treat that promotes better sleep, stress relief, and general well-being makes these weed edibles perfect for our list.
With legal THC levels and all-natural ingredients, you can be sure that these THC edibles are the ideal choice for anyone looking to enjoy reliable, consistent cannabinoid effects safely and responsibly.
Pros:
Ideal for recreational & medicinal users
Legally compliant THC levels
All-natural, organic ingredients
Suitable for day & nighttime use
Specs:
Effects: Stress Relief, Mood Balancing, Relieving Pain, Mild Euphoria
THC Content: 15mg per gummy/300mg per package
Serving Size: 1/2 gummy to 1 gummy
Flavor: Peach, Strawberry, Apple
Suitable For: All users from multiple dietary lifestyles
2. Feals The Gummies – Ideal for First-Time THC Users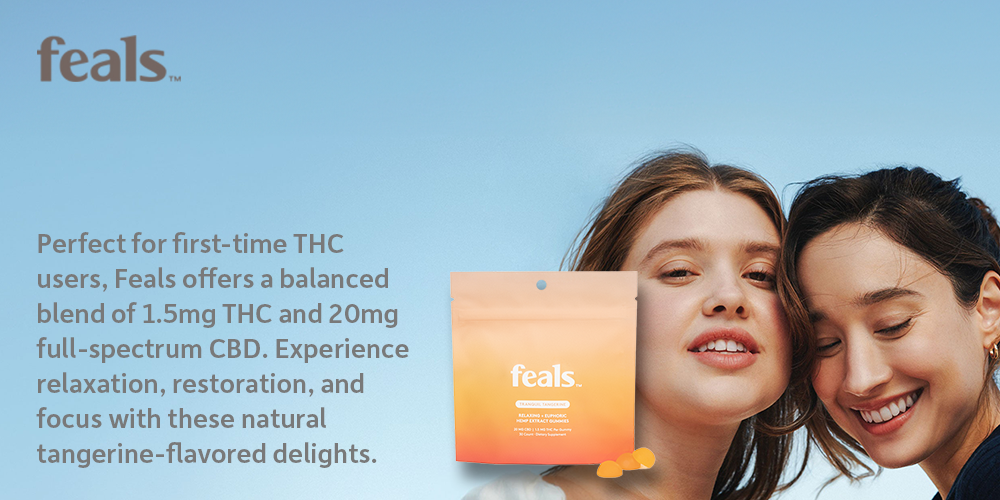 Feals CBD + THC Gummies Highlights
With each gummy in the 20-count package microdosed with 1.5mg of THC and 20mg of full-spectrum CBD oil, the delicious THC edibles create the perfect balance of relaxation, restoration, focus, and energy. Whether eating them to start your day off right or wind down after a hard day at the office or gym, these THC with CBD gummies offer the perfect mix of cannabinoid support, especially for first-time THC users.
Feals CBD + THC Gummies Benefits
With a small yet potent amount of THC working synergistically with full-spectrum CBD oil, you can experience the effects that both cannabinoids have to offer without feeling overwhelmed or sedated. From pain and stress relief to improved focus and energy, these gummies can help you feel or perform your best, no matter the situation.
Plus, with bioavailable coconut oil, natural tangerine flavors, and low sugar content, you can be sure that these THC edibles will provide the effects you need fast without compromising your health or wellness.
Why We Picked These THC Edibles
Feals makes it easy to enjoy the combined benefits of THC and CBD, offering a balanced dosage that helps you get the most out of every gummy without any worry. Plus, with enhanced bioavailability from coconut oil, full-spectrum CBD for extra entourage effects, and no artificial ingredients, you can be sure that these treats are safe for any diet or THC tolerance.
Pros:
Relaxes without sedation
Great for day and evening use
Enhanced with full-spectrum CBD
Vegan, non-GMO formula
Cons:
Contains tree nuts (from coconut)
Specs:
Effects: Stress Relief, Mood Stability, Pain Management, Focus Support
THC Content: 1.5mg per gummy/30mg per package
Serving Size: 1 gummy to 2 gummies
Flavor: Natural Tangerine
Suitable For: First-time THC users, vegans, micro-dosers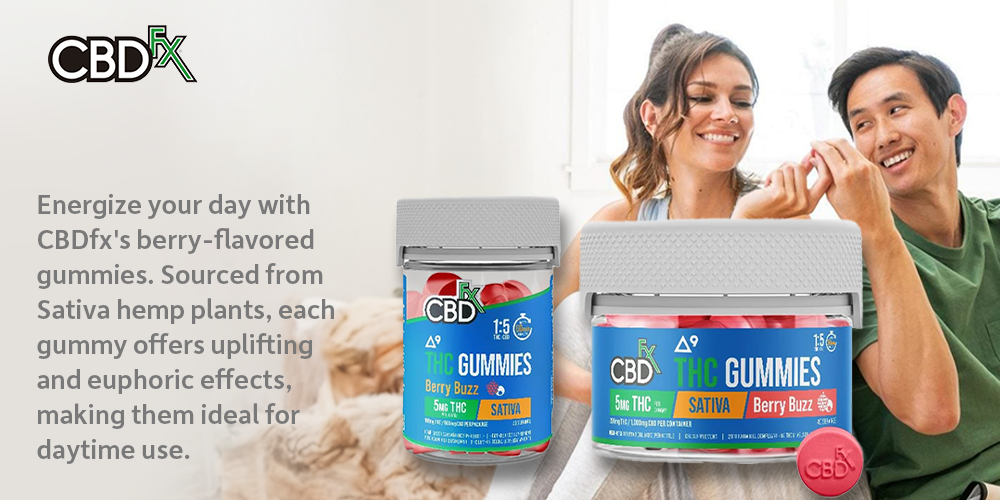 CBDfx CBD + Delta-9 THC Gummies Highlights
You can purchase these delicious berry-flavored gummies in 20 and 40-count jars with 5 to 10mg of THC in each soft, chewy treat. Because the THC and full-spectrum CBD extracts in these gummies are sourced from Sativa hemp cannabis plants, each serving delivers energizing, uplifting, and euphoric effects for daytime users looking to enhance their cognitive and creative abilities.
CBDfx CBD + Delta-9 THC Gummies Benefits
If you are going with the lower 5mg THC dose, you can expect benefits that range from relaxation and stress relief to improved mood and focus. At this premeasured concentration, the low dose of THC works with the full-spectrum CBD oil to provide a more balanced effect that won't interfere with daily activities.
Should you choose the higher 10mg dose, you can expect a stronger, more euphoric experience that won't be overpowering. In either case, the bioavailable ingredients and all-natural berry flavor make these weed gummies a smart choice for anyone wanting the therapeutic effects of cannabis without any unnecessary filler ingredients.
Why We Picked These THC Edibles
CBDfx's carefully formulated blend of CBD and THC extract ensures you get the best support for daytime use. Whether it's keeping your cool for a big presentation or having the energy to power through a long day, these tasty THC edibles help make it possible.
Pros:
Uplifting, energizing Sativa effects
Long-lasting formula
Delicious, all-natural berry flavor
Medically reviewed for quality & safety
Cons:
Weed gummies may stick together if stored in hot or humid areas
Specs:
Effects: Reduces Stress, Promotes Calm, Balances Mood, Boosts Energy & Creativity
THC Content: 5mg or 10mg per gummy/100mg to 200mg per package
Serving Size: 1 gummy
Flavor: Berry
Suitable For: Daytime users, active lifestyles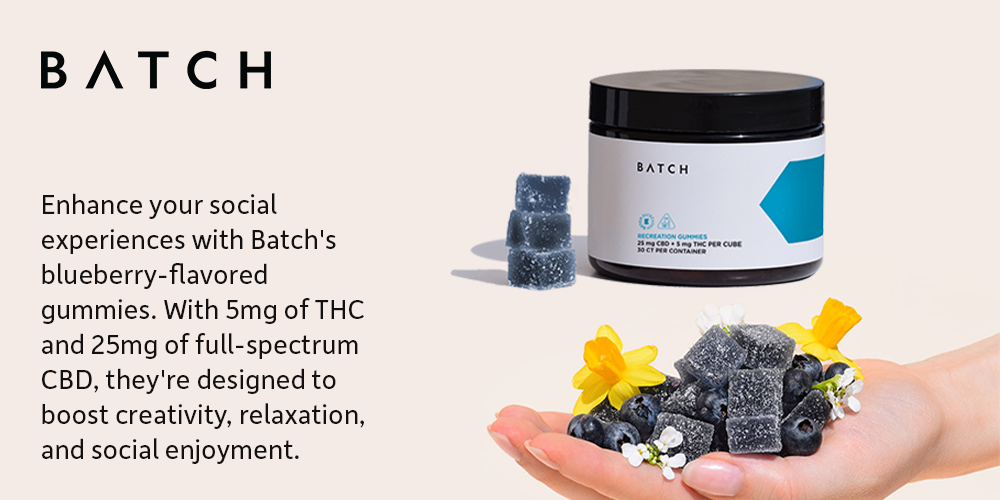 Batch Recreation Delta-9 THC Gummies Highlights
Batch's 30-count Recreational THC gummies are the perfect solution when you need a boost in the fun department.
With 5mg of THC and 25mg of full-spectrum CBD per soft, chewy cube, these blueberry-flavored treats provide a delicious way to enjoy balanced and reliable effects that enhance social activities, boost creativity, and offer much-needed relaxation.
Batch Recreation Delta-9 THC Gummies Benefits
Eating one of these tasty Batch gummies will help you enjoy a mild euphoria perfect for outdoor activities or a night out with friends. While the THC works to elevate your mood, the full-spectrum CBD oil helps reduce stress and anxiety without any of the paranoia or headiness that may be associated with higher doses of THC.
And because of the accurate measurements, it's easy to split or adjust your serving size in order to enjoy the effects you want, no matter the desired intensity. This means you can tailor your experience to create the right mind frame for any situation with friends, family, or someone special.
Why We Picked These THC Edibles
It's no secret that some people enjoy the effects of THC recreationally, and these gummies from Batch ensure that everyone can join in the fun without worrying about overdoing it. Plus, with a vegan, dairy-free, and naturally flavored formula, it's easy to enjoy the uplifting effects of these THC edibles anytime you want without guilt.
Pros:
Uplifting effects that enhance social activities
Delicious, natural blueberry flavor
Soy & dairy-free, vegan-friendly formula
Made from organic, US-grown hemp
Cons:
High price point for free shipping
Specs:
Effects: Social Enhancer, Mood Booster, Reduces Stress & Anxiety, Boosts Creativity
THC Content: 5mg per gummy/150mg per package
Serving Size: .5-1.5 gummies
Flavor: Blueberry
Suitable For: Casual THC users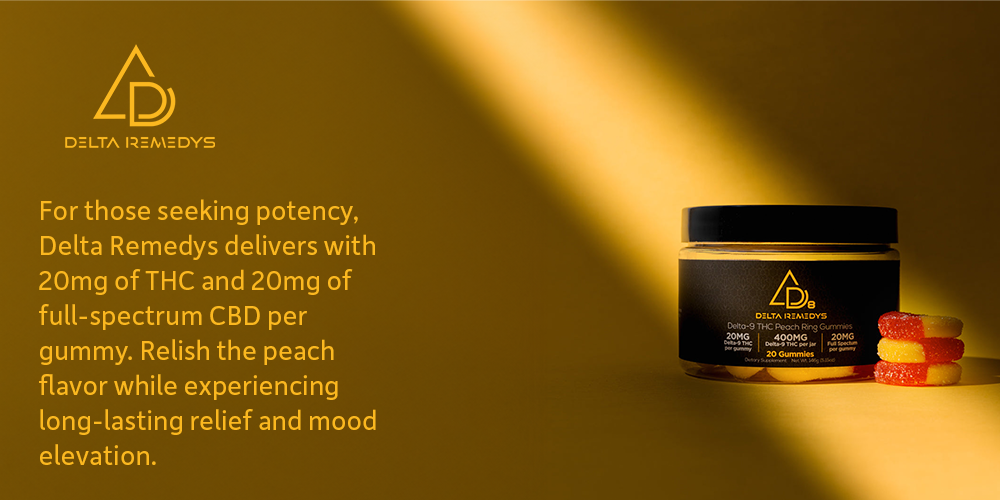 Delta Remedys Delta-9 THC Gummies Highlights
If you're looking for something potent, Delta Remedys' 20-count delta-9 THC edibles are just the thing. This advanced formula features 20mg of hemp-derived THC along with 20mg of full-spectrum CBD to support chronic or intense wellness needs, elevate mood, and provide long-lasting relief throughout the day or night.
Delta Remedys Delta-9 THC Gummies Benefits
These potent THC edibles come with several benefits for people with chronic wellness needs. The high dose of THC oil ensures that sleep, anxiety, and stress relief are just a bite away, while the CBD helps to keep users calm and comfortable as they navigate stressors triggering their condition.
Furthermore, the freshness locking seal helps prevent the ring gummies from losing their flavor or potency over time, guaranteeing that each THC edible delivers reliable, consistent results that keep you feeling your best. And while not a benefit to health and wellness, the peach flavor and vintage gummy ring shape offer a pleasant and nostalgic experience, adding to the overall enjoyment of the THC edibles.
Why We Picked These THC Edibles
When potency is the most important factor in your choice of weed gummies, these delta-9 edibles are undoubtedly the best choice. With hefty doses of THC and CBD, natural ingredients, and a delicious flavor, these gummy rings from Delta Remedys provide a reliable and enjoyable solution to managing any wellness need regardless of its intensity.
Pros:
Supports chronic & intense wellness needs
Includes potent CBD extract
Delicious peach flavor
100% natural ingredients
Cons:
Adult signature may be required upon delivery
Specs:
Effects: Sleep Aid, Anxiety Relief, Stress Relief, Elevates Mood
THC Content: 20mg per gummy/400mg per package
Serving Size: 1 gummy
Flavor: Peach
Suitable For: Users with chronic wellness needs
How We Found the Best THC Gummies
Like all hemp-derived THC products, effectiveness is the most crucial factor when choosing the best THC gummy. We only considered hemp cannabis edibles that offer reliable, consistent results backed by positive customer reviews, rigorous lab testing, positive brand reputation, and our personal experiences with them.
Finding the Right THC Gummies for You
There are a few things to consider when shopping for the perfect THC gummy for you. These include:
Effects
If your goal when you consume THC products is to become more relaxed, find relief from anxiety or stress, and even improve sleep quality, then look for the best delta 9 gummies with a balanced THC/CBD ratio or ones with a higher concentration of CBD.
If you're looking for an elevated mood and enhanced creativity, look for delta 9 or delta 8 gummies with higher levels of THC and a CBD content on the lower side. This will give you the euphoric effects recreational users seek without losing control or feeling overwhelmed by the high.
Timing
If you want to boost your morning or daytime activities, delta 9 gummies made with THC levels on the lower end or from Sativa cannabis plants are ideal. This will give your day an uplifting and energizing start without any of the headiness from a higher dose of THC.
If you're looking for something to help you relax at night, look for hemp cannabis edibles containing Indica strains or higher concentrations of THC above 15mg. These THC gummies will help you wind down for the evening and get a good night's rest without any grogginess upon waking up.
Benefits of Using THC Gummies
Ultimately, the biggest benefit of eating hemp cannabis edibles is the longer-lasting, more noticeable effects compared to smoking or vaping. But their benefits do not stop there; edible THC products also have the benefit of:
Accurate, premeasured, & customizable doses
Discrete on-the-go consumption
Enhanced flavor profiles
Whether supporting chronic pain needs, managing stress levels, socializing with friends, or getting creative, everything about edible THC products has been designed to make enjoying the effects of the hemp cannabis plant easy, enjoyable, and safe.
Potential Side Effects of THC Gummies
As a naturally occurring compound, tetrahydrocannabinol (THC) is relatively safe when consumed in moderation — and manufactured under cGMP-compliant practices. However, hemp cannabis edibles can come with potential side effects that vary from person to person, including:
Dry mouth
Increased fatigue
Increased digestive activity
Changes in blood pressure
Fortunately, these effects are typically mild and temporary, but it's important to be aware of them so that you can adjust your dose accordingly.
Tips for Taking THC Gummies
Eating a THC gummy is pretty straightforward; just pop one in your mouth with or without food, depending on your preference. But to get the best results, there are a few things you should consider:
Always start with half a dose of any new THC products to gauge your reaction before taking a full dose.
Avoid chewing the gummies to preserve taste and potency; instead, let them dissolve slowly in your mouth.
Drink plenty of water throughout the day to reduce minor side effects such as dry mouth or lightheadedness.
Additionally, whether it's THC or CBD gummies, look for edibles made with natural ingredients free of additives and preservatives to ensure you get the most out of your hemp cannabis experience.
Other Types of THC Products
There are lots of ways to enjoy the benefits of THC, with many working synergistically with your THC edible routine:
Tinctures: Cannabis-infused liquid extracts that provide a smooth, fast-acting experience.
Topicals: Targeted relief for spots edibles can't reach, including joint pain and skin irritations.
Concentrates: Highly potent extracts ideal for experienced users seeking a powerful THC experience.
There are also many other cannabis edibles to consider, including teas, chocolates, cookies, and more.
Frequently Asked Questions
1. How many THC gummies should I eat to help me sleep?
It's best to start with half a gummy and adjust your dose as needed. If using THC + CBD gummies, you may be able to increase the dose slightly, as the CBD can help offset the stimulating effects of THC.
2. What other cannabis edibles can I take without getting a high?
For those wanting to take cannabis edibles without the psychoactive effects of THC, full-spectrum CBD gummies are an excellent option. These contain trace amounts of THC for the entourage effect but barely enough to cause any psychoactive effects.
3. How long do THC products stay in your system?
The amount of time THC products like edibles remain in your system varies depending on several factors, such as body weight, metabolism rate, and frequency of use. Generally speaking, the effects can take up to 8 hours to wear off completely.
4. What's the difference between a hemp plant and a marijuana plant?
While they both come from the same species, marijuana and hemp plants are different.
Hemp comes from a cannabis plant that contains less than 0.3% THC, whereas marijuana is a cannabis plant that contains more than 0.3% THC.
Finding the Best THC Gummies for Your Needs
With accurate doses and unforgettable flavors that bring the magic of cannabis to life, THC edibles are an excellent option for those looking for an easy, discreet way to enjoy the benefits of hemp products.
And with our top pics and helpful buying tips, you'll easily be able to experience the incredible effects of THC gummies in no time.
Summary of the Best THC Gummies
1. Summit Delta-9 Gummies – Best Overall THC Gummies
2. Feals The Gummies – Great for First-Time THC Users
3. CBDfx Delta-9 THC Gummies + CBD – Ideal for Daytime Use
4. Batch Recreation THC Gummies – Perfect for Social Activities
5. Delta Remedys Delta-9 THC Ring Gummies – Most Potent
Related Content
This post was produced and paid for by Originated Media
---