Monique's Bath Showroom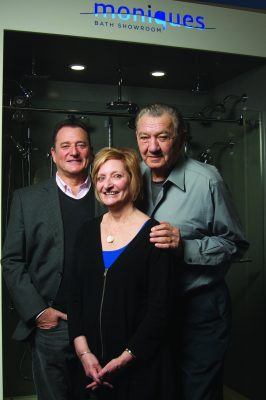 MICHAEL, MICHELE & VINNY BATTISTA
617.923.1167 | moniquesbathshowroom.com
Monique's Bath Showroom is a Watertown-based business that provides decorative solutions for the kitchen and bath, ranging from fixtures and furnishings to sinks and accessories. Michael Battista is the company's president.
Who or what inspired you as a child to start your own business?
The business was started in 1981 by my father, Richard, and his two brothers, Bobby and Vinny, who had a construction company at the time. They started out selling knickknacks, and novelty items, like colored toilet paper, and other odds and ends. Eventually it evolved into fixtures and other kitchen and bath items, more in the style of what we do today.
Why is the location of your business so important to the success of your business?
Our location in Watertown is easy to get to and very central to the areas where our customers live.
Have you ever encountered any challenges in your family business?
I became involved with the business when my father became ill, and I ended up taking it over after he passed away. My sister, Michele, worked with my Dad for years and still takes care of the accounting. For the last years my father was running the business, largely because of his health, he didn't invest in keeping the business current. So when I came in pretty much everything was outdated, from the displays to the showroom itself. I sat down and talked to the staff and some loyal customers about what they wanted to see and we started to make changes.
We invested in bringing everything up to date and giving the business a complete refresh from our showroom to our website.
What's the most critical component to a successful business?
Our staff members and our client base are our biggest assets. We focus heavily on ensuring top-notch customer service. We spend a lot of time training our staff members on all aspects of the products we sell, which allows them to provide the best service possible to our customers when they come in looking for advice and guidance on what products are best for their home. We have a lot of long-time staff members, including one of the original business owners, my Uncle Vinny, who is a huge asset to our sales team.
What's the best advice that someone in your family offered you?
Focus on the needs of your customers. Customer service should always be the top priority.
What is the biggest lesson you have learned working in a family business?
A family business can be many different things from year to year and generation to generation. What I have learned and have practiced in my own construction business that I owned for over 20 years, as well as at the helm of Monique's, is that I look at all of my employees as my family and my responsibility. I respect and value the opinions of each and every member of our team. I feel it's my responsibility to provide a safe and enjoyable work environment with opportunities to prosper. I take this responsibility very seriously and I believe it's one of the reasons we have the best team in the business. This translates to happy staff and happy returning customers.
---