Peabody Essex Museum Announces New Plans for Expansion
A new three-story wing with gallery space and an off-site conservation center are slated to be unveiled in 2019.
---
The Peabody Essex Museum has announced new plans for expansion, featuring the addition of a new three-story wing for galleries to its existing complex in Salem, as well as the construction of a large off-site center for conservation and stewardship efforts.
The expansion will be funded by $200 million allocated from the museum's ambitious $650 million Advancement Campaign, launched in 2011 as one of the largest fundraising programs undertaken by an American art museum. To date, the museum has secured $570 million in gifts and pledges. In addition to the $200 million physical expansion, the museum will allocate $350 million to its endowment and $100 million to infrastructural improvements.
"The updated plan emphasizes long-term financial stability through substantially increased endowment," said PEM director Dan Monroe in a press release. "By right-sizing facility and infrastructure investments, PEM gains a rare degree of freedom to advance our mission through sustained innovation and focus on new and enhanced programming initiatives."
The new 40,000-square-foot wing is designed by New York-based Ennead Architects, a firm acclaimed for their renovation and expansion of the Yale University Art Gallery. It will occupy the northwest corner of the museum complex, on the current site of the Asian Garden, which will be relocated to the western end of the museum. The new wing will increase gallery space by 15 percent, bringing PEM's total gallery space to 100,000 square feet and ranking it among the nation's top 20 art museums. It will also create a designated entrance for school groups and new coat check and restroom facilities, as well as update the museum's loading dock and object transfer areas.
The 80,000-square-foot Collection Stewardship Center will rise at a to-be-determined location within a 20-mile radius of the museum. It's designed by Boston-based Schwartz/Silver Architects to feature state-of-the-art collection storage, care, and conservation facilities.
"By unifying collection-related activity under one roof, the museum will be able to greatly increase curatorial and scholarly access to collections, which in turn, will enhance our ability to create transformative experiences of art and culture for our audiences," said PEM deputy director Josh Basseches in a press release.
The museum hopes to break ground on the expansion project in 2016 and open both the new wing and conservation center in 2019. The project is a revised version of an initial plan for a 175,000-square-foot expansion, halted by the death of lead architect Rick Mather and the need to find his replacement.
---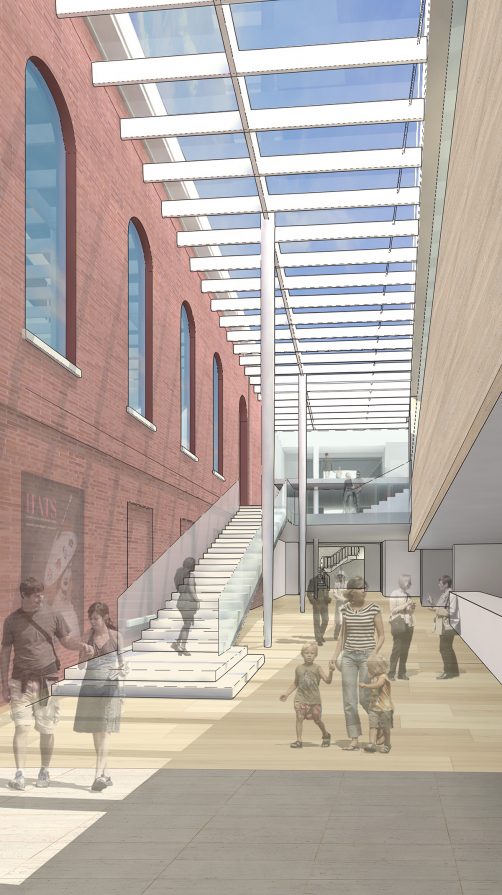 Renderings ©Ennead Architects / Courtesy Peabody Essex Museum
---