Random International to Show 150 Milliseconds at Le Laboratoire Cambridge
The Rain Room artists will debut new work in Boston.
---
What does it take to make a form appear human and alive? Only fifteen points and 150 milliseconds, according to European creative studio Random International.
That's the theory that will be put to the test, at least, by a new project that Random's founders, Hannes Koch and Florian Ortkrass, will present at Le Laboratoire Cambridge this week.
The show, 150 Milliseconds, offers a behind-the-scenes look at the process and evolution of the team's current body of work, which explores human perception and the relationship between man and machine. For the last two years, the team has been collaborating with brainiacs over at the Harvard School of Engineering and Applied Science to study how human bodies and behavior are perceived. The resulting piece, Fifteen Points, is one of their most complex yet.
A maquette of the larger version of the piece will be on view at Le Laboratoire Cambridge. Study for Fifteen Points comprises fourteen light points placed on the ends of robotic arms. The lights are mobilized together in such a way that the viewer's mind can "connect the dots" and see the shape of a human figure walking.
Those points—and no more time than 150 milliseconds of watching them—are all our minds need to realize that the motion in front of us is alive, organic, human.
Light points. Robotic arms moving in sync. The nerves in your brain shooting signals all over the place.
Safe to say Random International's work is anything but what the name might imply. Previous works also demonstrate meticulous thought and planning. Koch and Ortkrass's pieces are oftentimes three-dimensional and dynamic, so a high level of choreography is key. ("We are perfectionists," Koch admits.)
Their final products, however, are the exact opposite of convoluted. Random's works have an air of simplicity that delights audiences. Prime example: Rain Room, an internationally lauded project that invites guests to step inside an indoor rainstorm, but they never get wet—sensors make sure that the space where they set foot doesn't get rained on. You get the play Mother Nature.
Since premiering in London in 2012, Rain Room has found fans in New York, Shanghai, and Los Angeles. Four-hour lines became the norm at MoMA.
"We had thought, 'No way,' New Yorkers are notoriously impatient," Koch says, adding that LACMA's timed-entry system seems to be working out well.
"It was totally unexpected and completely unintentional," he says of Rain Room's success, but the project has exposed him and Ortkrass to new opportunities, such as a soon-to-be-unveiled permanent light installation on the facade of a train station in Germany.
And it was Rain Room that brought Random to the attention of David Edwards, founder of Le Laboratoire. He witnessed its success in London, and felt it matched Le Lab's mission to "push boundaries and think about the creative process," says director Carrie Fitzsimmons.
Edwards offered Koch and Ortkrass an artist residency at Harvard to continue their study of the human form with some of the world's best and brightest in applied science.
"He gave us fantastic freedom," Koch says. "We visited Boston a few times, mostly self-directed study of cognitive robotics, enigmatic robotics. … We studied people's ability to distinguish human movement versus non-human, and developed an understanding with unprecedented complexity. It was rich, inspirational ground for us."
While Rain Room was an immersive environment whose appeal was interactivity (read: tens of thousands of silhouettes posted to Instagram), Fifteen Points is much more intellectual.
But both projects feed into Random's interest in the human form. In Rain Room, our bodies are simplified to an outline, and at Le Laboratoire, we're reduced to a set of fifteen white dots.
"It's a minimalist representation of how humans process emotion," Koch explains. "Our fascination, ultimately, is with the cognitive ability of humans to distinguish human movement." He cites Pixar's lamp characters as an example. "[Once animated,] they become extremely personal."
Fifteen Points heavily references the work of Niko Troje, founder of Biomotion Lab at Queen's University in Ontario, where not only have researchers found that fifteen points is all it takes, but also that their arrangement can suggest the figure's gender, weight, and even mood.
Above: Drag the dials to change the figures perceived size, gender, and mood.
The implications of biometrics research span far and wide. Could we all one day be evaluated by our posture and gait? I'm lookin' at you, TSA.
Conversely, the idea of robots behaving too much like humans for comfort is another issue Random's work brings to light. Google-acquired Boston Dynamics recently scared the sh*t out of the general public when then posted videos of shockingly lifelike humanoid robots on YouTube.
"Their 'animals' are scary, and interesting, and sentient," Ortkrass says. "…Did you hear Google might sell them?"
"Really? Hm…maybe we should buy Boston Dynamics," Koch jokes.
The pair isn't getting ahead of themselves. Their focus is on exploring the topic of human perception artistically and using their works as markers for discussion.
Sure, one day in the future, instead of carrying driver's licenses to identify ourselves, perhaps our own bodies' "fifteen points" will be how the authorities ID us. But for now, the duo is just excited about continuing their research and collaborations.
In Cambridge, Le Laboratoire guests will be able to see under the hood of Random's thought processes—photos, sketches, and mini-documentaries on previous projects such as Audience (2008), Future Self (2012), Rain Room (2012), as well as the small-scale maquette, Study for Fifteen Points, about one cubic meter in size.
The full-scale Fifteen Points is going to Menlo Park, California, where it'll be on view at Pace Gallery this fall before returning to Le Lab later on.
"It's appropriate to take Fifteen Points with us to Silicon Valley. While they work on their technology, we feel it's important to bring some of our London and Berlin thoughtfulness and scrappiness," Koch says tongue-in-cheek.
Meanwhile, can we look forward to any other Random International projects coming to town? No plans for Rain Room yet, unfortunately.
They would love to, though, Koch says. "Maybe this show at Le Laboratoire is our foot in the door."
---
150 Milliseconds at Le Laboratoire Cambridge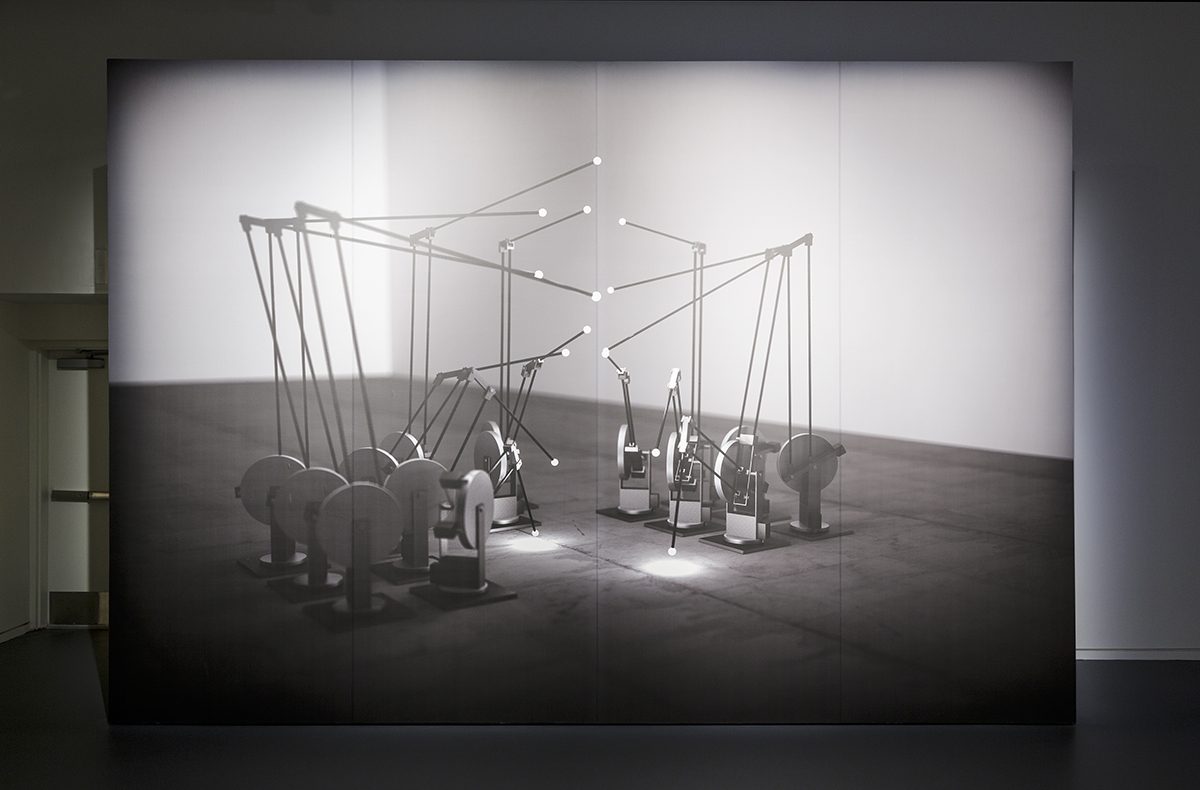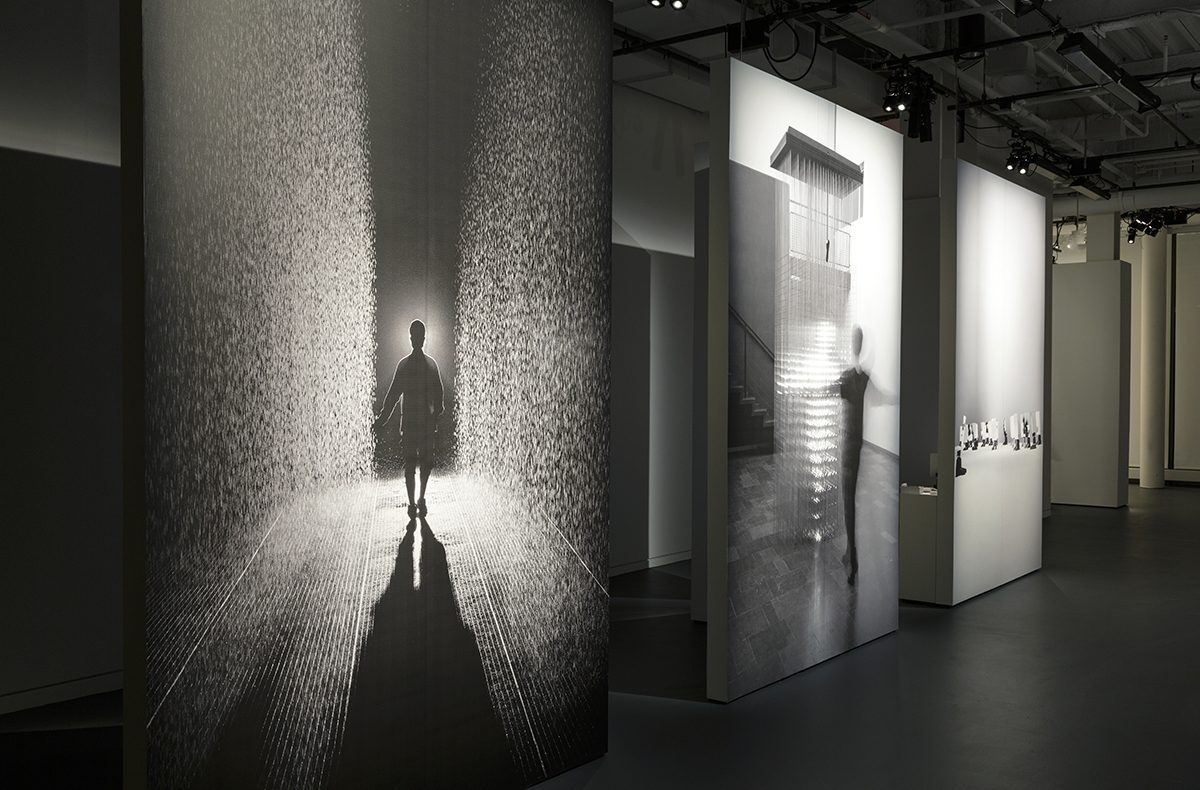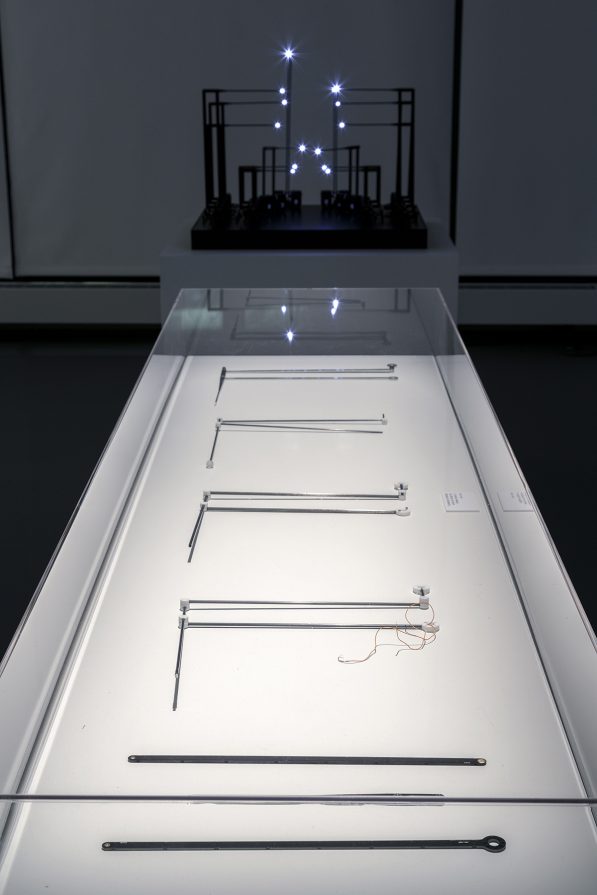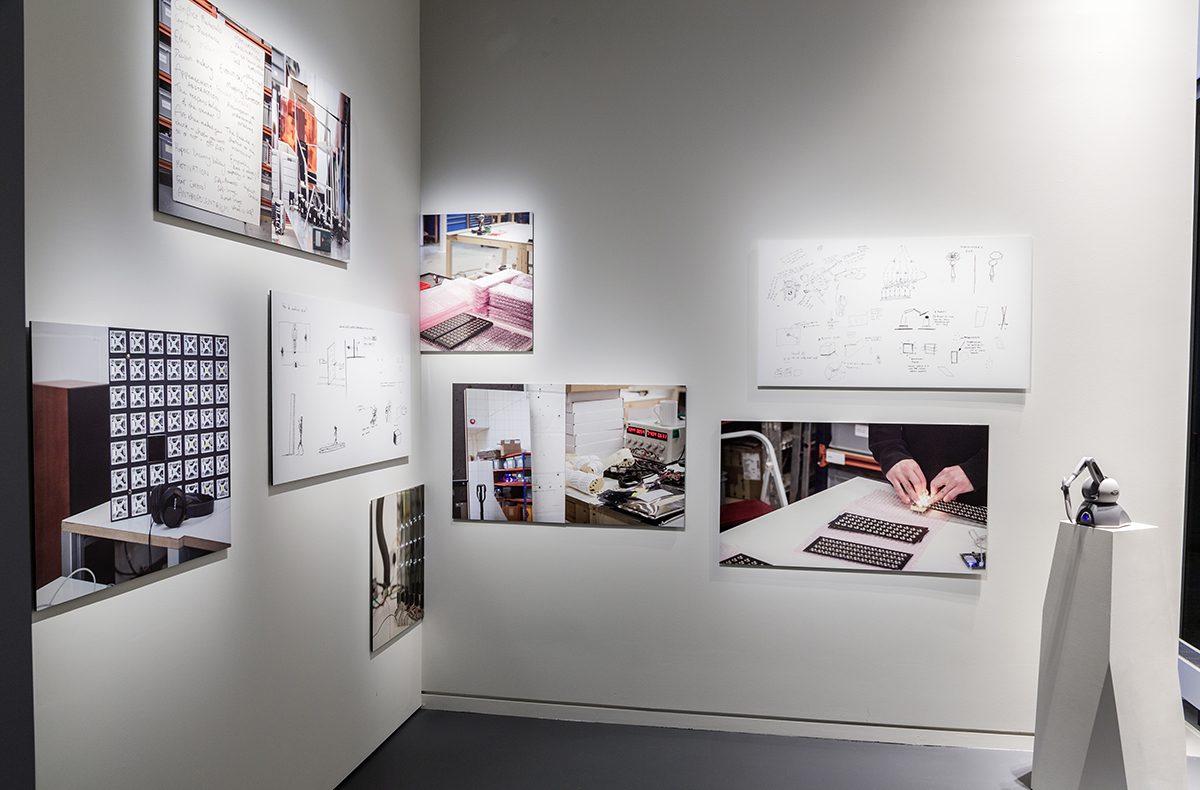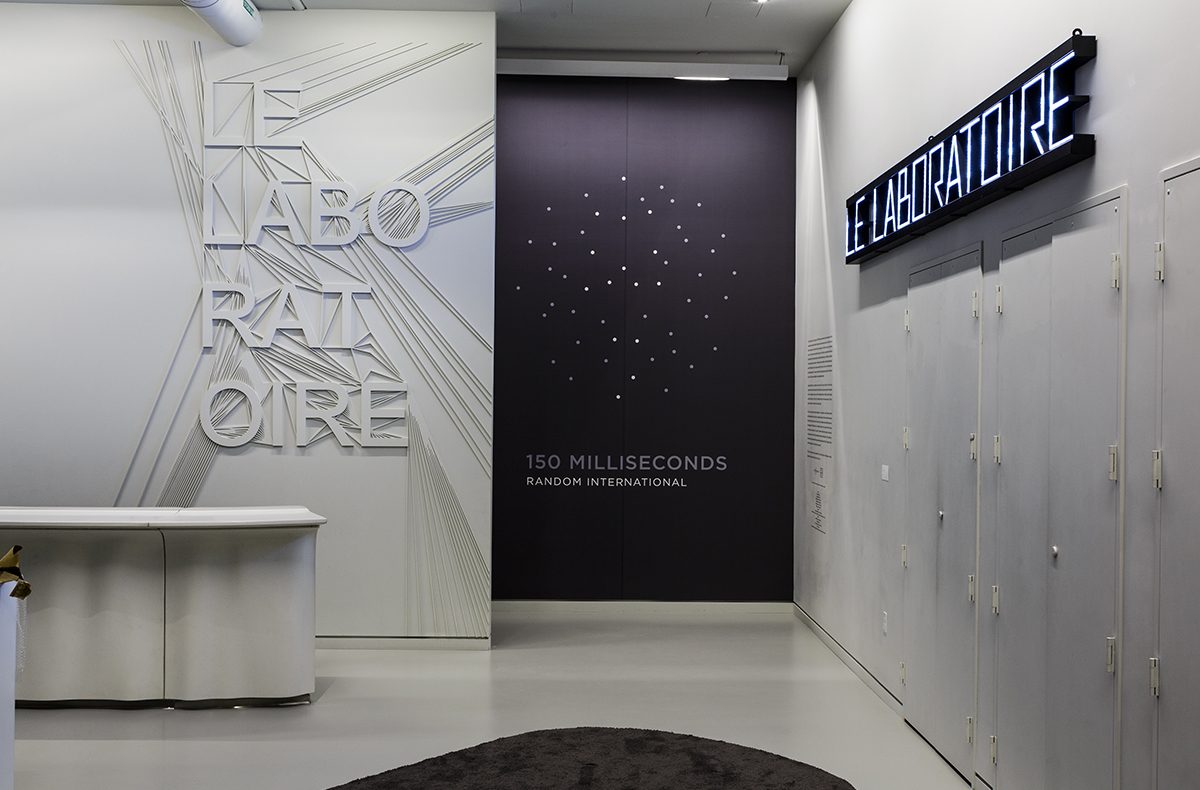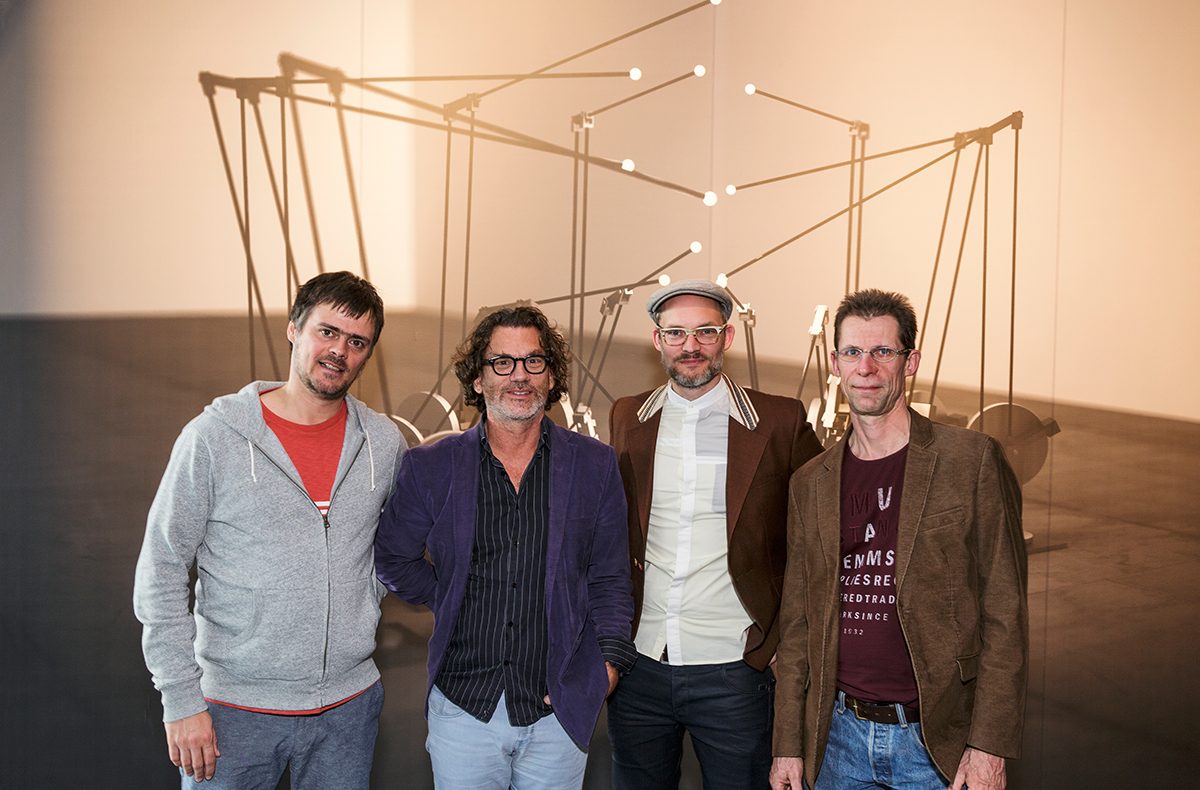 150 Milliseconds will be on view at Le Laboratoire Cambridge, April 22 through June 25, lelaboratoirecambridge.com. The large-scale Fifteen Points sculpture will debut at Pace Gallery in Menlo Park this September.
---