Koo de Kir Architectural Interiors Unveils a Masterpiece in the South End
Complete with a killer art collection.
---
When Molly Shannon first moved into her recently renovated South End brownstone in 2013, it represented a fresh start—a larger space in which to raise her young daughter, entertain her friends, and host her parents. But despite the updates made to the multistory building, Shannon—who works at a global asset management firm—eventually discovered that her home was still full of 19th-century quirks that hampered her busy 21st-century life. Even at 3,972 square feet, the house felt constricted: It was too dark, too compartmentalized, and too cluttered, with a major lack of storage space. Worse, the location of the top-floor guest bedroom required Shannon's aging parents to climb steep stairs.
So in November 2016, the homeowner reached out to interior designer Kristine Irving, whose work she admired (and whose Beacon Hill home-décor shop she had frequented often). At first, Shannon thought all the house would need is a little redecorating and rearranging. But, after brainstorming with Irving, she decided to embark on an intensive overhaul of her home—all five levels of it. "She had such great ideas for how to open it up and create more light and just develop a better flow," Shannon says. "Ultimately, I wound up saying to her, 'Well, if I gave you full rein of the house, what would you do?'"
To transform the gloomy, partially subterranean garden-level basement into a cozy suite for Shannon's parents, Irving's team enlarged the space, moved all the utilities to another part of the house, and installed a window well to let in some much-needed natural light. Next, they built a bedroom, a bathroom, a kitchenette, and a media room that doubles as a playroom for Shannon's seven-year-old daughter, Elle. Irving also made sure to add plenty of closet space. "We can find storage anywhere," the designer says. "We can create space."
And so they did—all throughout the house. When they straightened the staircase leading from the garden level to the kitchen, they also took out a wall, which "really opened up the kitchen," Shannon says. New storage areas help, too: In the tiny front vestibule—or "the hobbit entrance," as they affectionately refer to it—Irving installed custom shelves with slide-out drawers to corral the family's shoes. One floor up, Irving removed the walls between the front and rear parlors, gutting parts of the space down to the studs and adding two well-concealed closets: one for coats, and another for Shannon's electronics and A/V equipment.
The project walks a delicate balance between shaking things up and upholding the brownstone's character. In some spots, all it took was a coat of paint: They treated the dark mahogany staircases to a new taupe hue, while the ceilings in the parlor areas were redone in Farrow & Ball's bold "Inchyra Blue." This preserved historical details while simultaneously creating a modern backdrop for Shannon's array of statement-making artworks: a critical factor in the redesign. An ardent collector who sits on the board of MassArt, Shannon confesses to having an eye for eclectic pieces—but as a result, the house had become a busy blend of styles and competing colors. "Even though [Shannon] has amazing taste, [she hadn't] connected with someone who could help her tie it all together," says Irving, who worked with Shannon on editing the collection. "The goal was to treat [the house] like a gallery, where maybe every six months or so we would rotate pieces in and out." Now, although there are fewer items on display, "they have more impact," Irving adds.
This addition-by-subtraction approach played into one of the designer's larger objectives: to make the house a zone of tranquility. Taking into account Shannon's hectic day-to-day life, "I wanted her to be able to come home and just be at peace," Irving says.
This would become more important than ever, as the homeowner would soon discover: Shortly after the project was completed in 2018, Shannon was diagnosed with esophageal cancer. After undergoing treatment (today, she reports that she is completely cancer-free), she was housebound for several weeks. She considers it a stroke of luck to have renovated her home in time for this recovery period. "[It] was just such a calming space to convalesce in," she says.
And so far, that feeling hasn't worn off. More than a year later, Shannon still marvels at the transformation of her home. "It's just a beautiful work of art that I have the privilege of living in, and I love it," she says.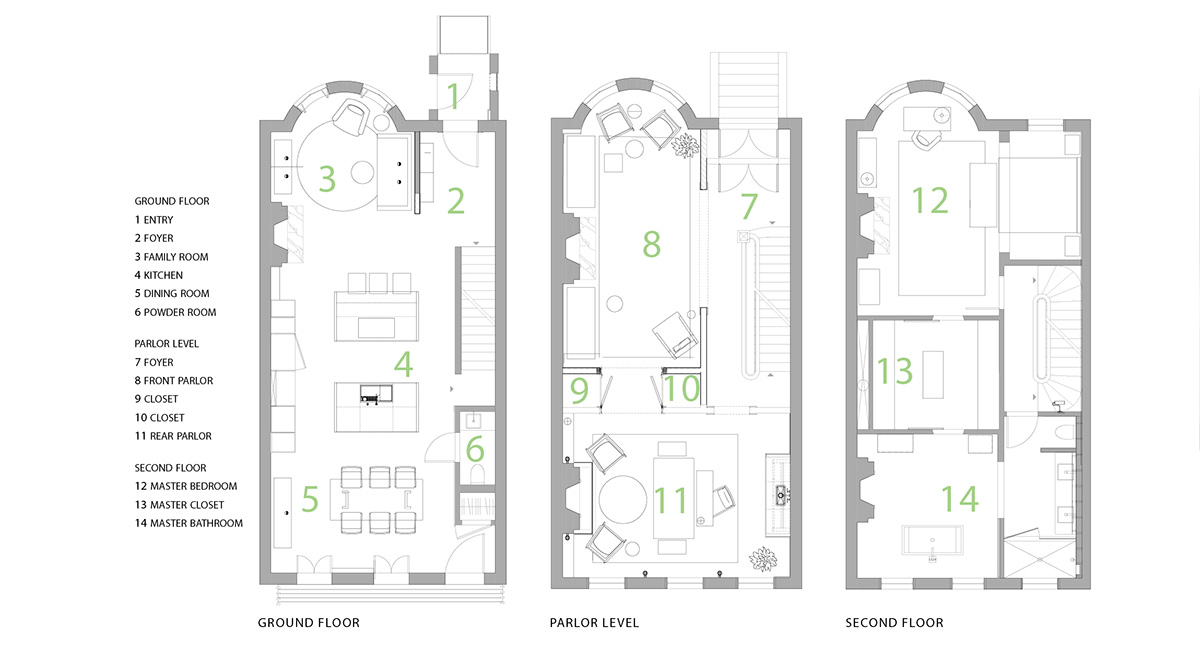 Contractor
Kennedy Design Build
Interior Designer
Koo de Kir Architectural Interiors
Millworker
Furniture Design Services
---