So You Want to Live in Roxbury
---
Sign up for our weekly home and property newsletter, featuring homes for sale, neighborhood happenings, and more.
Ask any longtime resident, and they'll tell you the one word that embodies Roxbury: Community. In the 1600s, "Rocksberry"—named for its rocky soil—was highly attractive to colonists thanks to its abundant natural resources. Later, the neighborhood became known for its Irish population, large Latvian community, as well its Jewish community near the Grove Hall area. The neighborhood's black community began to develop in the early 1900s, and by the mid-20th century, it had become the epicenter of Boston's black culture. Nubian Square (formerly Dudley Square) served as its hub, and soon, movie theaters, hotels, and department stores were built there.
If you speak to people who grew up in Roxbury, their love for the neighborhood is palpable. Current and former residents say they felt it was an immense privilege to grow up there. They look back on the days when you could hit up Funky Fresh Records or listen to WILD radio before checking out a neighborhood talent show. They recall music producer Maurice Starr (who discovered Roxbury's own New Edition, as well as New Kids on the Block) rolling up in his drop-top Mercedes-Benz and handing out dollars to the neighborhood children. Residents have the same level of pride for their thriving arts and music community (don't miss the Museum of the National Center of Afro-American Artists) as they did for "Shakey," a local man known for hanging around the neighborhood. (He's since been immortalized on t-shirts that read "I grew up in Roxbury" on the back.)
But like all neighborhoods, things have changed in Roxbury, and not always for the better. Many residents feel as if the area is an afterthought for the rest of Boston. The city gives green lights to out-of-town developers to build mid- and high-rise condo buildings with price tags that are out of reach for longtime residents. Meanwhile, residents struggle to have simple requests fulfilled, like getting crosswalks painted, then watch white neighborhoods get changes enacted in mere weeks. Though it shares a border with Jamaica Plain and the South End, residents feel that Roxbury's amenities pale in comparison, whether it's food delivery or liquor licenses. And yes, there is crime in some areas. That's thanks in part to the blow Roxbury suffered when the elevated Orange Line was torn down in 1987. It had a detrimental effect on the community, eliminating easy access to the T in the neighborhood's poorest areas. If you live in Lower Roxbury or Fort Hill, access to public transportation is better, however those who live deeper into Roxbury are at the mercy of the MBTA bus system, which frequently runs late.
While there's been significant spillover of college students from Mission Hill and the Fenway in recent years, Roxbury has become increasingly popular with young professionals and families who are attracted to the neighborhood's diversity, exquisite array of architectural history, and price tags slightly less painful than in other areas of the city. Roxbury is filled with lush community gardens, bustling green spaces like Malcolm X Park, where summer basketball tournaments are veritable family reunions, and Highland Park, with its landmark Fort Hill Tower surrounded by weeping willow trees. While many fear that gentrification will eliminate the very charm and diversity that Roxbury is known for, newer residents say that, hands down, they've never lived anywhere friendlier.
---
Prices at a Glance
Median price of all homes: $495,000
Median condo price: $494,000
Average rent price: $3,000 per month
---
What You Can Buy
A Tin-Ceilinged Loft in Lower Roxbury
10 Williams St. #13, Roxbury
Price: $625,000
Size: 1,308 square feet
Bedrooms: 1
Bathrooms: 1
---
Public Transit Options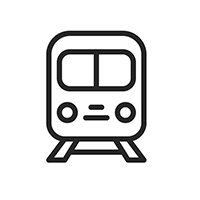 The Roxbury Crossing stop on the Orange Line, plus the Jackson Square and Ruggles stops just beyond the neighborhood's boundaries
Dudley Square on the Silver Line
The Uphams Corner and Newmarket stops on the Commuter Rail
---
What a Real Estate Agent Says
There has been a tremendous revitalization in Roxbury in the past few years and not only in the Dudley Square (update: now called Nubian Square) area, where new construction, shops, and restaurants have transformed the neighborhood, with more changes on the way. Roxbury has a wide variety in its neighborhoods, and public transportation makes downtown Boston and other neighborhoods accessible from almost everywhere within its borders. It is an attractive place to live, and the real estate market there is likely to be on the upswing for the foreseeable future.

Fort Hill is Roxbury's most historic area, and residents there have made Highland Park one of the most popular places around. Buyers can find very desirable properties in the Fort Hill/Highland Park area that offer good alternatives to higher-priced listings in the South End. Recently, a number of energy-efficient townhouses have been built in this neighborhood.

Those looking for more reasonably priced properties that will most likely increase in value in the future should look to houses near Roxbury's border with the Grove Hall area in Dorchester. There are currently a number of homes for sale there.
—Mia Cameron, The Cameron Group
---
Grocery Stores
Tropical Foods
450 Melnea Cass Blvd.
Stop & Shop
460 Blue Hill Ave.
Sav-a-Lot
330 MLK Jr. Blvd.
Daily Table
2201 Washington St.
---
Perks
Who says Boston's dining scene is confined to downtown? Dudley Café is always bustling, whether it's with live jazz or a group of people knitting. Grab a steak and cheese at Ugi's or Joe's—everyone has an opinion on which is better—or a cold cut sub at Ideal's. Residents and outsiders alike go crazy for food at Merengue, while their sister restaurant Dona Habana is becoming quite the hotspot. Slade's and Fort Hill Bar and Grille are very popular, as is Darryl's for brunch just outside the neighborhood in the South End. And you'll always know summer is around the corner when you spot the Slushie Lady.
---
Did You Know?
If you were asked to guess the number of famous faces from Roxbury, we'd suggest aiming high. It was the birthplace of James Michael Curley, the controversial four-term mayor of Boston and one-term governor of Massachusetts, as well as basketball star Shabazz Napier, who was shooting three-pointers at the Roxbury YMCA at the age of 6. Orange is the New Black star Diana Guerrero wrote about growing up in the Roxbury/Jamaica Plain area (and the deportation of her parents) in her book In the Country We Love: My Family Divided. But perhaps the most famous son of Roxbury is Bobby Brown, who rose to fame with the '80s R&B group New Edition. His former bandmates went on to form Bell Biv Devoe, known for hits like "Poison" and "Gangsta," not to mention an excellent appearance on The Fresh Prince of Bel-Air. And clearly, they haven't forgotten where they came from: Member Mike Bivins, who regularly returns to his home turf, came by to celebrate his 50th birthday at Ramsey Park, where a basketball court bears his name.
HOME AND RENT PRICES BY ZILLOW. ICONS VIA GETTY IMAGES.
---