A Peek Behind the Scenes at Ginger Betty's Bakery in Quincy
Baker Beth Veneto has turned her passion for gingerbread into 24-hour-a-day holiday wonderland.
---
---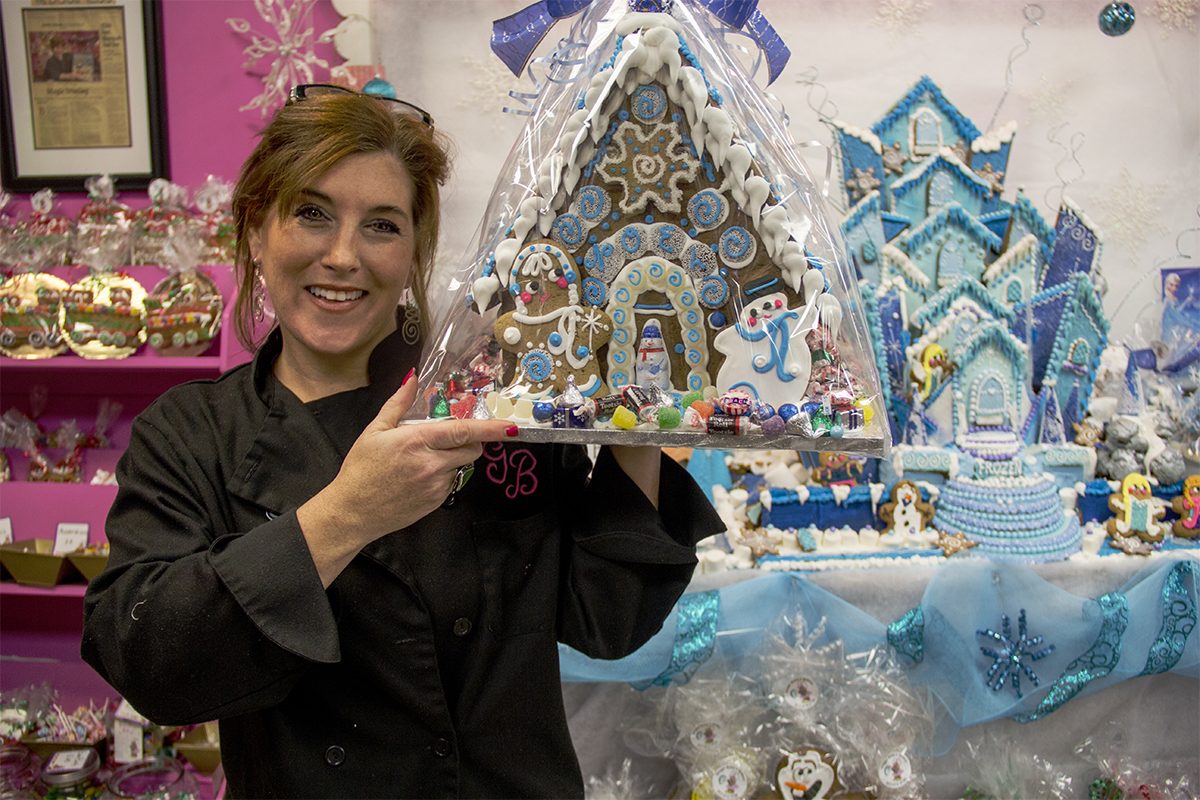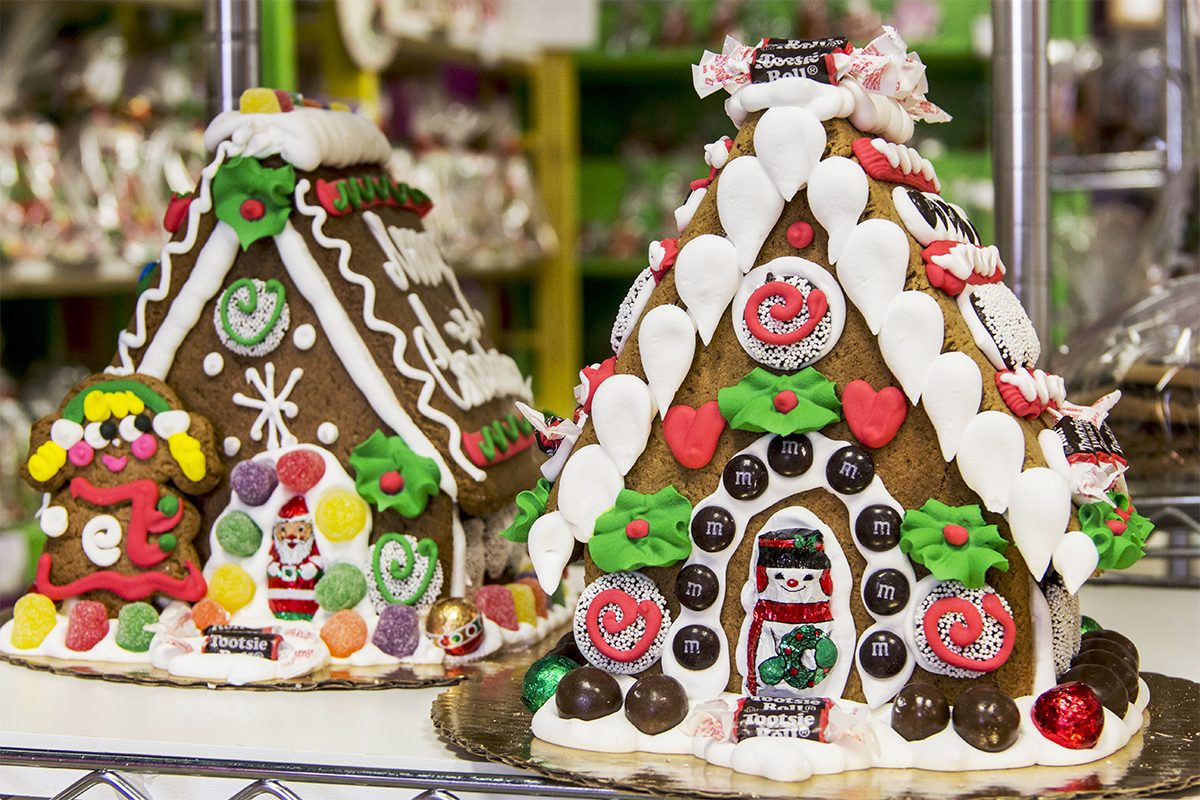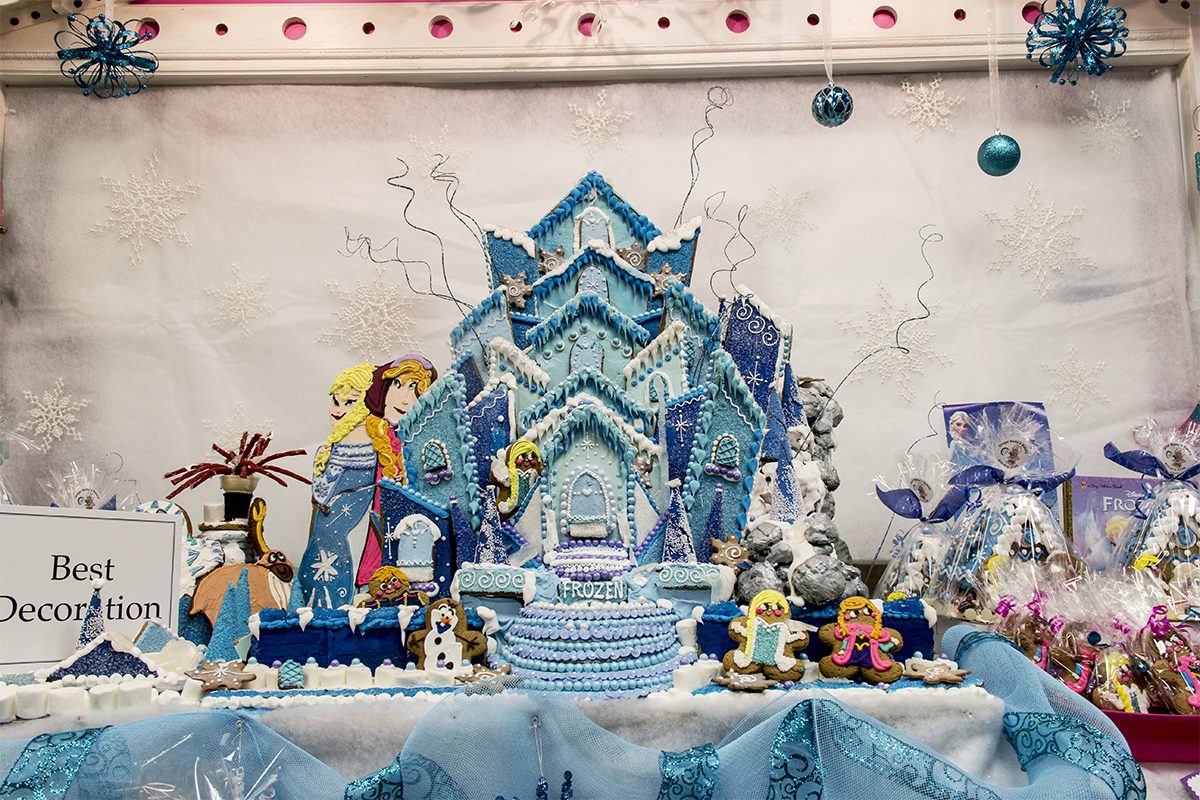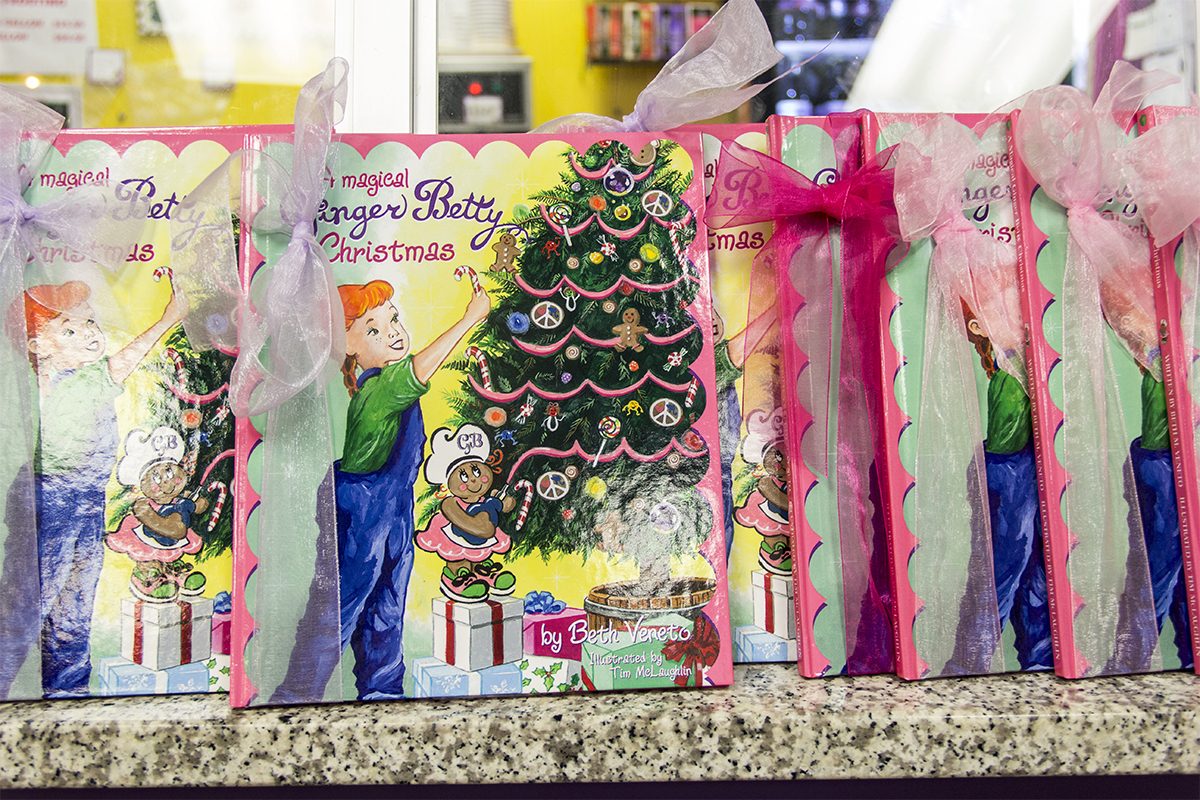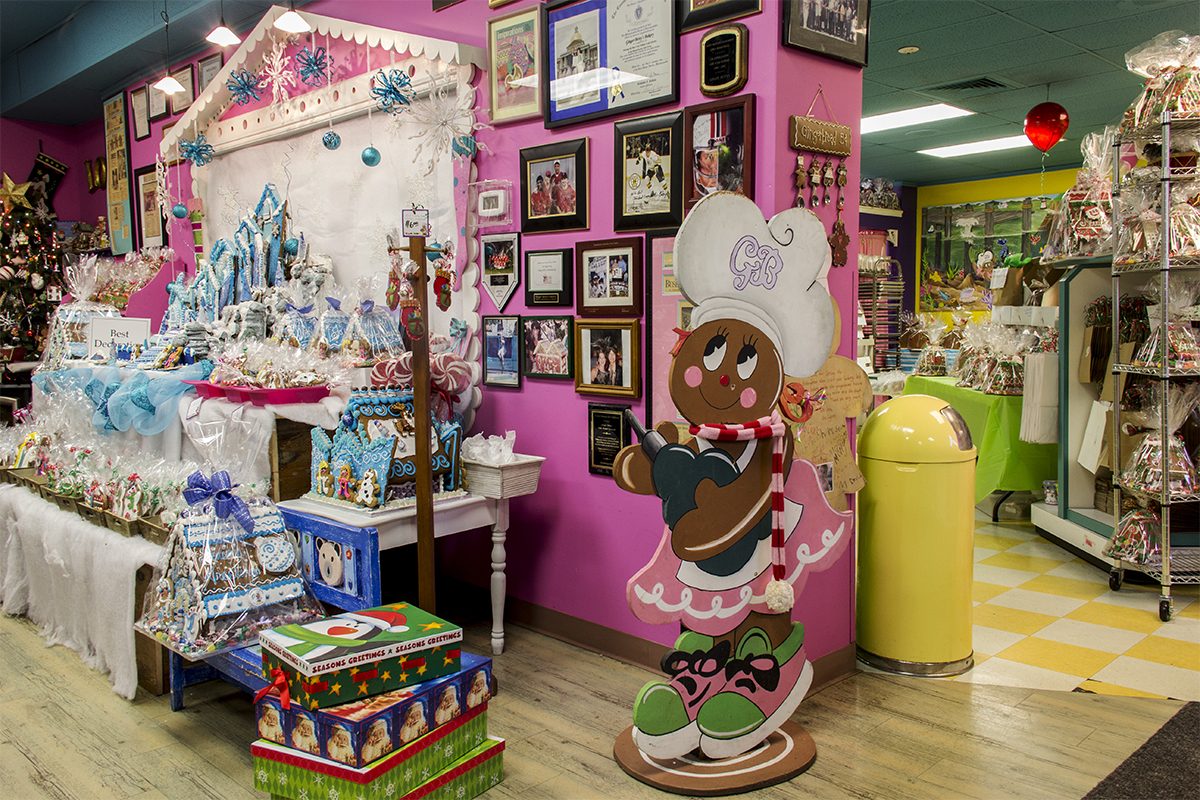 Visiting Ginger Betty's Bakery in December can rouse an uncanny, almost visceral sense of holiday cheer. It's not just the soundtrack of crooners Bing Crosby and Nat King Cole or the warming aromas of cinnamon and clove that wallop you when you walk through the front door. There's a palpable energy to the space, almost like the din before a headliner takes the stage.
In a room to the left, three women are wrapping gumdrop-studded gingerbread houses in cellophane, while others tug on ribbon like lawnmower cords, the red and green tendrils curling into perfect, buoyant coils. A gaggle of college-aged employees are pumping out coffee from plastic urns and ringing out a line of mothers with tri-wheeled jogging strollers. Streams of harried parents shop Ginger Betty's aisles of build-your-own gingerbread kits, while trying to wrangle their children away from the wall of Fireballs, Brach's peppermints, NECCO wafers, and buckets of nickel candy.
Over 75 percent of Ginger Betty's business takes place in the months of November and December. The bakery stays open 24-hours a day, the regular staff of 20 growing to 150, to accommodate all the orders that come in from across the country. Each night at 8 p.m., a dedicated USPS truck pulls into the back to haul away the hundreds of customized gift baskets and treats. This year, Cardullo's Gourmet Shoppe ordered a gingerbread likeness of their Harvard Square storefront, a motivational speaker ordered dozens of light bulb cookies with his trademark catchphrase, "Innovation," splashed across the top, and someone had even purchased an ornate centerpiece of Rudoph the Red-Nosed Reindeer on the Island of Misfit Toys.
A steady rotation of a dozen bakers is perpetually at work in the bustling kitchen, each constructing the bakery's fragile, multi-tiered gingerbread structures by hand, something which was proving much more difficult on the day that I visited. As Veneto explained to me, gingerbread is "extremely sensitive to temperature and humidity." On that snowy December morning, Ginger Elyse was bolstering the rafters on a four-foot replica of Gillette Stadium with calculated squirts from a pastry bag. Veneto fretted over the side of the stadium that was now clearly bowing and urged Elyse to use even more blue gumballs to prop up the cookie wall that was drooping like a Dalí clock. Despite the potential disaster at hand, Veneto seemed relatively nonplussed. It's an undaunted extension of her "fake it 'til you make it" philosophy, which she teaches to all of her "Ginger" army.
The Quincy native, now 20 years into her professional gingerbread-making career, is something of a self-taught virtuoso. Raised in a single-parent household, the seventh of eight children, Veneto looked up to her pastry chef sister for advice and encouragement. That reassurance often came from the projects her sister took home, Veneto shingling the roofs of sister's houses with nonpareils and Hershey Kisses.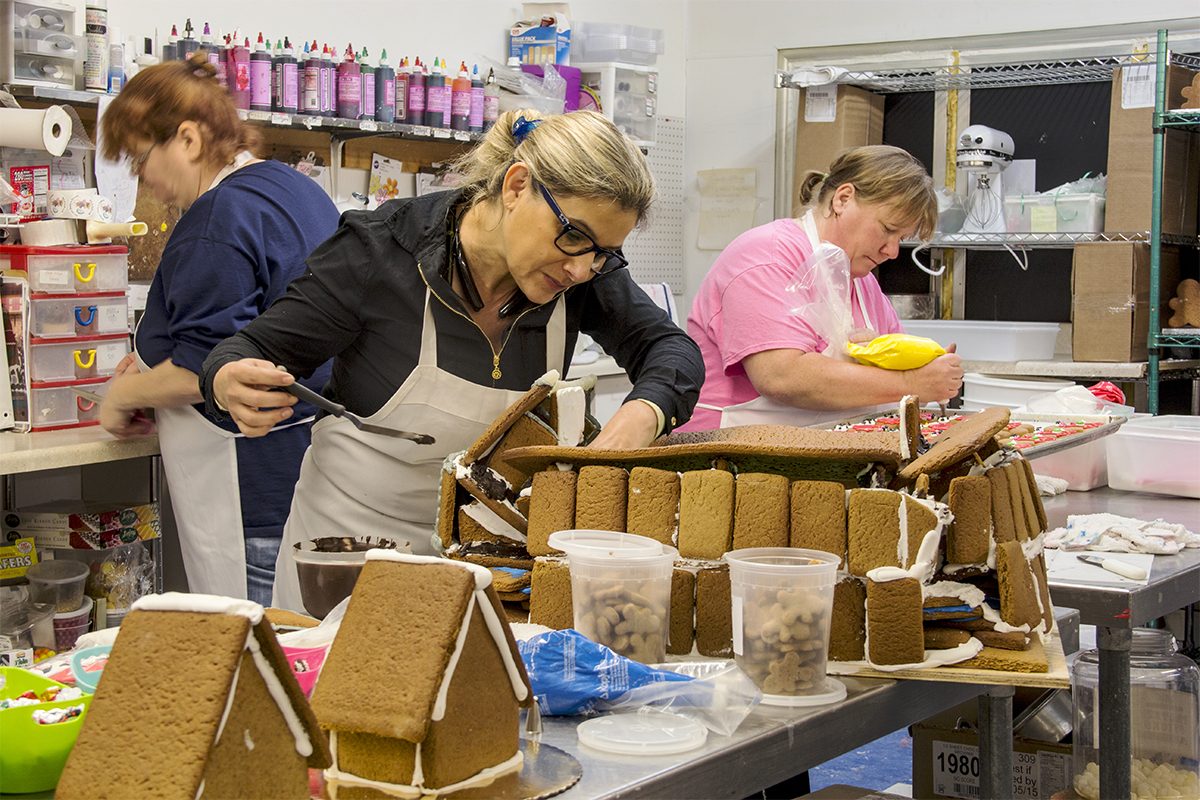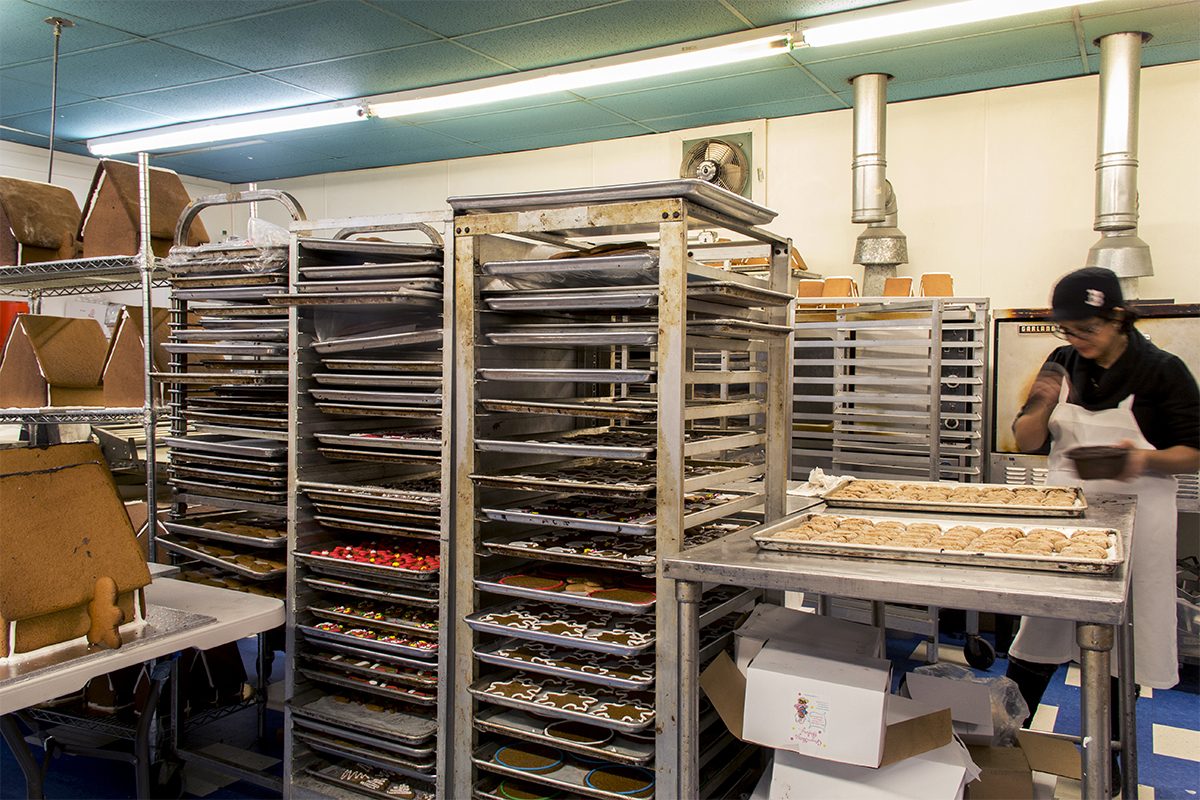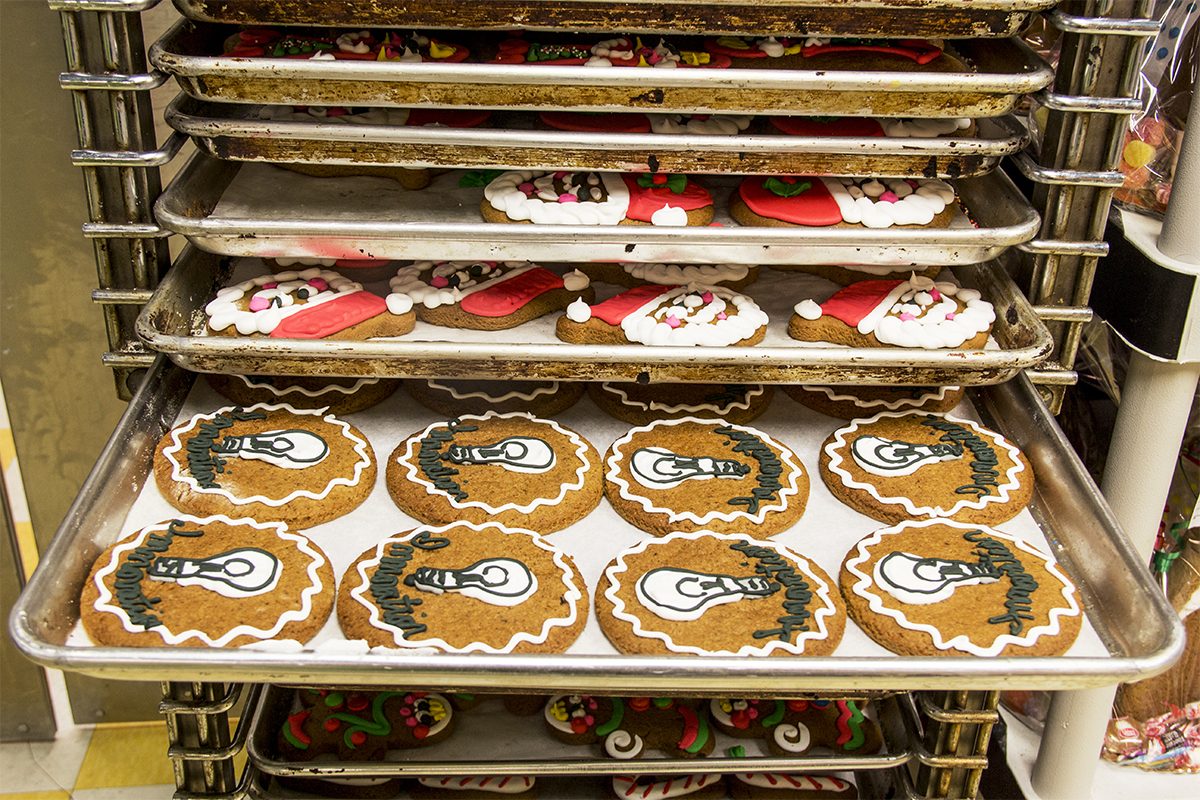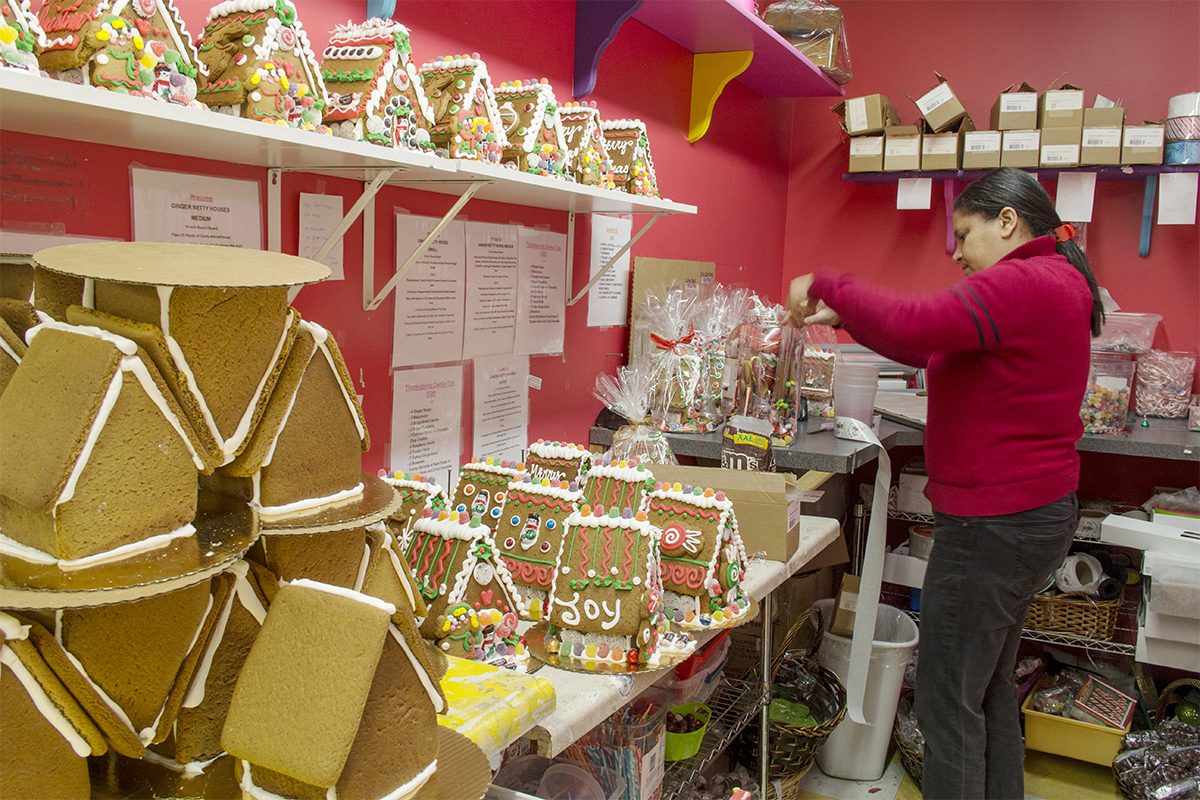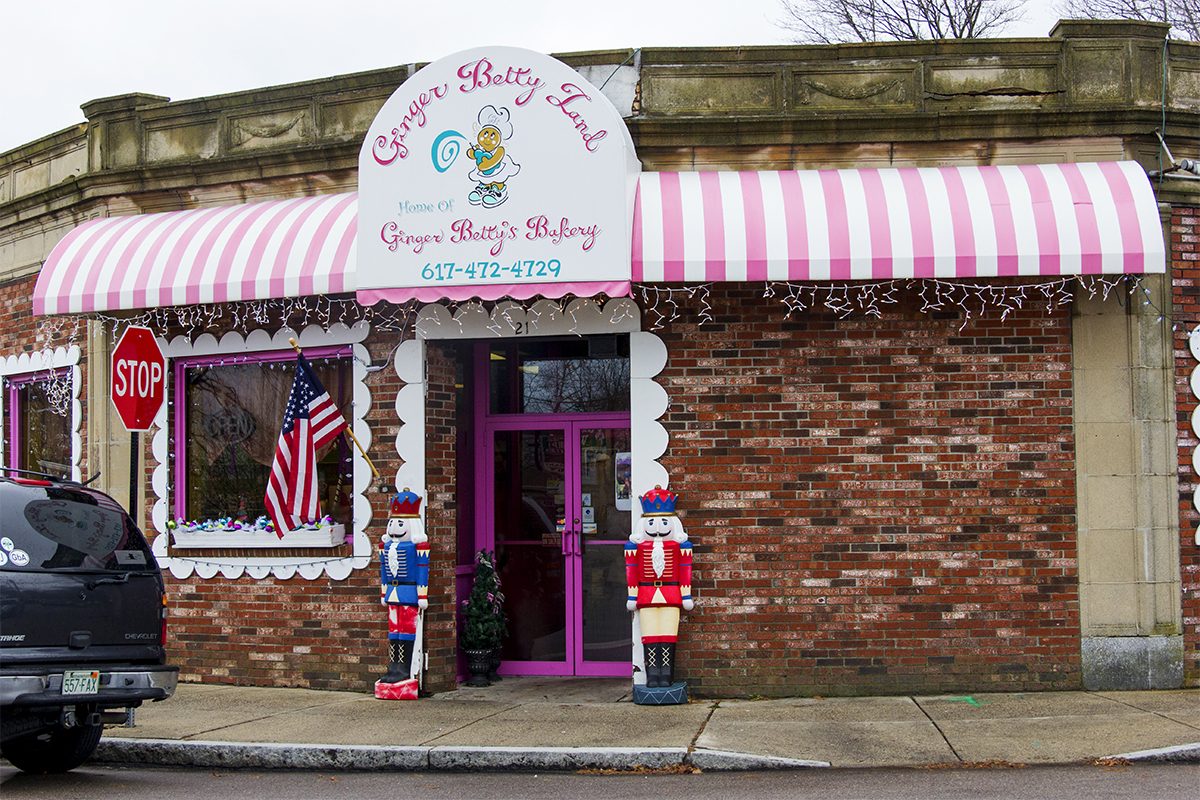 She translated that early memory into a profitable side business in college at the New York Institute of Technology in Old Westbury, Long Island. While her more well-to-do friends spent their weekends at Saks Fifth Avenue or the Macy's one day sale in Manhattan, Veneto would hang back in her dorm, a converted motel room in the Hicksville Motor Lodge, and make gingerbread houses to sell to posh families at the nearby country club.
"One holiday I conned the guy at the Mister Donuts down the street to let me make gingerbread in their kitchen, because I was making them out of a dorm room, which isn't good," Veneto says. "I think he felt bad for me, so he let me use it in the middle of the night. When I look back at the gingerbread houses I made then, I crack up because they weren't very even and they were falling over. But I would make them for people in the dorms and the guy at Mister Donuts would let me sell them out of his shop. I was trying to make a buck because I had no money. I was on scholarship, but I still had to have a job to support myself through college."
After graduating with a degree in hotel and restaurant management, Veneto worked for a short while at the Marriott Marquis in Times Square, finally returning to Boston after a series of bomb threats at the hotel during the Gulf War. She continued to make gingerbread houses while balancing catering and secretarial work, selling them out of her mother's home. Eventually, Veneto began submitting more elaborate pieces like a gingerbread toy store and church to the Seaport World Trade Center's annual gingerbread house competition. Encouraged by her success, and desperate to earn a steady paycheck, Veneto decided to make the leap into launching her own small business.
"They had a competition in Quincy where if you had an idea for a business, you could win a loan," Veneto says. "So my mother pushed me to go down there. … I ended up going into the class and trying to get the loan with 35 other people. I had all my ideas scribbled on napkins, but I could see the vision in my head. As they started going around the room and asking what everyone wanted to do, I started sweating and getting chest pains. One guy wanted to open a police uniform shop, another lady wanted to open a coffee shop. I just wanted to evaporate. Suddenly my gingerbread idea seemed cuckoo for Cocoa Puffs. But I was the first one to graduate out of that class. I might have been the only one out of that entire program."
Ginger Betty's Bakery is now a beloved institution in Quincy. One wall of her Samoset Avenue bakery is cluttered with photos of her alongside local celebrities like Steven Tyler, David Ortiz, and Ray Bourque. Sprawling banners detail her greatest achievements, like Ginger Betty's' 2013 Best in Show piece, a tribute to Boston sports teams and the victims of the Boston Marathon attack—a project which fetched over $11,000 for the Martin Richard Charitable Foundation. There are also pictures of various troops gleefully ripping open boxes of Veneto's signature chocolate drizzled gingersnaps, a component of her G.I. Ginger Betty Foundation, which she began seven years ago.
Although Veneto can often be found in the store stocking new batches of cookies in icing-smeared warm-up clothes, her redheaded alter ego now lives in the pages of children's literature. Ginger Betty, a precocious eight-year-old armed with magical cookie cutters and a predilection for baking, has two books and a musical in the works. Veneto's fictional self might be living a childhood far different from her own, but it captures the duality of the store: a brilliantly marketed boutique helmed by a gutsy, tireless champion, and a fantastical escape from the stodgy confines of reality.
"Earlier this year, there was a little girl with cancer who chose to visit Ginger Betty's through the Make a Wish Foundation," Veneto says. "I'm sure her mother was like, 'C'mon, pick Disneyland!' But that made me feel so special. I was always wanted to create something when I was younger. I think this place conjures that indescribable sense of magic that Christmas brings. It's like Santa's workshop."
215 Samoset Ave., Quincy; 617-472-4729 or gingerbettys.com.
---