Glow Up: 15 Coolest (New) Neon Signs in Boston
This classic decor element is having a major moment on the dining scene—and snarky sayings abound.
---
Devoted foodies and restaurant newbies love The Feed. Sign-up now for our twice weekly newsletter.
From the "open" sign at your hometown House of Pizza to the blinking beer ads in the windows of your local packie, neon signage isn't new. Charlie's Kitchen, for instance, has prominently promoted its "lean meat shishkebob" and "cheeseburger special" for decades; and when Cafe Sushi renovated in 2018, the family owners reinstalled a set of classic blue-green neon signs from 1993. (Though bittersweetly, the abstract, purple neon shapes that used to hang on the sushi spot's ceiling didn't make it out of the '90s.)
But today's restaurants are reviving this classic look for the Instagram era, beyond simple nameplates and advertisements. From place-making sayings to cheeky new icons, here are 15 new-wave neon signs in Boston that you can't miss.
Bodega Canal
Four of All Day Hospitality's five restaurants—which also include North Square Oyster Bar, Ciao Bella, Tony & Elaine's, and Ward 8—feature custom neon signage. But unlike the throwback style of its North End sister spots, Bodega Canal's neon is… inspired by Drake. "No new amigos" riffs on a DJ Khaled-produced hit from the early days of Instagram, "which is about being loyal to the original crew," says All Day designer Justin Power. "Though it's not an edict we necessarily ascribe to, we thought it would be a good opportunity for all the many groups of friends who come through Bodega to take a picture in front of. It definitely worked."
57 Canal St., Boston, 617-833-4885, bodegacanal.com.
Bootleg Special
It's not just an homage to the risqué, fun-loving culture of New Orleans at this South End seafood boil shop. The "live nudes" sign helpfully points toward the bathrooms, too.
400 Tremont St., Boston, 617-451-1800, bootlegspecial.com.
Buttermilk & Bourbon
Celeb chef Jason Santos had a Southern-inspired spot on his laundry list of restaurants he'd love to open someday. When he found this Back Bay location, its labyrinthine rooms reminded the chef of dark and moody lounges in New Orleans, and he worked with Assembly Design Studio to bring it to life with whitewashed brick, graffiti, and lots of bright neon lights. One particularly memorable sign greets revelers as they enter the "Voodoo Lounge" in the back of the restaurant.
160 Commonwealth Ave., Boston, 617-266-1122, buttermilkbourbon.com.
Café du Pays
This quaint, Quebecois-inspired boîte beckons passersby with the promise of wine and the quintessential Canadian snack: Poutine. Neon is a design element in all of this restaurant group's spots, from Mamaleh's deli-style nameplate to the vintage beer promos blinking inside faux-dive State Park. "They are fun, nostalgic, and fit each spot in a different way," says co-owner John Kessen. Café du Pays' signage also pays subtle homage to Montreal's "neon alley."
233 Cardinal Medeiros Ave., Cambridge, 617-314-7297, cafedupays.com.
Fox & the Knife
The "fox" in her restaurant's name nods to a term of endearment given to chef Karen Akunowicz by her spouse, LJ. All of us, however, can take inspiration from this hot pink reminder to "stay foxy," which captures the welcoming, positive, and self-celebratory vibe created at her stellar debut restaurant. Plus, the glow of the sign—which was crafted on the North Shore by Neonworks—makes the shelves of Italian wines and amari in the apertivo bar look very appealing.
28 W. Broadway, South Boston, 617-766-8630, foxandtheknife.com.
Frenchie
As helpful for wine newbies as it is for those who know what they like, the juice list at this South End bistro is helpfully broken down into categories like "rich and intense" versus "delicate" reds, and "light, crisp, and refreshing" versus "fruit, spice, and aromatic" whites. But you could just abide by the motto, custom-made by the local outfit Neon Williams, that's emblazoned across the main dining room: "In vino veritas" translates from Latin as "in wine, truth."
560 Tremont St., Boston, 857-233-5941, frenchieboston.com.
Ghost Pepper Taco & Tequila Bar
A bright and welcoming taqueria opened in 2019 on a plot in Savin Hill that had been empty for more than a decade. The cheeky "Hot in Dot," a neon-inspired LED light custom-made by a company called Echo Neon, makes reference to that up-and-coming Dorchester location, as well as to the spicy fare on the menu.
120 Savin Hill Ave., Dorchester, 617-326-6377‬, ghostpepperboston.com.
Hurricane's at the Garden
When the Briar Group revamped its former Hurricane O'Reilly's pub in 2018, Hurricane's got not only a new menu and a fresh coat of paint, but also additional flat screen TVs, a new sound system, and a crisp HD projector, all meant to improve the game-watching experience at this TD Garden-area bar. The new, Bruins-gold neon, fabricated by the locals at Metro Sign and Awning, says it all: Welcome to the "city of champions."
150 Canal St., Boston, 617-722-0161, hurricanesboston.com.
Kings Dining & Entertainment
The words of wisdom lighting up in each location of this arcade bar read, "Don't grow up, it's a trap." But since we all inevitably do grow up, Kings is there with 10-pin bowling, air hockey, arcade games, and more to put the "fun" in "functioning adult." Each sign was custom-made by Carmine Saccardo of NE Neon Company.
Kings Dining and Entertainment, 50 Dalton St., Back Bay, 617-266-2695; 60 Seaport Blvd., Boston, 617-401-0025, and other locations, kings-de.com.
Orfano
Big Heart Hospitality Group doesn't know who needs to hear this today, but guests who catch a glimpse of themselves in the full-size mirror outside the single-stall restrooms at their newest restaurant will get a cheeky little confidence booster: "You are fucking perfect." The custom-made piece came from Carmine Saccardo of NE Neon Company in Framingham.
1391 Boylston St., Boston, 617-916-9600, orfanoboston.com.
Nightshade Noodle Bar
In downtown Lynn, vintage neon signs, which are part of a 2018 installation commissioned by the local Beyond Walls street festival organizers, evoke the north-of-Boston city's commercial past, while also beckoning visitors to explore the area now. But one neon sign is thoroughly modern: Crafted by Somerville stalwart Neon Williams, Nightshade Noodle Bar's exterior sign is a brightly lit version of its tomato flower logo, which was originally hand-painted by the bar's cofounder, muralist, and wine and service director, Liana Van de Water.
73 Exchange St., Lynn, 781-780-9470, nightshadenoodlebar.com.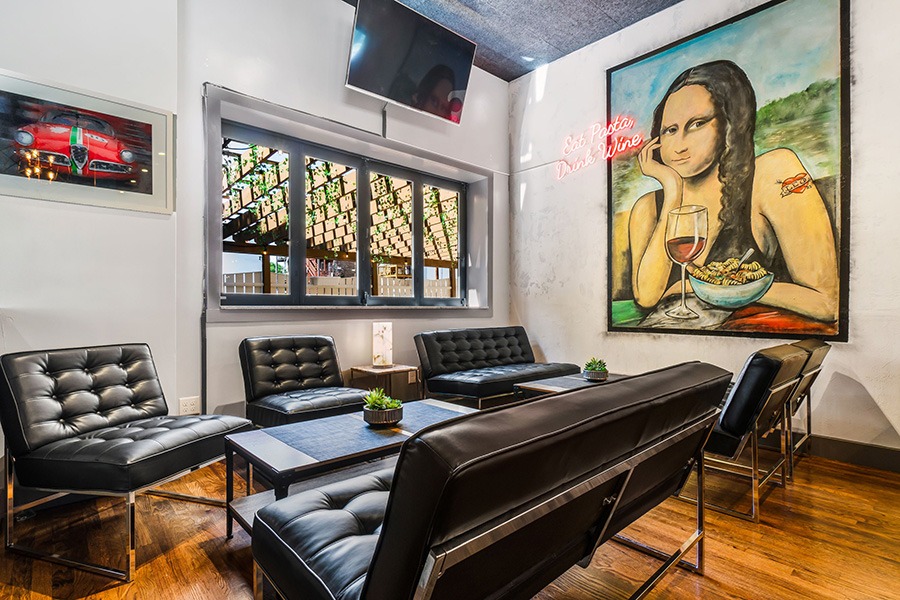 Pazza on Porter
When East Boston native Mivan Spencer opened this new Italian-American restaurant in his neighborhood, he and his business partners wanted to add some "Instagrammable moments" to their decor, he says. That includes a fun neon take on Sophia Loren's famous quote, "I'd rather eat pasta and drink wine than be a size zero," which is posted inside next to a pasta-eating Mona Lisa, painted by local artist Mark Grundig. And it also features a photo op open to anyone, whether they come in the restaurant or not: "Eastie" is emblazoned in neon on a floral wall just outside the entrance.
107 Porter St., East Boston, 617-418-5702, pazzaonporter.com.
The Porch Southern Fare and Juke Joint
The classic country dichotomy of "Saturday night versus Sunday morning," or the internal struggle over letting loose and being good, is a main theme in the decor at Medford's barbecue-and-blues joint. Above the bar, the lyrics "Lord have mercy on my wicked soul," pulled from a Son House tune called "Death Letter," drive the point home.
175 River's Edge Drive, Medford, 781-874-9357, theporchsouthern.com.
Tiger Mama
The phrase "talk don't cook rice" is a Chinese proverb that has long been close to chef Tiffani Faison's heart: "It basically means, 'Put up or shut up.' Do the thing, don't just talk about the thing," she says. The sign itself, made by Carmine Saccardo of NE Neon Company, fits with the urban-tropical vibe of her Southeast Asian restaurant, casting a warm orange glow over the dining room.
1363 Boylston St., Boston, 617-425-6262, tigermamaboston.com.
Waypoint
Besides making custom signs, Dave Waller of Neon Williams is also an avid collector and restorer of vintage neon. Chef Michael Scelfo tapped Waller to help with the eclectic decor inside his first restaurant, Alden & Harlow, and the sign guy came back to the chef a couple years later with this unique piece while Scelfo was opening Waypoint. Salvaged from a lodge in Quebec, the green-glowing fish reads "au nid du dore," or "golden nest" in French. "Thematically it's a perfect fit," Scelfo says of his coastal restaurant's focal point, "and whenever Dave says he's got just the right thing, you know it's going to be good."
1030 Massachusetts Ave., Harvard Square, Cambridge, 617-864-2300, waypointharvard.com.
---