3 Powerful Ways CBD Massages Can Help Improve Your Health
Massage trends come and go, generating lots of buzz when they first arrive on the market. But when Eric Stephenson, an experienced massage therapist with over 20 years in the industry, heard about the rapidly emerging use of cannabidiol (CBD) for massages, he quickly realized it was a tidal wave of a treatment that could revolutionize the industry.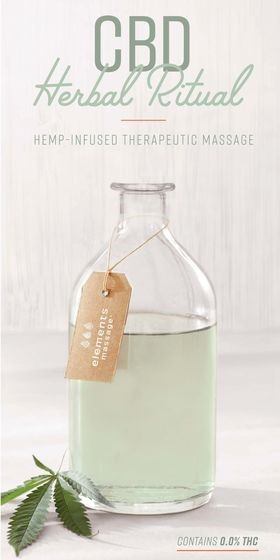 As the chief wellness officer of the award-winning Elements Massage franchise, he's now helping to guide the rollout of the CBD Herbal Ritual service at participating Elements Massage studios across the U.S. and Canada, including several in the Boston area.
"The intention of CBD Herbal Ritual is to offer a simple, therapeutic and effective full-body massage service to our clients that also incorporates the wellness benefits of CBD," says Stephenson. "Our approach combines massage with CBD oil to help reduce pain and inflammation and calming the fight or flight stress response."
Still, Stephenson says there is a lot of confusion and preconceived notions surrounding what is in CBD and its remarkable health effects. Here's what he says are the three most powerful health benefits of a CBD massage, and why the treatment won't be going away anytime soon.
Helping to Reduce Pain and Inflammation
When the father of one of Stephenson's colleagues was suffering from severe pain from his chemotherapy treatments, it seemed like nothing would bring relief. After beginning CBD treatments, though, he says he felt huge decreases in his pain level, echoing what Stephenson says he's been hearing from clients all over the country.
"The results are going to be subjective, but overwhelmingly we're seeing a nationwide response that CBD can help reduce pain for a lot of people," he says.
The reason for the pain reduction, Stephenson explains, is that when CBD oil is absorbed it boosts the body's natural endocannabinoid system that regulates pain. Up to an ounce of the oil is applied to the full body during the session, with a focus along the spinal column and temple where cannabidiol receptors are most concentrated.
"CBD is not a foreign substance to your body," he says. "It gives a push to your endocannabinoid system to kick it into gear and produce its own cannabidiol."
With statistics showing that there is only one pain management specialist in the U.S. for every 28,000 patients, Stephenson says that CBD massages can be a breakthrough alternative for pain management, like diabetes mellitus and epilepsy or other seizure-related disorders, though he adds clients with these disorders should always check with their physician prior to receiving a CBD treatment.
Helping to Decrease Stress and Anxiety
It's no secret that a massage is one of the best ways to de-stress and unwind, but the addition of CBD oil can help patients find their Zen even more effortlessly, says Stephenson. He emphasizes, though, that contrary to what many may think, that feeling isn't spurred on from psychoactive drugs in the oil.
"One of the main differences between marijuana and CBD is that marijuana has THC (tetrahydrocannabinol), the psychoactive ingredient that alters your brain, gives you a high, and shows up on a drug test," says Stephenson. "I always tell people that you aren't going to get a psychoactive high from CBD, but you are going to get a natural high from your nervous system just getting pushed toward homeostasis."
The CBD used in the massage, Stephenson adds, is audited three times during the sourcing process to ensure it has no traces of THC. He says the product comes from a renowned Denver facility that produces only the highest grade, organic, gluten-free, industrial hemp.
"It's just a really pure product," he says. "One of the things that makes this product so special is it's bioavailable, which means your body recognizes it and absorbs it. Your body does have this natural system, so you can't overdose on it."
Improving Overall Sense of Well-Being
It's hard not to feel a renewed sense of relief after receiving a full body massage with oil that includes aloe vera, ginger extract, and rosemary oil. Some feel an instantaneous heightened sense of well-being after the session, Stephenson says, and make the CBD treatment a priority in their wellness regimen. Plus, he adds, it's just a simple add-on to your usual massage treatment, but with noticeably deeper relief.
"Really it looks a lot like a regular massage, and the majority of Elements Massage studios are offering it right now," he says.
He says that includes participating Elements Massage studios in the Boston area and beyond.
For Stephenson, who says pursuing innovation and quality are the cornerstones of his role as chief wellness officer, it's all about finding the most incredible product on the market that fits clients' needs. He says with CBD massages; he's found just that.
"At the end of the day, we're here to make people's lives better, and I do believe that this product is a huge value add for clients," he says.
To find an Elements Massage studio near you, visit elementsmassage.com/massage-places-near-me. Each Elements Massage studio is independently owned and operated.
This is a paid partnership between Elements Massage and Boston Magazine's City/Studio
---