The Top 9 Kitchen & Bath Trends For Your Next Remodel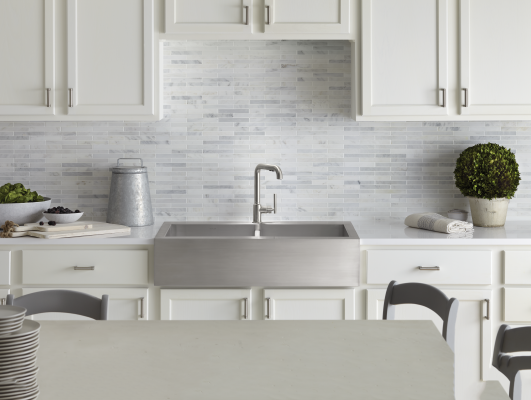 In honor of Kitchen and Bath month, we have developed a list from some of our expert sources in the industry to determine the top nine trends they are seeing most commonly today. From design to functionality, these pages shed some light on what to consider for your next remodel.
1. Open Showers
Open or walk-in showers are increasingly popular. They lend to a more expansive bath space and offer a sleek design. This shower layout can be
 as unique as the homeowner desires with the addition of body sprays, decorative half walls, and even a tub installation within the shower area.
2. Digital Fixtures

Bath fixtures no longer serve just one function; they provide an experience and change
 how consumers feel about time spent in the bathroom. Digital systems provide greater control and customization than a manual shower, not to mention they are button operated, eliminating handles and knobs for a contemporary look.
3. Apron Front Sinks

Apron front sinks, once considered a rustic or "farmhouse" style, have evolved and pair well with any decor. Hundreds of colors and sizes 
are on the market today, making the options plentiful. The most popular apron front sinks installed in homes today are classic cast iron in a white finish.
KITCHEN VIEWS AT NATIONAL LUMBER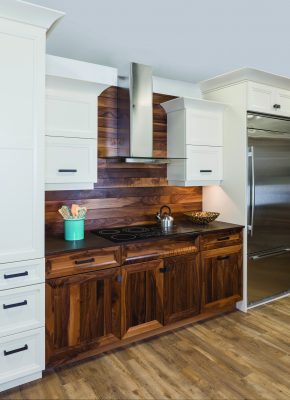 4. Lighting
Lighting is a growing focus, inside the cabinets and
for task lighting under the top cabinets. Even toe-kick sensor lighting that turns on as you approach is growing in popularity. More than ever, there are many creative ways to light up your living areas.
5. Open Shelves

Open shelves in place of regular glass cabinets and less upper cabinets create a minimalistic look. We are seeing this growing trend requested by homeowners desiring an open feel and easy access to everyday items.
6. Full Height Backsplashes

Full height backsplashes with metal, unique tile, marble, or wood are popular with people who want to make a dramatic design impact. Gone are the days of a small 4 inch backsplash—covering the full area provides easier cleaning and added interest in the space.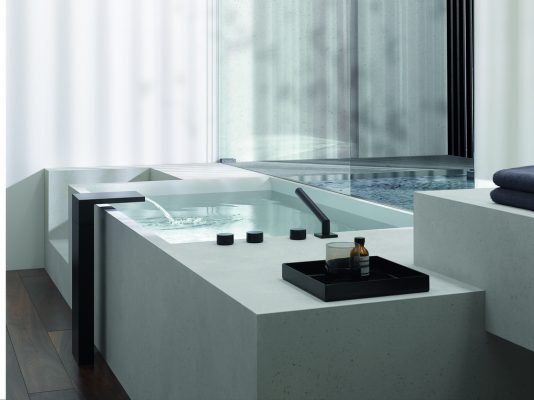 7. New Metals and Finishes
Designers and consumers are asking for matte black and various brass and bronze shades. Many manufactures that only did chrome and brushed nickel are now offering special finishes.
8. Vanity Updates

In vanities, furniture pieces prevail, and soft grey seems to be the new neutral. Other vanity trends include the continued use of ceruse and other interesting textures.
9. Lounge-Like Powder Rooms

Powder rooms continue to be "non-bathroom" like and more like an extension of the living area, with different textures and cool fixtures.
Contact these experts for your next remodel!
THE INSPIRED BATH
781-472-2870
theinspiredbath.com
KITCHEN VIEWS AT NATIONAL LUMBER
508-DESIGNS
kitchenviews.com
SPLASH
800-696-6662
splashspritzo.com
This is a paid partnership between Boston Magazine and Boston Magazine's City/Studio
---