Peek Inside Three Recently Renovated Boston Hotels
They gather design influences from Edgar Allan Poe and leather-making.
---
Being a tourist in your own city is half the fun of living in a city. (It's especially fun when there's a travel deal to be had.) But when is the last time you actually splurged on a staycation?
If a fear of too much of the same is holding you back, fear not. These three hotels in Boston have all undergone extensive renovations, meaning you can return with a fresh pair of eyes—and even relax for a bit, too. Ahead, peek at updates inside three local hotels.
---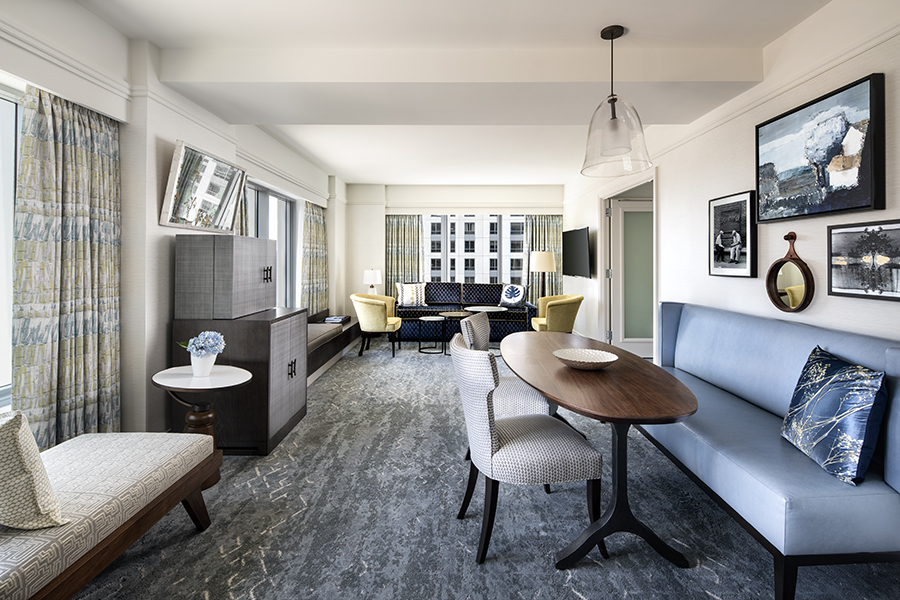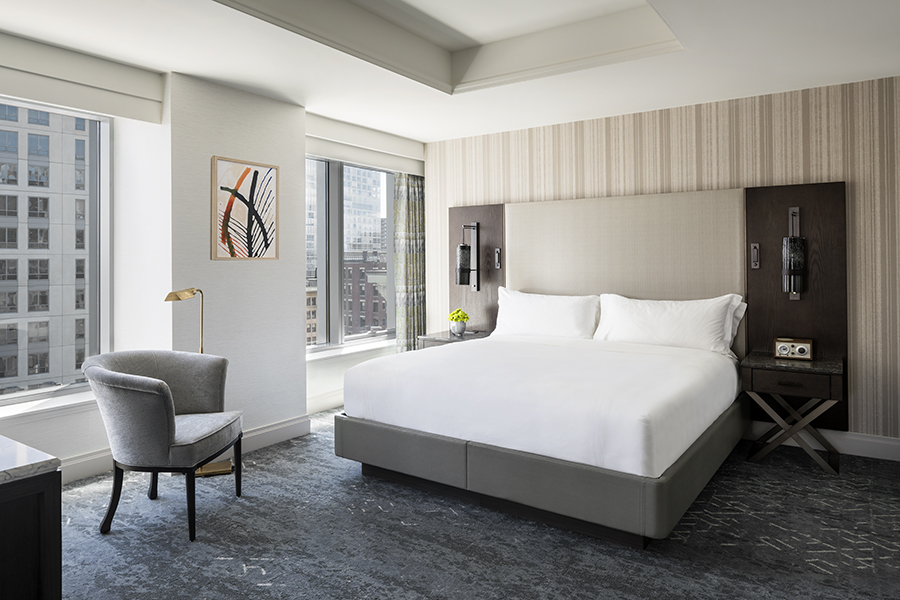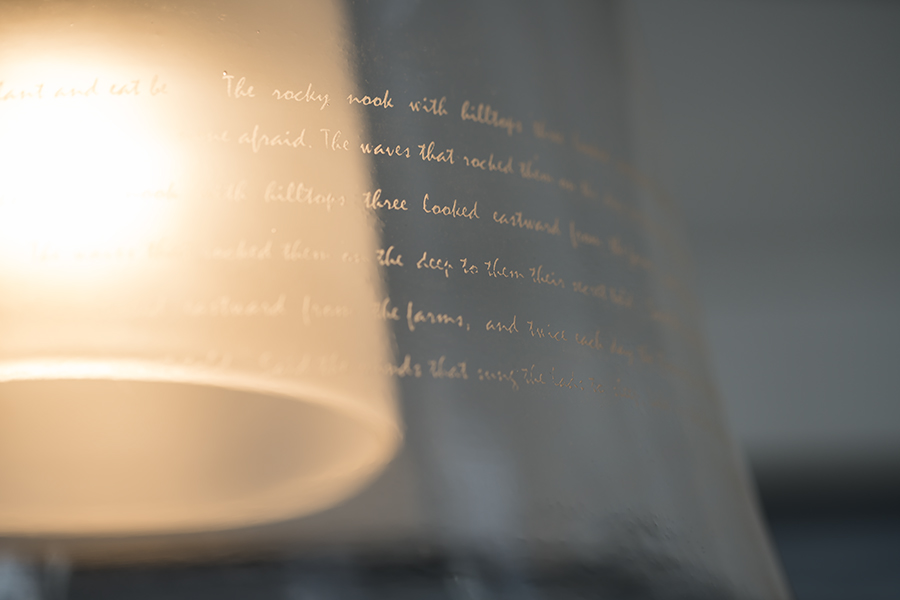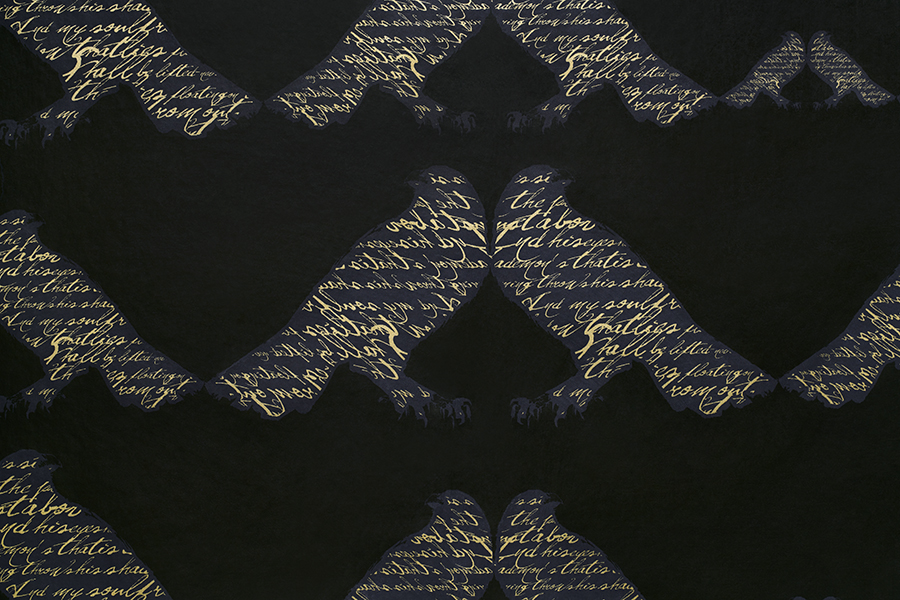 The Ritz-Carlton
Fresh off a $13 million renovation, the Ritz-Carlton has a bold new look—one that blends its stately atmosphere with more modern luxuries. All 193 guest rooms and suites, plus its corridors, ballroom, and clubroom have been transformed by architecture firm Rockwell Group with an eye toward European boutique hotels.
While the rooms boast luxurious accents from overseas, there are nods to homegrown influences, too. Shoutouts to local literati like Ralph Waldo Emerson and Edgar Allan Poe can be see in the hotel suites. In the executive suites, custom wall coverings by artist Jill Malek honor Poe's poem "The Raven." Handwritten fragments of the poem are displayed within outlines of ravens on dark-colored wallpaper. In the luxury suites—which include a master bedroom with a king bed, a living room overlooking the city, and a dining area with seating for six—there are homages to Emerson. The most visible nod can be glimpsed in the light fixture above the dining table; it has two glass globes, one inscribed with a quote from Emerson's poem "Boston."
According to Gonzalo Bustamante of Rockwell Group, the redesign was meant to create a contemporary and luxurious environment celebrating the many generations of guests who've stayed at Boston's Ritz-Carlton.
"Historic materials such as saddle leather, linen, wood, and steel have been distilled into unexpected details, from leather and bronze headboard fasteners to 'turned' table bases," said Bustamante in a statement. "The skill of Colonial craftsmanship—forging, hammering, embossing, and carving—is represented in rich, new materials and abstract forms."
The Ritz-Carlton, 10 Avery St., Boston, ritzcarlton.com.
---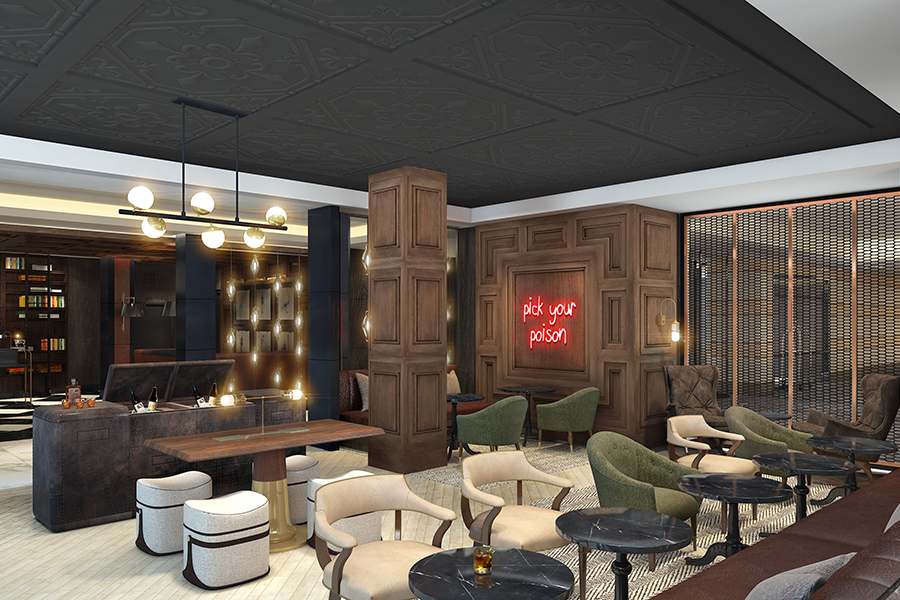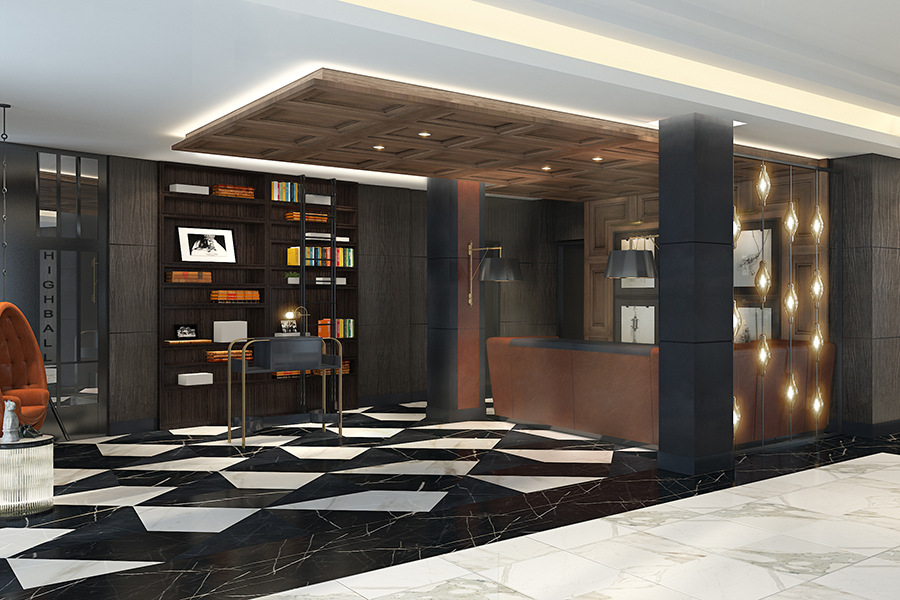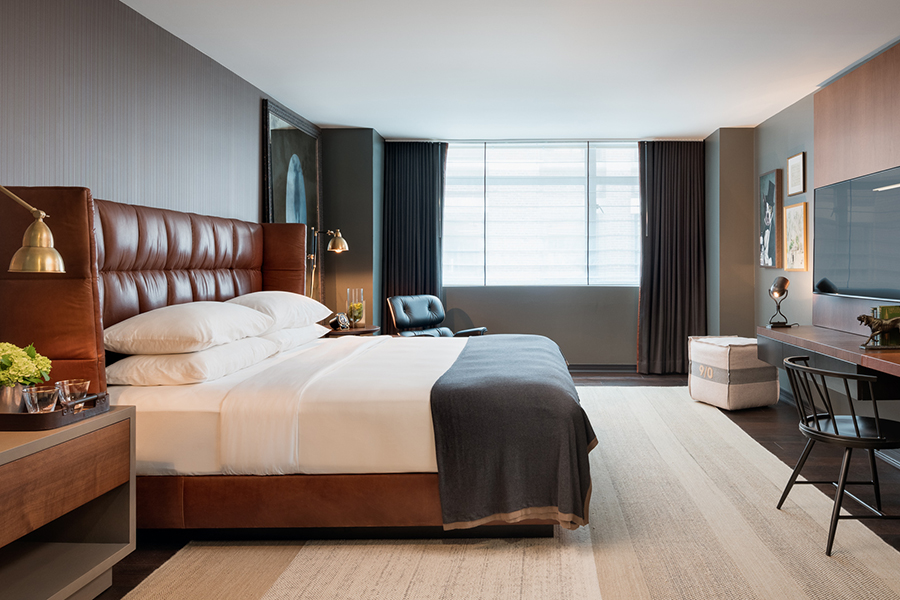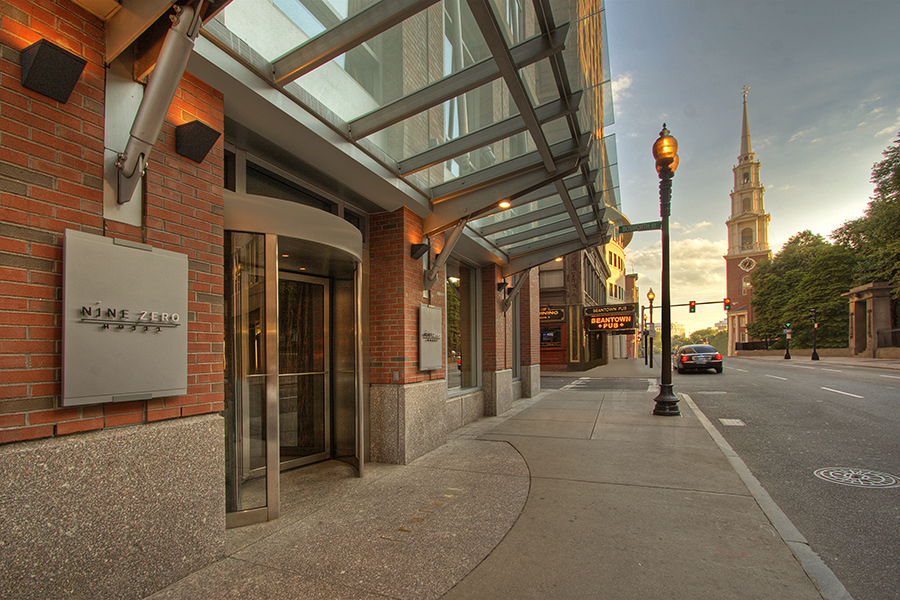 ---
Kimpton Nine Zero
As one of the city's finest hotels, the Kimpton Nine Zero sets a standard for luxury in Boston. That's what makes its top-to-bottom transformation so highly anticipated. The hotel, which is remaining open as its renovation unfolds over the next several months, will receive a slew of ultra-luxe updates.
By the time the Nine Zero is completed this spring, designers from Korn Design and California's Hirsch Bedner Associates will have overhauled 190 guest rooms and suites, plus the lobby and 2,400 square feet of private event and work spaces.
Guest room beds will be enveloped by plush leather bed frames. Each room will also exhibit a slice of iconic midcentury design: an Eames chair. In the lobby, old-world touches and modern accents will converge, as leather-bound books and typewriters will be placed next to stone and metallic finishes.
"Nine Zero's dramatic transformation speaks to Boston's new role on the world stage," said Michal Penek, general manager of the Kimpton Nine Zero, in a statement. "Our luxe new look and feel will not only be keeping pace with the times, but innovating the Boston hotel market."
Stay tuned for the full transformation later this year.
Kimpton Nine Zero, 90 Tremont St., Boston, ninezero.com.
---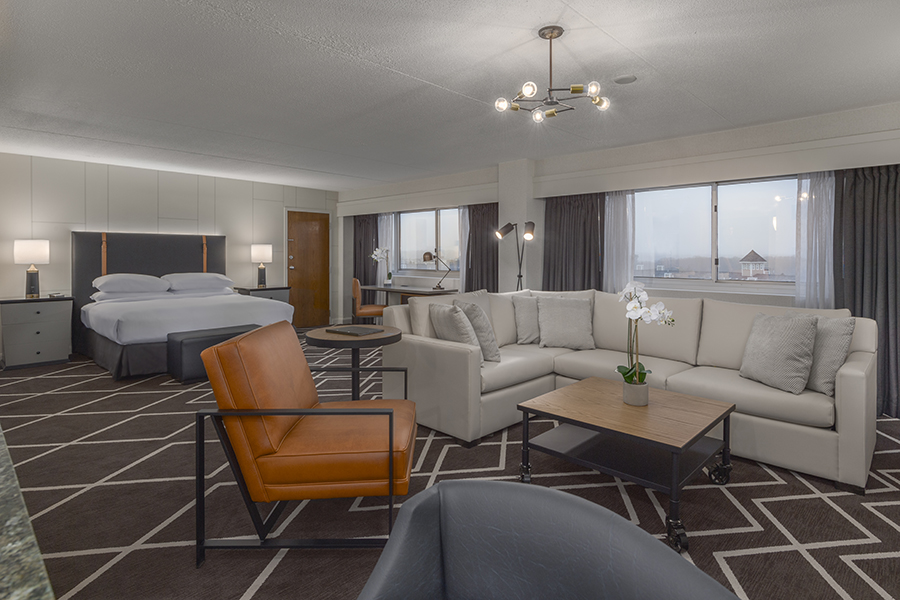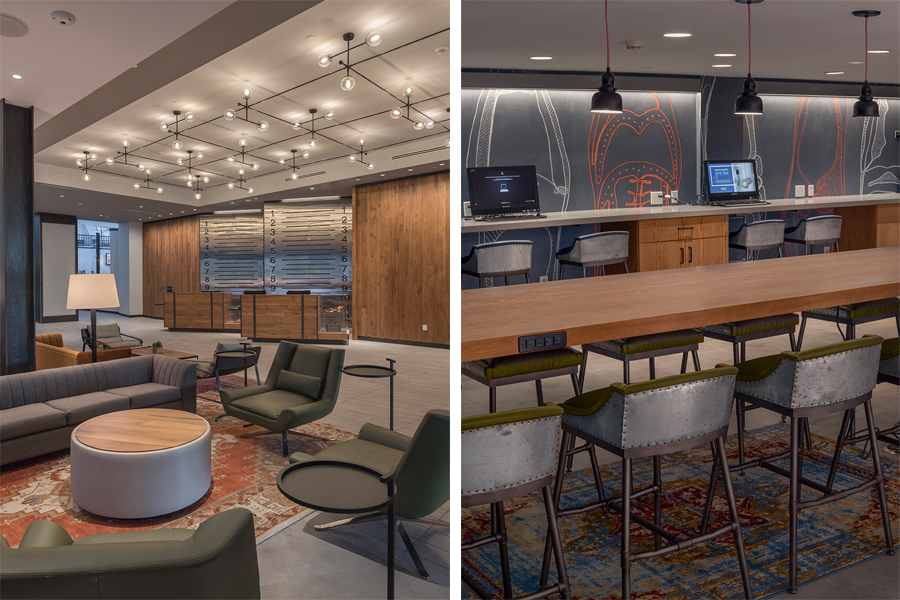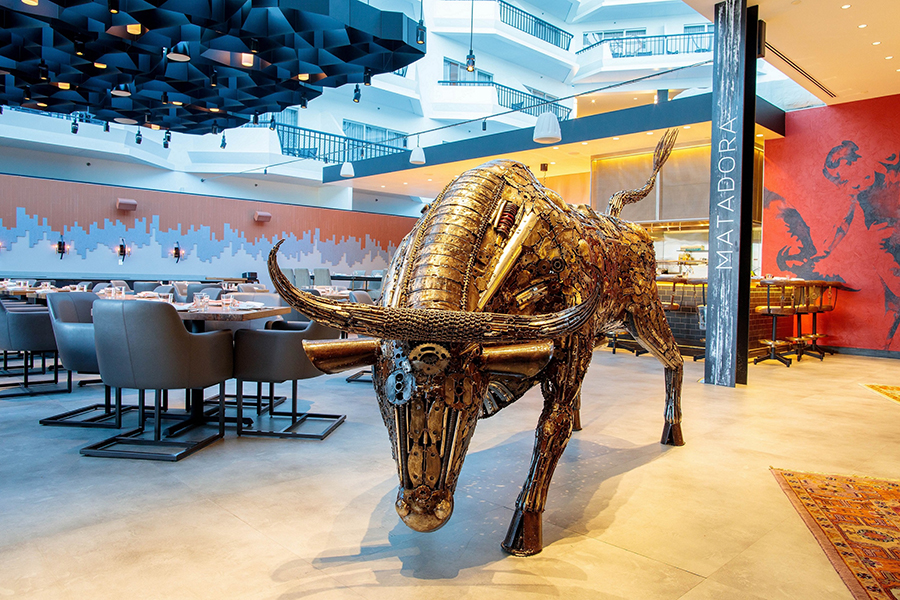 ---
Hilton Boston/Woburn
You've probably heard a thing or two about the Hilton Boston/Woburn's newest addition, Matadora. The Spanish tapas spot, from the restaurant group behind Yvonne's, Ruka, and Lolita, opened last October.
The restaurant is off of the Hilton's lobby, and is part of a $16 million renovation of the property spearheaded by the Davis Companies and the Rubicon Companies. The Hilton Boston/Woburn's recently completed transformation is meant to hearken back to Woburn's legacy of leather-making.
"The Hilton Boston/Woburn has been completely transformed with a layered redesign that is a tribute to Woburn's rich industrial history while conveying a modern sensibility," said Brett Woods, the hotel's general manager, in a statement.
Beginning in the mid-1800s, cobblers and cordwainers (shoemakers who craft shoes from leather) fueled industry in Woburn, and by 1885, the town became New England's leading leather producer. To honor that, the lobby features reclaimed woods and textiles, plus an accent wall inspired by a Brannock shoe-measuring device. The 344 guest rooms exhibit industrial-style features like forged metal finishes, embossed leather headboards, and 3D wire art. Best of all? Each room has a Serenity Bed with a Serta Perfect Sleeper Suite Dreams mattress. If the shoe fits, right?
Hilton Boston/Woburn, 2 Forbes Rd., Woburn, hilton.com.
---