The Best Holiday Light Displays in Boston and Beyond
From drive-through displays to sparkling downtown strolls, here's where you'll find the best holiday lights in Boston and around Massachusetts.
---
Keep your weekends full of the coolest things to do around Boston with our weekly Weekender newsletter.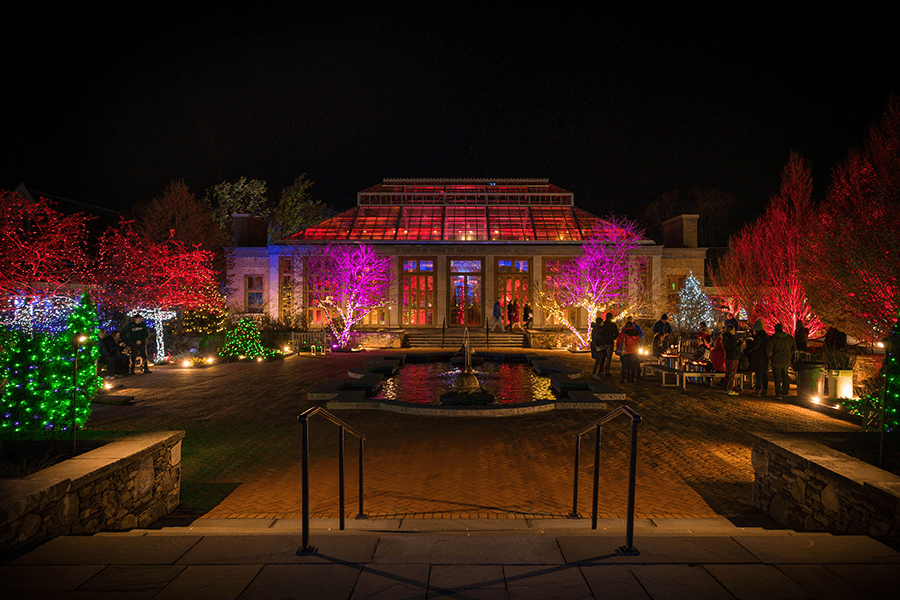 Photo by Troy Thompson
Whether you actually love Love Actually or you're Ebenezer Scrooge himself, there's one part of the holidays that everyone can collectively agree on: Those twinkling lights are just so pretty. And this time of year, Boston and the towns beyond it start to glow in the dark with elaborate displays. From a trolley tour through the nighttime streets of Somerville, to a theme park ablaze with 17 million bulbs, stick to the city or venture out to the suburbs to delight in these indisputably lovely lights.
So, fill your thermos up with hot cocoa and tuck your mittens into your coat: Festive, romantic, and photogenic all at the same time, here are the best places around to ooh and aah at pretty holiday lights.
In and around Boston
Holiday Lights on Boston Common
Home to the city's "official" Christmas tree, the Boston Common is the definitive headquarters of holiday cheer. After Santa Claus and Mayor Michelle Wu kick things off with a tree lighting ceremony on December 2, you can take in the sparkling scene all December long. Take a quick detour through the Common as you're checking off your Christmas shopping list or making your way to holiday brunch, or make a day of it by tacking on an ice-skating session at the Frog Pond. If you're a truly ambitious holiday light seeker (or if you're trying to burn off some Christmas cookie calories), make your way through the Common and Public Garden and take a stroll down Comm. Ave., too—the trees and shrubs of the one-mile mall are illuminated each year.
Free, nightly starting December 2, Boston Common, 139 Tremont St., Boston, boston.gov.
Christopher Columbus Park
Headed to the North End for a holiday feast? Follow it up with a seasonal stroll. Every year, thousands of lights transform the Christopher Columbus Park into a waterfront winter wonderland. The park's crown jewel is its 260-foot trellis, festooned with wreaths and blue-and-white lights. As you wander your way through the twinkling tunnel, you'll see why this spot is often named one of the most romantic in Boston.
Free, nightly starting November 22, 110 Atlantic Ave., Boston, foccp.org.
Somerville Illuminations Month
On the streets of Somerville, it's not Christmas until you've blown a fuse trying to outdo your neighbors' holiday light displays. The houses along Somerville's yearly Illuminations Tour, a a month-long tour through neighborhood streets, are unapologetically gaudy, from the tips of their neon snowflakes to the toes of their giant inflatable Grinches. You'll pass rows and rows of glimmering houses, some of which have been faithfully decorated for each Illuminations Tour for years. The map of the tour is available online, so you can create the magic for yourself from the comfort of the family van.
Free, Dec. 9-January, starting place TBD, somervilleartscouncil.org.
Outside the Metro Boston Area and around Massachusetts
Night Lights at New England Botanic Garden at Tower Hill
While it might seem like a garden has little to offer in the wintertime, Boylston's New England Botanic Garden at Tower Hill puts that notion to bed with its twinkle-lit gardens and conservatories. Starting in the fall, staff and volunteers begin stringing the trees, shrubs, and walkways with over a quarter million lights. Artistically crafted displays immerse visitors in a world of color and illumination. Plan to spend one to three hours strolling through the glowing gardens, plus some extra time to make s'mores by the fire pits, check out the model train village in The Ramble, enjoy festive foods in the café, and shop for holiday gifts in the Garden Shop.
$23+ per person (non-members), 4-10 p.m., Nov. 25-Dec. 31, New England Botanic Garden at Tower Hill, 11 French Drive, Boylston, MA, nebg.org/nightlights
Trustees' Winterlights
The Trustees have again decked the halls of a few of their historical properties: Naumkeag in Stockbridge, Steven-Coolidge House & Gardens in North Andover, as well as Eleanor Cabot Bradley Estate in Canton. Each site will be ablaze with hundreds of thousands of LEDs, but the lights will cater to the unique delights of each site. At all venues, festivities will extend through New Year's Eve; don't miss displays including Rainbow Road, Laser Light Forest, and Blue Steps at Naumkeag, while the Bradley Estate will include a wooded path aglow with carefully hung bulbs, light displays, and illuminations throughout lattice-walled gardens. Bradley will also be offering a sound and light show. Of course, refreshments and holiday cheer abound at all three installations.
Admission prices vary, Nov. 26-Jan. 9, multiple locations, thetrustees.org.
Bright Nights at Forest Park
Crank up the radio for this one: Hosted by DJ Santa Claus, WELF Radio is Bright Night's very own station. Let Christmas classics and nostalgia fill the car as you make the three-mile drive through a series of luminous scenes. Carefully designed using the contours of the park, each sight will slowly reveal itself as you weave through—from giant poinsettia candles to the less traditional triceratops of the Jurassic World display. For a pre-Thanksgiving treat, make your way to Springfield for the opening night, when entrance costs just $6 in honor of the original Bright Nights prices more than 20 years ago. Sprinkled throughout the month are additional festivities, but they often sell out, so check early.
$23 per carload, Nov. 24-Jan. 2, Forest Park, 300 Sumner Ave., Springfield, brightnights.org.
ZooLights at Stone Zoo
Being at the zoo after dark may be business as usual for its nocturnal creatures, but for the rest of us, this wintry extravaganza is worth staying up late for. Not only can visitors say hello to black bears, arctic foxes, snow lynx, and yes, even reindeer, but they can do so while skipping through paths sparkling with thousands of tiny lights. The zoo also offers other attractions every year; don't miss a carousel or the Jungle Fun ride, as well as large-scale lantern displays.
$13+ per person, 4:30 p.m.-9:30 p.m., Nov. 19-Jan. 9, 149 Pond St., Stone Zoo, Stoneham, zoonewengland.org.
Christmas Festival of Lights
What do 17 million holiday lights look like? See for yourself at Edaville, where each winter, the theme park gets an incandescent makeover. General admission grants access to the park's typical rides, as well as a Polar Express-like tour on the Christmas Train, a 20-minute loop through the sparkling attractions, ranging from moving pirate ships to festive animatronics.
$25+ per person, Nov. 12-Jan. 1, Thursdays-Sundays, Edaville Family Theme Park, 5 Pine St., Carver, edaville.com.
---