Brendon Homes, Inc.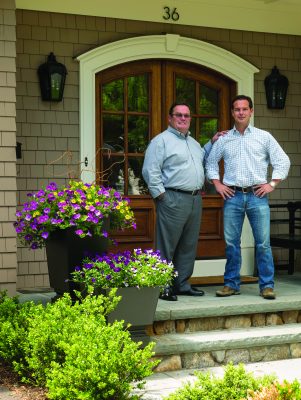 BRENDON GIBLIN
508.485.3999 | brendonhomes.com
Brendon Homes is a Southborough-based building company that specializes in both custom residential builds and remodels and in commercial properties focusing primarily on Boston's Metro West market. Brendon Giblin is the company's owner.
Who started your family business and how did you get involved?
The company was actually started by my dad, Kevin Giblin, a little over 40 years ago, just around the time I was born. He was previously in the insurance business and he started doing well. He had his first new home built and it wasn't a great experience, and he thought he could do better.
I grew up in and around the business and started following my dad to meetings. I was his shadow. Then, as I got older, I worked for him in the summers and did all different jobs. After I graduated from college, I started working there full time.
Have you ever encountered any challenges in your family business?
Not unlike many businesses, residential development is fairly cyclical. We try to stay ahead of the curve. We're pretty selective in the projects that we undertake and when the market tightens up we work a little harder and try to work a little smarter.
What's the best advice that someone in your family offered you?
My Dad and I are extremely close. He's passed a lot of wisdom on to me over the years and one of the things he's always stressed to me is, "Don't ever build a home you wouldn't be proud to live in yourself." That's a good stress test for any project.
How is it working with family?
We've been very lucky. We're similar thinkers. Being that we're not a multi-layered family business, it probably is less complicated. It's just me and my dad. I've always looked at our family partnership as a strength, not a weakness.
I've always considered the partnership that my dad and I have as one in which we felt like we could do almost anything together. We're constantly challenging ourselves and our team, trying to make the company better, and build better projects. While over the years we've grown quite a bit, we haven't lost that small company feel.
---