BRIANNA GOODWIN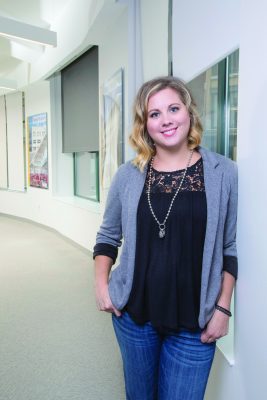 BRIANNA GOODWIN
Ver-Tex Shading Solutions
781.332.3030 | ver-tex.com
Brianna Goodwin is the CEO & President of Ver-Tex Shading Solutions. A passionate and distinguished executive, Brianna has overseen tremendous growth and helped transform Ver-Tex into one of the region's leading distributors of custom window treatments, specializing in motorized and automated shade systems, as well as customized stretch fabric acoustical systems and other construction specialties.
If you could give advice to other women hoping to start a business, what would it be?
Be resilient, be true to your needs, be creative with how they are met, and ask for help when you need it. No one ever said you have to do it alone. One thing I've learned is that being successful comes from being honest with yourself and others. Admitting that I didn't have to do it all myself and finding resources to help has given me more overall joy and peace in my life, and the ability to give so much more to my business and employees.
Why is location important to the success of your business?
New England, Boston specifically, is consistently growing and changing, which makes it a particularly exciting area to do business when you're in the construction industry. When Ver-Tex was founded in 1985, it was clear that Boston, with its innovative spirit and creative design community, was exactly where the company needed to be to jumpstart our business.
Who do you consider your mentor?
While I've had many mentors in my life who have influenced my career, I learned how to become a leader from my father, the founder of Ver-Tex. From a young age, my father instilled in me a sense of what our company stands for, the power of teamwork, and inspired me to lead by example. His powerful words and actions encouraged me, even as a child, to pursue my dreams and become a leader in everything I do.
What's the best advice that someone in your family offered you?
The best advice that I received from a family member was from my father, recommending continual pursuit of personal and professional development. As a result, I entered an intensive leadership development course based out of Atlanta, at the Center for Authentic Leadership. Working with my coach, Jan Smith, has been a life changing experience. I've been told by others that it has unlocked a lot of my potential as a leader. I am developing the com-munication principles that allow me to express my contributions to the world, and I'm now able to shift challenges from stressful triggers into opportunities for curious openness. This practice has given me much more acceptance, appreciation, and compassion for others, and an overall sense of peace and joy in my life.
Have you ever encountered any challenges with your family business?
I think when you look up "family business" in the dictionary the definition is "challenges." All kidding aside, as with any business, there are trials and tribulations. With a family business, the challenges are a bit more heightened and personal. For me, the most difficult obstacle to overcome is keeping business and family matters separate. The business can easily take over your life, so it's important to make deliberate choices daily to keep the two separate. Even with the challenges that present themselves, I wouldn't change a thing. We've been extremely lucky. Everyone on our team brings a level of passion and entrepreneurship that is admirable and inspiring. It's the drive and passion of our people, the relationships we have with one another, and the family-like mentality that has built Ver-Tex into what it is today.
---