Descenza Diamonds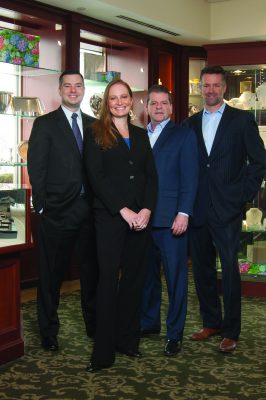 TYLER DESCENZA & PAUL MACISAAC
800.253.0308 | descenza.com
DeScenza Diamonds is a family-owned, fourth generation jewelry store, which has been in business for more than 100 years. With four beautiful stores, they are one of New England's most respected sources for GIA and Forevermark certified diamonds, as well as designer jewelry, Swiss time pieces, and exquisite gifts. Tyler DeScenza is the diamond and gemstone buyer for the company and Paul MacIsaac is the manager—both are third generation family members. Also pictured left to right are fourth generation family members Michael Molloy and Michelle Roberts.
Who in the family started this business and how did you get involved?
Our grandfather, Alfred F. DeScenza, started the business in 1915. Both of our fathers joined him in 1945, and have since been partners for more than 70 years. We have followed in their footsteps.
Why is the location of your business so important to the success of your business?
Our original Boston location, in the Diamond and Jewelry Building, at 387 Washington Street, is thriving in the newly revitalized historic Downtown Crossing neighborhood. Descenza has expanded to three other prime locations in Framingham, Peabody, and Hingham. All three of the locations are near major shopping centers, highly visible, and easily accessible.
Have you ever encountered any challenges in your family business?
Every business feels the effects of the economy, competition, and pressures from the internet. Our unique challenge is having more than 20 family members who are active in the day to day operations, sometimes making it difficult to separate family from business.
What's the best advice that someone in your family offered you?
In this business, your reputation is everything. Do the very best for your customer and everything else will fall into place.
Since you work together, where and when do you like to relax as a family?
During the summer, we like to get together at our beach house on the South Shore, or the camp in the Lakes Region of New Hampshire.
---