DR. IRAYS SANTAMARIA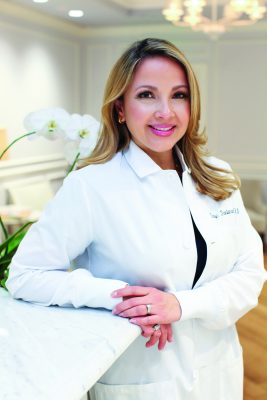 DR. IRAYS SANTAMARIA
Warshauer & Santamaria
617.437.1520 | backbaybostondentist.com
Dr. Irays Santamaria is the owner of Warshauer & Santamaria, one of Boston's leading multi-specialty dental practices, and has been recognized as one of Boston magazine's Top Dentists 2017. Originally from Venezuela, Dr. Santamaria fell in love with Boston (and her future husband!) when she arrived 19 years ago to attend Tufts University Dental School.
Have you always been interested in running your own business?
I began learning about business from an early age! My parents are both optometrists, and I started working at my mother's office when I was 11 years old. First, it was just little chores, but soon I was doing inventory and answering phones. Eventually, I took on balancing the daily and monthly schedule and projecting our yearly business. Early on, I learned that delivering a great product and having excellent customer service are key factors for success. I also learned that helping and serving people truly brings me joy.
When did you go into business for yourself ?
In 2013, I was working at a dental office and the building it was in sold overnight. I was faced with the opportunity to buy the practice, but we had no place to work! However, it just felt like the right time. I knew we had a strong patient base and a great team, so I didn't want to merge with another practice. Therefore, I needed to secure a new location…quickly.
I was fortunate to find a vacant dental office on Commonwealth Avenue. It was small, but I was confident we would grow fast, so we leased the space and purchased a much larger office on the second floor. We renovated the leased space in record time (three weeks!) and started construction on our state-of-the-art office on the second floor. A year later, we opened our new office, featuring the latest technology and elegant, yet simple details. It's truly a combination of modern technology and a soothing atmosphere.
What has been a key factor in your success?
As an entrepreneur, it's key to build a team you can rely on. They must be able to see your vision and understand and live the "why" of what we do. When I bought my practice, knowing I had a strong team behind me helped me trust we would make it work. They are an amazing group of women and men. They rolled up their sleeves and learned new things practically overnight. It makes me so proud to talk about them and how resilient they were and open to embracing change.
Today, we are a dedicated group of seven talented dentists and an incredible staff. We build meaningful connections with our patients, catering to their specific needs and striving to exceed their expectations.
What is your best advice to other women?
Dream, visualize what you want, trust your instincts, and add passion, determination, courage, and a positive attitude. If you want to start something, do it today!
---