Outdoor Kitchens With Mason Frank Corrado
From outdoor kitchens to lavish fireplaces, this craftsman uses Old World talents for recreational luxury projects.
---
If you're ringing Frank Corrado's doorbell on a Saturday, he might not hear you. Chances are, the master mason and his wife Lisa—along with an average of a few dozen of their closest friends, relatives, and neighbors—are enjoying the Corrados' outdoor grotto complete with a pizza oven, fireplace, and fire pit. A home showcase for Frank's custom-masonry business, many of these Hingham partygoers are pals he and his wife have made through Corrado's work on some of the South Shore's most impressive manses.
Hailing from Italy, his favorite projects are true labors of love that inspire the spirit of the Old Country. "I'm inspired by anything that gets together friends, family, food—and usually wine!" He says.
Here, Corrado discusses inspiration, starting a business, and the most expansive projects he's worked on.
1. How has growing up in Italy inspired your designs and aesthetic?
I'm always aware of the construction and the architecture around me, and felt tied to the land. Whether it was crumbled structures or grand structures—I grew up in Southern Italy, so it wasn't the Duomo of Florence—I was drawn to the ruins, the Byzantine remnants, the rustic stone.
2. How do you fix something and still maintain that essential character and zeitgeist of when something was built?
I've worked on several historical projects, most recently a home in Brookline (near John Henry's place), where I worked with a chemist to match mortar. They were 128 year old bricks and mortar, and we custom-blended different bricks and went over them with white paint then custom-matched the mortar. I spent months going back and forth sending in samples, and bought a precision scale to measure all of the components to remix the grout.
3. How do you think your style has evolved since you started your business and started working in the United States?
When we started 20 years ago, everything was pretty ordinary, everything was brick—the walkways, the steps. My work has evolved because people have opened up to a lot more creative solutions. There are HGTV, design magazines. It's a whole new world that really gave the opportunity to bring in a sense of artistry with the stone. Probably 90 percent of the jobs are recreational luxury. We just installed an outdoor fireplace with a 60-inch TV on it. But we will come out and do the small jobs, like repair a brick.
4. Your "side yard" is now the centerpiece of your home. How and why did the project take on a life of its own?
We built the pizza oven in 2005. It's like that movie [Field of Dreams]—"If you build it, they will come." It literally changed our lifestyle. When it was built, we said we should build a counter unit instead of opening a table. Then, "Wouldn't it be great if we could build a fireplace, then a pool storage room?" Everyone's got an oceanfront property here, but all of our friends and neighbors are huddled in the corner yard with the pizza oven and the fireplace lit.
5. Are clients concerned about return on investment with the seasons in New England?
When people envision a space like ours, they think California where the weather's nice year-round. But if you have a space, you're outside more than July and August here. You want to use it April through October. It just encourages you to be outside. Fire pits and fireplaces are warm, after all…We're getting calls for fire pits and outdoor kitchens left and right. Now that you have fire pits with remotes, you can pick different-colored glass. There are lots of price points for outdoor options.
6. What is the most unique lavish or expansive project you've worked on?
I worked on a project with stone walls, stucco, an infinity-edged pool and a stone pool house. The decking was all custom granite. And I worked with another homeowner on his Italian-style villa with stucco walls, arches, a fountain, and a pizza oven. Those were two great projects that evolved over time.
7. What advice do you have for those with limited budgets, or small spaces?
I give options for materials and size—I'm always ready with ideas. My crew and I just finished a job in Hingham that had all these bizarre, tiny spaces and I found a way to keep opening them up. There were little borders around the house with 18-inch cobblestones and planting beds. You remove that and you expand the size around the house and say, "Oh my god, we have a space for tables and chairs now." You can always add potted plants—you don't need planting beds. Every space is unique, and you play a give and take. I think the smallest space is really just about being creative about what you can let go of. If you're looking at something for so long, you may think it looks good. But you get this new perspective you say, all this time I had this space!
8. How do you feel about the permanency of your work? There must be a lot of trust between you and homeowners because masonry is so permanent.
A lot of homeowners have thought long and hard about where that outdoor grill's going to land before they call us, which is great because it means they've done their research…I want to build something that's going to be here 100 years from now. That's why I won't use stamped concrete—it just doesn't hold up more than a few years here, and no interlock walls. We aren't really comfortable with a prefab product.
9. Is there a recent project where you worked outside your wheelhouse?
We installed one fireplace that was really modern—low, flat, and wide. It was a client request and not anything that I personally would have suggested, but I just as thrilled to be involved in a project like that.
10. Masonry blends in with its environment over time, whether it's adding plants to the scheme or the stone taking on a patina. How can you develop that sense of an organic environment immediately when a project's finished?
The land kind of speaks to me, and I have a picture in my mind about how one thing will flow to another when it's done. It's definitely due to experience and having done it for so long and a combination of seeing landscape architects' work and plans. My home is a project 20 years in the making, but what homeowner is going to let you on their property for 20 years? [Laughs.] So the grotto was a very organic process, changing with time. It's really a labor of love and a process that's joyous to us because Lisa and I love to do it.
Frank Corrado Custom Masonry offers residential and commercial design, installation, and repair. More info at www.frankcorrado.com.
---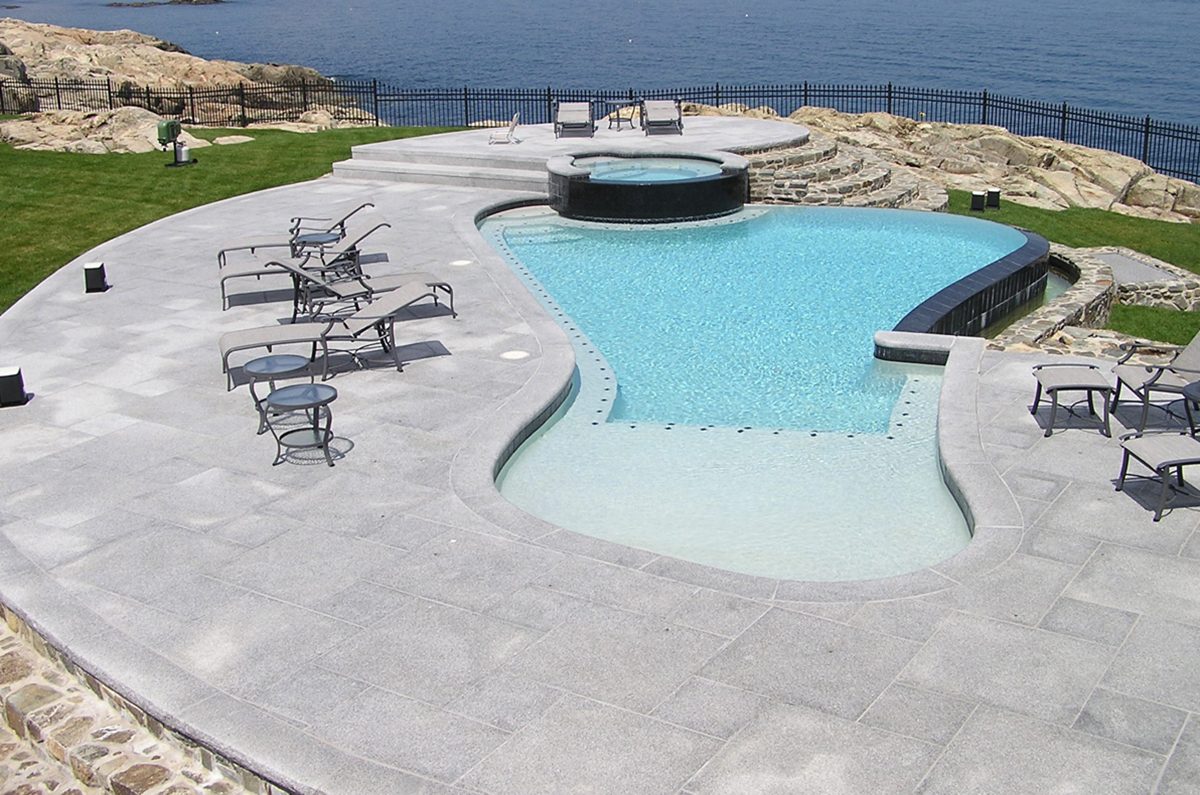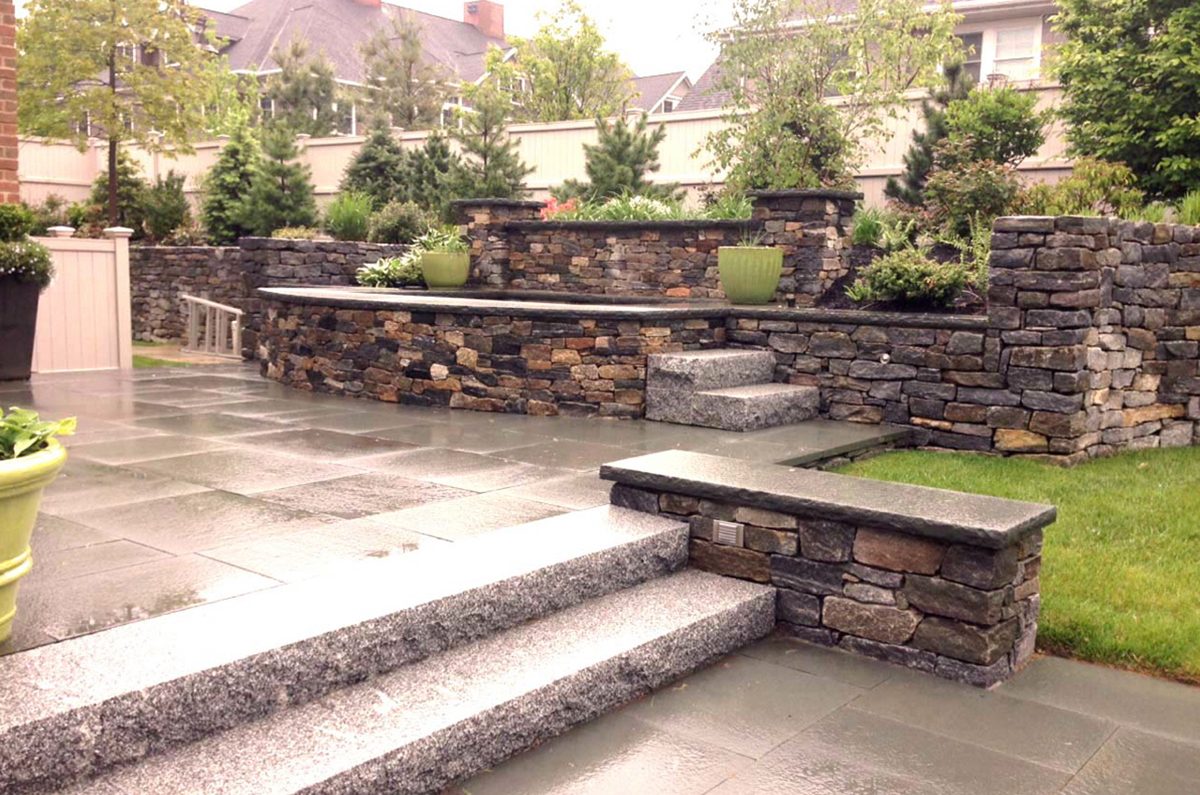 ---