Home Additions: Fix Master
A "Frankenstein" house gets a much-needed makeover.
---
As soon as attorney Chris Hug saw the backyard of this Lincoln property in 1995, he knew the house was for him. Just under an acre, the space abutted a large swath of conservation land; hidden behind the trees was a small pond. Stunning, he thought. The 1949 abode itself, however, was another story. Its four previous owners had left their marks in a series of incongruent renovations and additions, creating what Hug (pronounced "Hoog") calls a Frankenstein house. After living in the modest jumble for nearly two decades, Hug reached out to his friend Bill Hubner, principal of Lexington-based Incite Architecture.
Hubner expanded the center of the home both up and out, completing it with a large deck overlooking the backyard. Now the residence boasts a generous second-floor master suite accessed via a gallery-like hall, a bright new kitchen, and a wood-paneled dining room. The former rec room became a two-car garage—something the home sorely lacked. Adding skylights and new windows to existing openings throughout allowed for much-needed light and views.
Thanks to the reconfiguration and thoughtful cladding, the house looks balanced and cohesive from the outside, and is warm and inviting within.
A small sitting area fronts the stone-clad fireplace.
Continuing the midcentury celebration, interior designer Annie Hall painted the kitchen a mod shade of green.
A corner becomes a small office; the base of the shapely kitchen island is wrapped in a stainless steel mesh.
The living room gets a refresh with a custom concrete bar and a new viewing window into the foyer.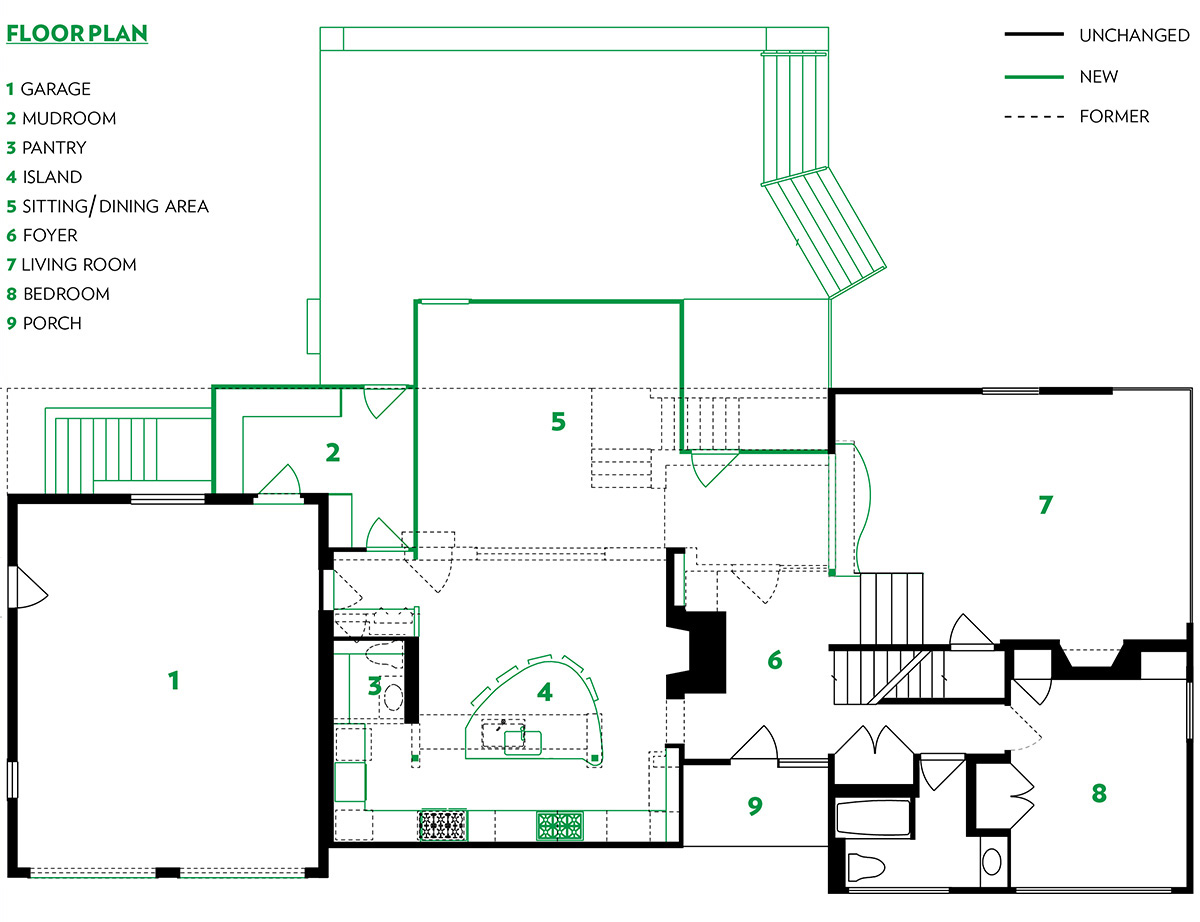 Front: Using materials and color, Hubner cleverly pulled together the various parts to create a cohesive look.
Back: New openings offer abundant views of the backyard.
---
More: Pitch-Perfect Home Additions
---