Designer Andra Birkerts Brings Oklahoma Style to a Weston Abode
For a suburban couple, a little bit of southwestern flair—and a whole lot of  fun—made their house feel like home.
---
When a young couple began to contemplate life outside the city in 2006, they agreed they wouldn't settle for just any house. As soon as they saw this 1928 Tudor Revival home in Weston, however, they knew they'd found the one. Its vernacular style reminded the wife of popular architecture in her home state of Oklahoma, for which, she says, she'd always been homesick. And while there was no garage, air conditioning, or heat, to say nothing of the cramped downstairs and tiny kitchen, "all the things you couldn't change were perfect," the wife says.
Early renovation efforts focused on making necessary functional and stylistic updates. But in many ways, the second go-round, which began a few years later, would be more significant—and certainly a lot more fun. The house had proven itself to be the couple's forever home, a place where they could relax with their two teenage sons and entertain on occasion. But now the pair—a cyber-security exec and a corporate attorney—hoped to expand the footprint, adding both more play and private spaces, and refine the design without making the home feel precious. "At least 20 kids come through the house every weekend," the wife says. "It's really fun to see the house get used so much." Her biggest fear wasn't that anything fancy would get destroyed during use; it was that it wouldn't get used at all.
The couple reconvened the design and build teams from the first revamp, including architects Chip Dewing and Betsy Roosa, of Concord-based Dewing Schmid Kearns Architects + Planners (DSK), and interior designer Andra Birkerts, of Andra Birkerts Design in Wellesley. Both had come to phase one with longstanding connections to the couple; DSK had worked with the husband's parents, and Birkerts was an old friend of the wife's brother. To accommodate the couple's request for more (and more usable) living space while maintaining the integrity of the original house, the DSK team envisioned a new wing that would transform what was essentially an L-shaped footprint into a full "U." This would bring the house from 3,600 square feet to about 8,500, and include a new den and office, several new bathrooms, and a new master bedroom that features his-and-hers dressing areas and opens to a private garden.
From the beginning, interior aesthetics—a personal passion for the wife—were paramount. As with the first overhaul, she came to the project armed with a strong vision rooted in southwestern flair (or, as she puts it, "cowgirl chic"), lots of color, and risk-taking details such as ornamental ceilings and herringbone flooring. At the same time, she emphasized to Birkerts and project manager Karen Brown the need for durable, yet interesting, furnishings and materials that would get better with age, whether that be a weathered leather couch or a live-edge wood vanity. It was, luckily, a philosophy that coincided quite well with Birkerts's own. "The rule I go by for every house is that every space should be useable," Birkerts says, with special touches and "unexpected elements that make you remember that somebody's hand was there. Every space really has to work. But it also has to have a quality that distinguishes it from being run-of-the-mill."
And run-of-the-mill it isn't, from the faux-shagreen-covered desktop in the wife's new work area to aged limestone floors in the hallway. Paul Reidt, of Kochman Reidt + Haigh Cabinetmakers, who oversaw the kitchen and dining room overhaul as part of phase one, returned to custom-create woodwork in several new bathrooms as well as built-in shelving in the den. The team also used the second renovation to revisit spaces from the first that never quite worked, including a problematic seating area in the original living room that became a cozy pre-dinner nook.
Although Birkerts admits that the homeowners' desire for color, texture, and eclecticism tended to challenge her more minimalist tendencies, oftentimes she was the one encouraging the risks. She points to the main stairway, made up of a mishmash of patterned tiles, and a faux-snakeskin wallcovering in the new master bath as examples. "There's not a lot of clients for whom I would pull out snakeskin," Birkerts says. "But I had a feeling."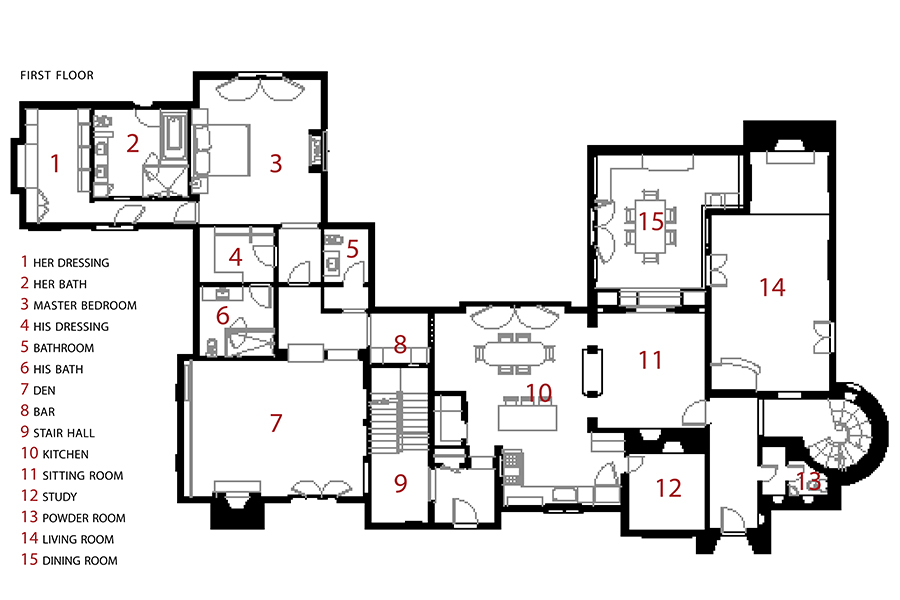 Architect
Dewing Schmid Kearns Architects + Planners
Contractors
Howard Brothers Builders; Sander and Company Builders
Interior Design
Andra Birkerts Design
Landscape Design
Jean Brooks Landscapes
Millwork
Kochman Reidt + Haigh cabinetmakers
---